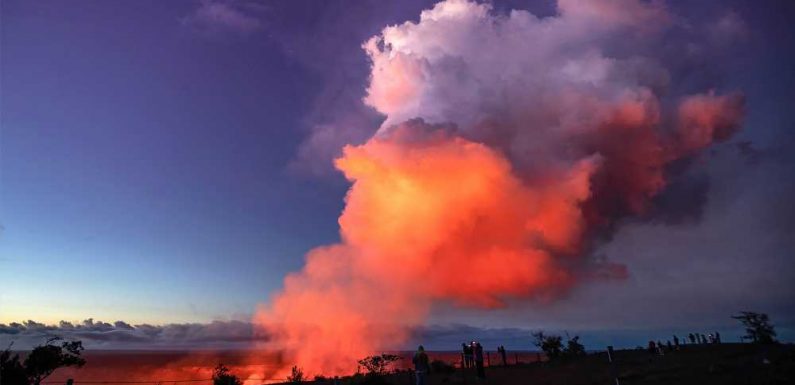 Kilauea, a volcano at Hawaii Volcanoes National Park, started erupting on Sept. 29, and, so far, the activity is contained within its crater, making for some spectacular sights.
During the day, spectators can see volcanic gas and steam billow out of Halemaumau, the summit crater. The park is open 24-hours a day, and at night visitors are entranced by the 127-acre lava lake casting a reddish-orange glow against the crater walls and into the dark sky. 
The best eruption viewpoints day or night, according to national park staff, are along Crater Rim Trail and include Uekahuna, Kilauea Overlook, Wahinekapu (Steaming Bluff), Kupinai Pali (Waldron Ledge) and Keanakakoi overlook, where it is sometimes possible to catch a glimpse of lava. 
"Viewing lava at the summit of Kilauea is awe-inspiring. During this Covid-19 pandemic, we ask the public to recreate responsibly, maintain social distance and to wear a mask," Hawaii Volcanoes National Park superintendent Rhonda Loh said in a statement. "We want to keep the park open for all to experience this new phase of volcanic activity, but we can only do so if visitors follow guidelines that keep everyone safe. We continue to work with USGS scientists to receive the latest volcanic updates and remind visitors that the eruptive activity and accessibility could change at any time." 
Park staff also recommend visitors check the weather, as it can be chilly at the summit sitting at 4,000 feet of elevation. Additionally, volcanic eruptions can be hazardous and change rapidly, and visitors are reminded to stay on marked trails and overlooks, avoid cracks in the earth and cliff edges and stay out of closed areas.
In 2018, Kilauea experienced a massive eruption that generated hundreds of tremors and sent rivers of lava into nearby communities, destroying more than 300 homes and other structures. The park was closed for several months to allow the volcanic activity to die down and for repairs. 
Source: Read Full Article