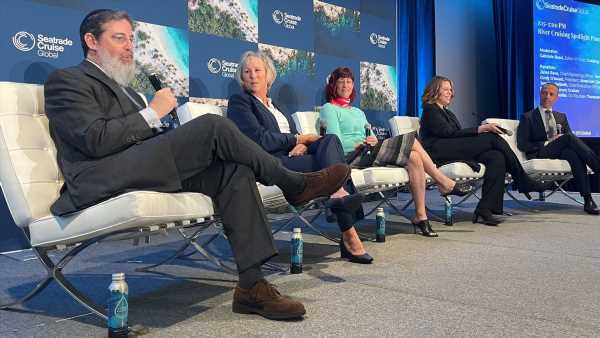 FORT LAUDERDALE — Matthew Shollar, co-founder of Transcend Cruises, which targets private groups for events on riverboats, said his company reached an arrangement to charter the former Crystal Mahler, now owned by Riverside Luxury Cruises, from Aug. 1 through December 2024.
The arrangement builds a bridge for Transcend to begin operating before its two purpose-built, 60-cabin ships are delivered in 2025. Riverside had previously said it would deploy the 55-cabin Mahler in 2024, but no itinerary had been released. 
"As we construct our fleet, we have a tremendous demand for our product," Shollar said during a riverboat panel at Seatrade Cruise Global in Fort Lauderdale, where he made the announcement. "The ship has many of the attributes that we'll be bringing to ours: lower guest counts, large galleys and customized food and beverage. So, we'll start operating this year."
More from Seatrade: Frank Del Rio would like less talk about sustainability
The negotiation with Riverside was swift, he said, taking all of five weeks.
Jennifer Halboth, CEO of Riverside Collection, Americas, and also on the panel, said she was "thrilled" with the partnership. "At the end of the day, ships are meant to sail, and we weren't sailing that ship."
Source: Read Full Article