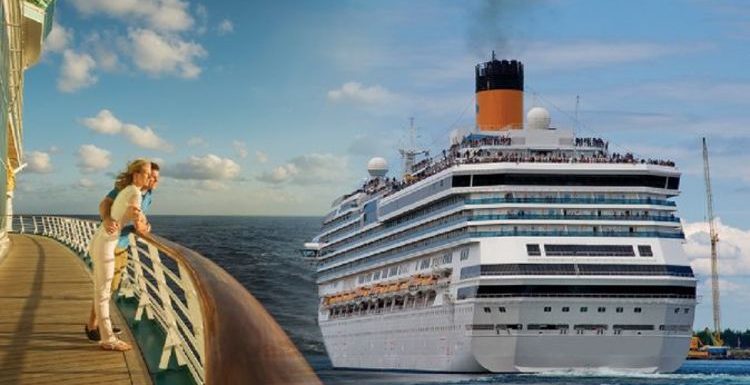 Devon: Multiple cruise ships arrive in Torbay
When you subscribe we will use the information you provide to send you these newsletters.Sometimes they'll include recommendations for other related newsletters or services we offer.Our Privacy Notice explains more about how we use your data, and your rights.You can unsubscribe at any time.
In recent months two global cruise lines have come forward to announce plans to accept only vaccinated passengers once operations return. Though this may bring about concerns for some people, one cruise expert has said it is a "step in the right direction" for the wider industry.
Both UK-based Saga and US American Queen Steamboat Company have set out plans to welcome back passengers who had received their inoculations.
Though this does not mean it is a rule which will be introduced across the board, what it has done is boosted "customer confidence".
What's more, it has also offered hope the pause on cruising may be approaching its end.
Speaking exclusively with Express.co.uk, Adam Coulter, managing editor of Cruise Critic UK, shared his insights into when he predicts some cruise holidays may return.
"There's this sense there may be some movements soon," he said.
"I can't say hand on heart, but I think it's primarily driven by the vaccination."
As the months have ticked on, many cruise lines have continued to extend their suspensions in line with Government regulations.
However, as Mr Coulter points out, this isn't true for all corners of the globe.
DON'T MISS
Spain & Portugal holidays: FCDO issued new update [UDPATE]
Holidays: Turkey, Italy & Portugal 'more likely' in July [COMMENT]
Camping & caravan: 'Must-have' items for first caravan trips [INSIGHT]
"Cruising hasn't stopped everywhere in the world," he explained.
"MSC Cruises and Costa last year ran very, very successful partial seasons.
"MSC is continuing to do so. Then there is TUI in the Canary Islands and Costa restarting in March, with plans restart Western Mediterranean – the classic Spain, France Italy circuit on May 2."
The expert believes these breakthroughs in Europe could hint towards some promise for Britons eager to get back on board in the summer months.
Mr Coulter said: "If you ask me how long will cruising restart? My answer would be it has already restarted I think in Europe, we will see.
"I think we will see cruising restart quite significantly. Cruising is important to the economy. There is a demand for it."
He continued: "It all depends on the R number and all depends on the vaccination rollout.
"I think once you're at that point, then then we will see cruising restart and also small ship cruising.
"I think the other thing is we will see river cruising come back quite significantly across Europe, particularly specific countries.
"I can see Portugal, I can see the Douro coming back, maybe even by late April.
"I can see the German rivers coming back in May. I think we'll see a decent rivers season because small ships is a completely different beast from the big ones."
For ocean cruises, however, it may be somewhat of a longer wait.
"Ocean cruising in the UK, I think will happen this year," predicted Mr Coulter.
"But I'd be really reluctant to give a date. Maybe the summer to hedge my bets."
While Mr Coulter is confident summer sailings will return, he says he is "hesitant" to put an exact date for a number of reasons.
"The issue in the UK is that we're governed at the moment by FCDO rules which actually has an explicit travel advisory against cruising," he explained.
"The only way cruising will restart is if that's lifted."
Yet this hasn't stopped cruisers from dreaming of their next holiday, or even from booking them.
According to a recent cruise critic survey among its forum users, 84 percent of people said they would book a cruise in future.
Meanwhile, 37 percent are already looking to cruise.
Furthermore, a promising 66 percent of cruise lovers said they were confident in the safety of an ocean sailing once cruises were given the green light.
"This clearly hasn't put anybody off," said Mr Coulter.
"It's really encouraging. People have missed it."
Source: Read Full Article