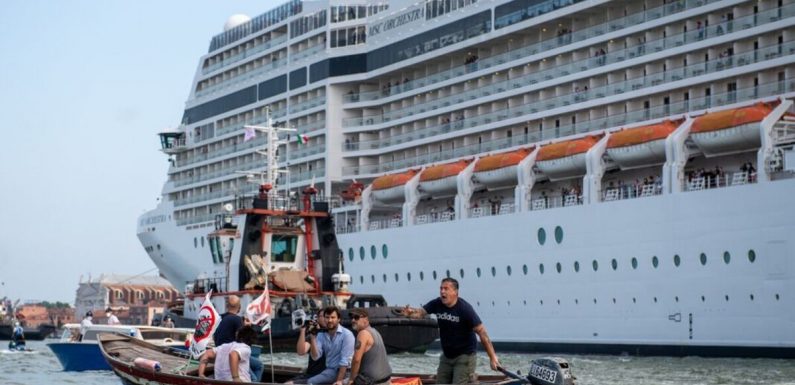 Italy: Cruise ship breaks moorings in Ravenna
We use your sign-up to provide content in ways you've consented to and to improve our understanding of you. This may include adverts from us and 3rd parties based on our understanding. You can unsubscribe at any time. More info
Express.co.uk spoke to Bengt Waldow, an anti-cruise campaigner with CruiseNotWelcome. He said that cruise ships bring "trash" tourists to Norway.
Bengt also claimed that the passengers don't spend much in Norwegian destinations and that the ships cause a lot of pollution.
Some Express.co.uk commenters agreed with Bengt and thought that cruise holidays should be stopped.
One said: "I think they are immoral, massive pollution, not helping the countries they visit. Bit like Butlins on water. And helping to poison our seas."
Cruise ships do emit a lot of carbon dioxide and cause more pollution than other kinds of ship.
Many local residents complain that cruise passengers don't spend much money in port destinations.
An Express.co.uk commenter said: "Some lads I worked with went on a cruise in North Africa. When they got back I asked them what the countries were like.
"They didn't know as they only got off once for a night time beach barbecue, they were drunk the rest of the time."
Another added: "Many in the Caribbean feel the same way. The tourists do not spend their money on the islands, the tours are paid for beforehand so that the money stays outside the Caribbean."
The Caribbean is a leading cruise destination, with many tourists travelling to enjoy the region's beaches each year.
Anguilla, an island in the Caribbean, has said it will continue to ban cruise ships to maintain its reputation as a luxury destination.
However, not all the Express.co.uk commenters agreed with Bengt and some said they felt cruises did benefit the local economy.
One person said: "We cruised in Norway a few years ago with Hurtigruten, a Norwegian cruise company with Norwegian crew.
"Yes, we ate breakfast and dinner on the ship but we ensured we had lunch at a local establishment each time we were in port."
Another claimed: "When a cruise ship docks in a remote part of Norway and hundreds of tourists suddenly flood the place for an hour with wallets bursting with cash to spend, I suggest you would be hard pressed to find one local agreeing."
One person based in Liverpool said: "When cruise ships come into Liverpool the visitors do spend money on taxis, hop-on-hop-off buses, and in the city centre shops and bars.
"It's hard to tell exactly how much they spend, and they probably do go back on board for meals but I'm sure there's a benefit to the local economy."
A commenter added: "I cruise at least once a year. The modern ships are far more eco-friendly.
"I do agree that a great many people of all nations are extremely rude on and off the ship.
"I became aware of the change in people who cruise this year. I am now wondering if this will continue."
A top port in Maine, USA, has recently introduced limits on the number of cruise ships that can dock and Barcelona is set to raise its tourist tax for cruise passengers.
Source: Read Full Article