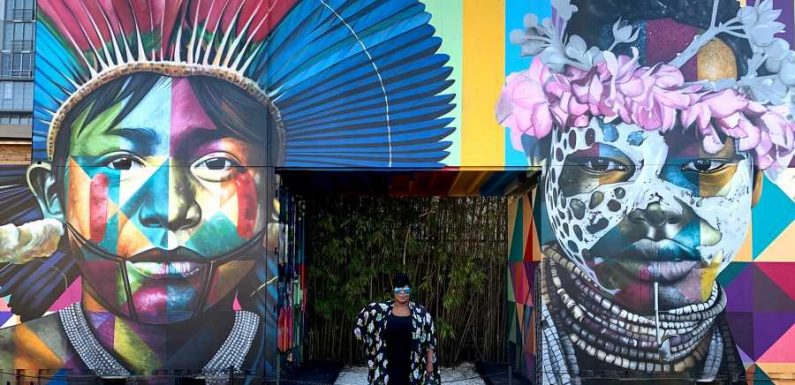 Each year, Miami's Art Basel adds more artistic experiences that reach across the city's neighborhoods and include Black artists. Events happening in Overtown, Brownsville, and Little Haiti draw attention to artists and entrepreneurs that largely get ignored by mainstream art buyers and appreciators. This year, while under pandemic guidelines, I spent three days experiencing Art of Black, an immersive experience that shines a light on what makes Black artists such a pivotal part of Miami's history.
Day 1

The month-long Art of Black experience holds a lot of cultural significance, so meeting one of the originators provides an understanding of its importance to the larger Miami story. "This year, Art of Black celebrated its seventh year with outdoor art exhibits, film screenings, and smaller, more specific gatherings and specialty programming that help artists continue to thrive throughout the year," says Petra Brennan, director of Tourism Business Enhancement at the Greater Miami Convention & Visitors Bureau. "We wanted to ensure our heritage assets also get highlighted. What we saw in the surrounding neighborhoods was a resurgence of gallery openings and business establishments displaying the work of local artists. There is a rich culture [in Miami]. Sometimes, it's a misfit because people only associate Miami with the beaches and nightlife, but Miami has a rich African, Haitian, Caribbean and Cuban culture."
During my visit, I toured the Wynwood Walls, located in the artsy Wynwood neighborhood. It features the largest collection of commissioned mural artwork in the world. This once dormant industrial wasteland has been turned into a mecca for street art and is one of the most immersive art experiences in Miami. I was struck by the enormity of each mural and its vibrant colors, shapes, and figures — all as diverse as the artists who painted them. The newest exhibit on the corner of NW 23rd Street and NW 1st Place was commissioned by Miami-based visual artist Troy Simmons, and it showcases a mixture of bright hues blended with concrete. Each sculpture, complete with linear shapes, sharp angles, and vivid colors, connects architecture to art. 
Meanwhile, murals were a part of my conversation with local artist Nate Dee, whose exhibit is on display at the Wyn 317 Art Gallery. His pieces creatively include animals and children in wooded destinations. Dee, a highly commissioned mural artist from Fort Lauderdale, was mentored by a group of independent artists who occupied the industrial buildings of the Wynwood area to create their work. Through mentorship and a better understanding of the business of art, Nate has established himself as a working artist, and his specialized murals have now been seen all over, from advertisements to the walls of Japan.
At 6 p.m., I dined on fritters, cornbread, yardbird, and succotash at Miami's newest five-star restaurant, Red Rooster, which is owned by celebrity chef and restaurateur Marcus Samuelsson. Set in the historic Overtown neighborhood, Red Rooster is a vital part of the city's plan to bring business back to an area once known as the "Broadway of the South." Unable to open in March as planned, the 300-plus-seat indoor and outdoor space started to accept patrons in August and now serves a steady flow of visitors and regulars. 
Day 2

I visited the Little Haiti Cultural Center with curator Marie Vickles, who led me to an outdoor exhibit called "Contemporary Visual Expression," which features artists from the Afro-Caribbean diaspora. The pieces felt largely personal, weaving stories of life through the eyes of artists like Tessa Mars and Edouard Duval-Carrié. "My mission was always to make people understand that there is power in numbers. When I moved to Miami, I fell in love with Little Haiti because it was the only place that identified with Haiti outside of Haiti," said Vickles. "I want to make sure that the work of Caribbean artists is studied properly. Whenever I wanted to immerse myself in the culture, I had to go outside of the city. But to me, Miami is the north Caribbean, not the southern part of the United States."
While here, I enjoyed some Haitian cuisine, too — fish zakos at Bon Gout BBQ, a small cafe in Little Haiti. I also visited Overtown's Ward Rooming House, a two-story building that displays "The Eye of Afropunk," a photographic art exhibit by visual artist Dennis Manuel. As one of the few remaining buildings of its time, this former rooming house plays a significant role as an art gallery, showcasing the work of the African-American community.
Day 3

With the January release of Regina King's new film, "One Night in Miami," a visit to the historic Hampton House was on the schedule. Managed by the Hampton House Community Trust, Inc., and kept alive by the relentless work of Dr. Enid Pinkney, the Hampton House motel in Brownsville is historically significant, as it served as a safe space for Black entertainers to spend the night after performing or working in Miami Beach where they were not allowed to stay. As depicted in the film, Martin Luther King, Jr., Muhammad Ali, Malcolm X, and Sam Cooke were among the individuals who had to deal with this during the height of their careers. "We hope that the upcoming film…will tell the story of what we call 'living history' — that the Historic Hampton house still exists and is still standing," says Imani L. Warren, director and interim CEO of Hampton House.
I spent my last day at the Pérez Art Museum Miami (PAMM) and the newly opened Verde cafe, which is equipped with new safety precautions, including designated one-way floor paths and hand sanitizer stations every few feet. This month, PAMM is displaying art from members of the African diaspora. Jorge M. and Darlene Pérez added more than 500 works of art to the permanent collection, including "Allied With Power: African and African Diaspora Art," which celebrates international African and African diaspora artists like Kara Walker and Kehinde Wiley — the latter whose dramatic portraits can be seen from the Detroit Institute of Arts to the walls of the White House. 
Source: Read Full Article