Plovdiv has all the right ingredients for a city break: a cobblestoned Old Town, impressive ancient ruins, and a lively drinking and dining scene. As Bulgaria's second-largest city gears up for its tenure as a European Capital of Culture for 2019, its historic centre and cafe-lined neighbourhoods have never looked better. The mood is exuberant, prices are still low, and the crowds haven't yet arrived – it's the ideal time to explore picturesque Plovdiv.
What to do
Old Town
In Plovdiv's Old Town, cobbled streets weave between charming 19th-century buildings. These colourfully painted houses date back to the National Revival, a flourishing period for Bulgarian architecture and literature. Their wooden eaves and overhanging upper floors frame the narrow lanes, giving the Old Town a mysterious, warren-like ambience.
Several buildings have been converted into museums that showcase the Revival era, and one of the loveliest is Balabanov Kashta (+359 32 627 082). Over the decades, it changed hands between illustrious merchants and tailors and has since been carefully reconstructed and furnished with Revival-era antiques. Open 9am-6pm daily in April to October and till 5.30pm the rest of the year; admission 5 lev (£2.30).
Just downhill is the Regional Ethnographic Museum, housed in a midnight-blue building with an undulating tiled roof. Inside, peruse displays about local history and admire carved wooden furnishings. Outside, the courtyard sometimes hosts handicraft sellers. Open 9am-6pm Tuesdays to Sundays in summer, till 5pm the rest of the year; admission 5 lev (£2.30).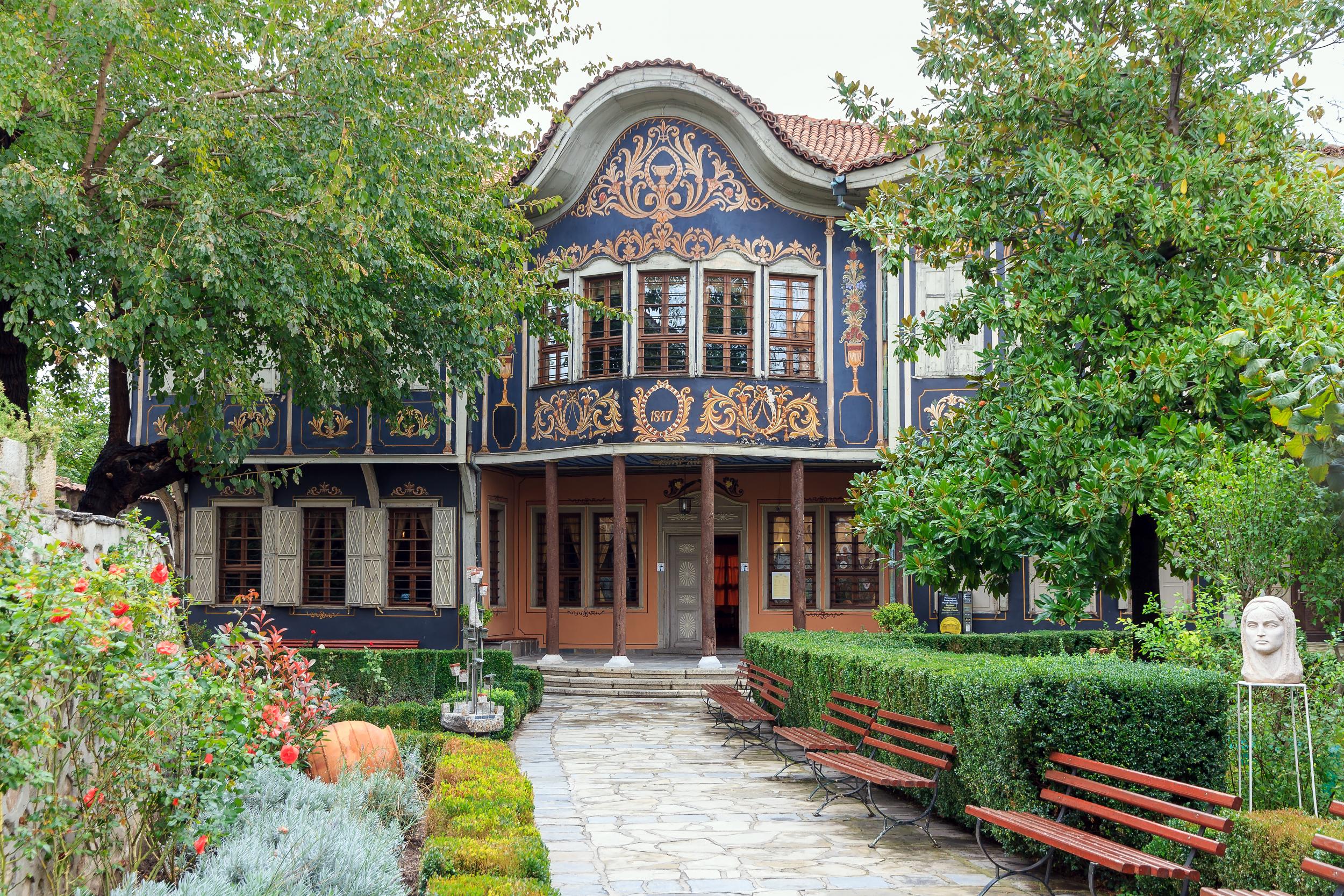 Roman history
Like Rome, Plovdiv was built on seven hills and ancient ruins are still scattered around the city. Most impressive is the Roman Theatre (bul. Tsar Boris III Obedinitel), a second-century ruin and one of the world's best-preserved antique theatres. In its heyday, as many as 6,000 spectators would pile onto the marble seats that fan out from its central skene (the stage backdrop). After painstaking restoration, the theatre is hosting performances again. During the annual Opera Festival in July and August, there's a particularly rich programme of evening events. Open 9am-5.30pm daily; 3 lev entry (£1.40).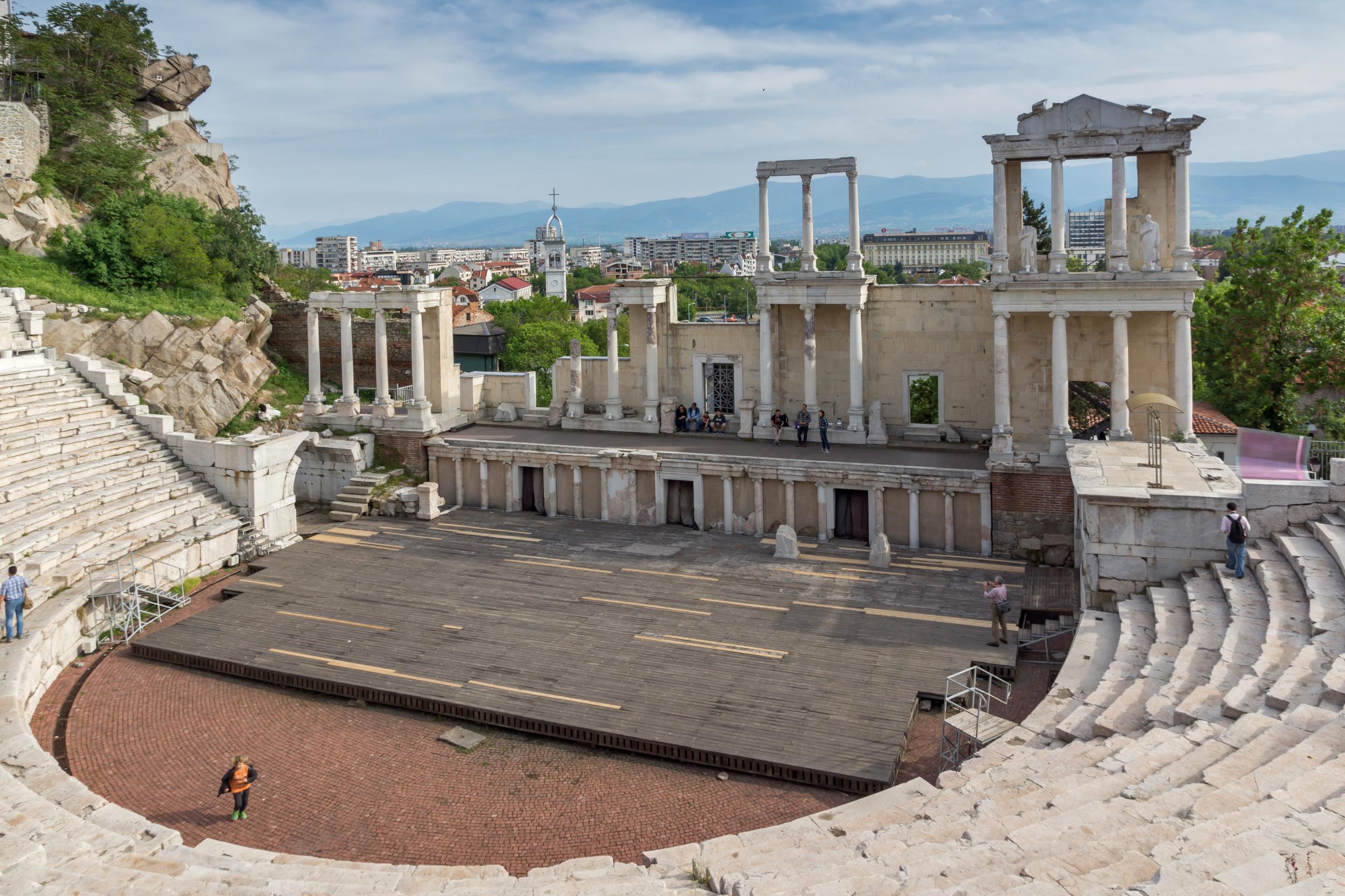 A short walk west is the Roman Stadium, excavated right beneath Plovdiv's main shopping street. The stadium was built during the reign of Emperor Hadrian, when the city was called Philippopolis, a highly cultured provincial capital of Thrace. Admire from above or descend into the bone-white stadium for a short 3-D film. Open 10am-8pm daily, free.
Head for the hills
There's more history to be uncovered in the Central Mountains, within an hour's drive or taxi ride of Plovdiv. The ornate Bachkovo Monastery, 35km south of town, is the second-largest monastery in Bulgaria. Don't miss peeking inside the refectory room, where the walls are daubed with elaborate frescoes. Open 7am-8pm daily in summer (otherwise to 7pm), free.
On the way to Bachkovo, it's worthwhile stopping for a photo-op next to Asenovgrad Fortress, a medieval ruin overlooking the steep, forest-clad Asenitsa Valley.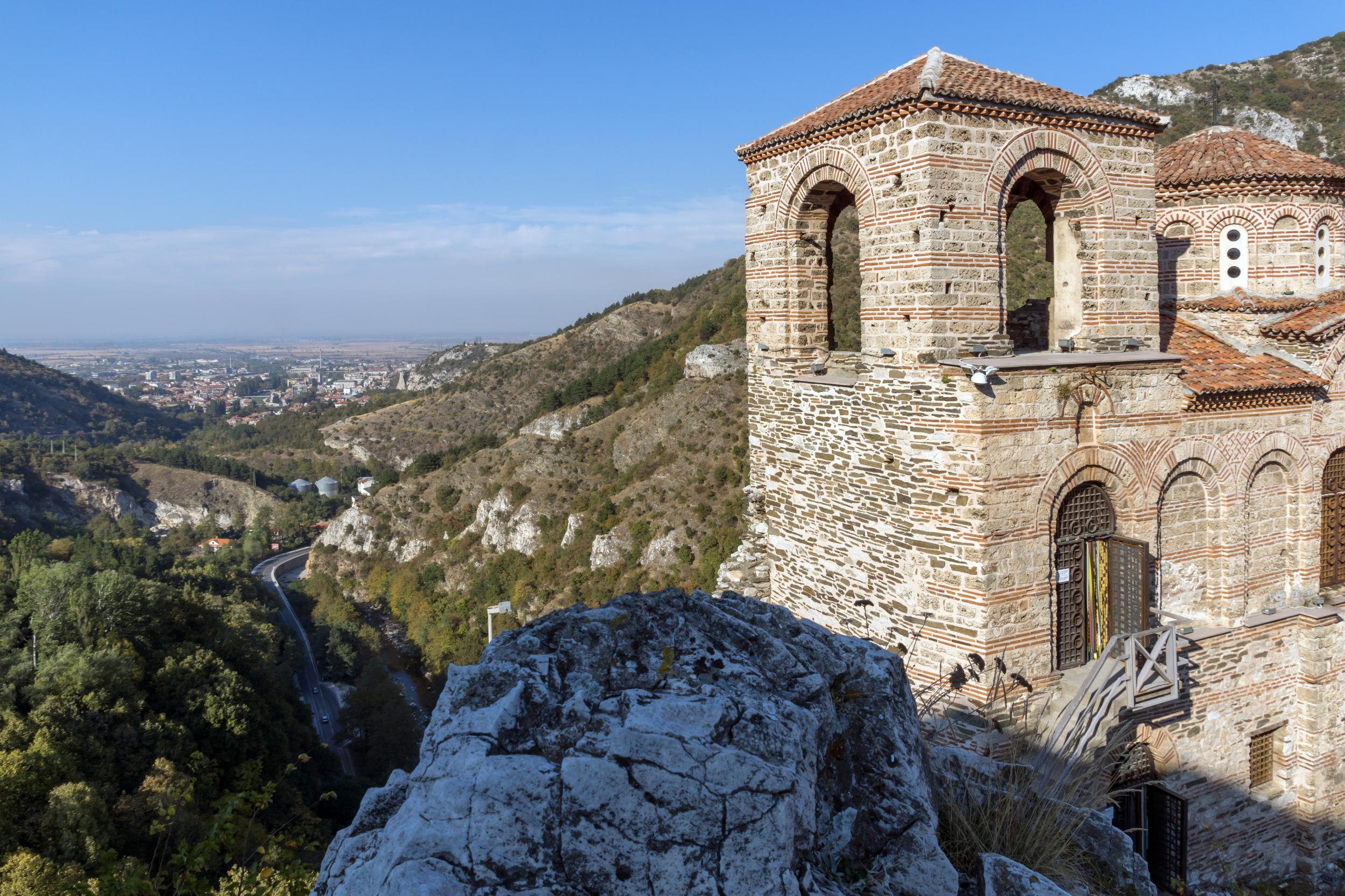 But by far, the most bizarre relic in the city's outskirts is the Buzludzha UFO. Previously a Socialist assembly hall, this controversial ruin resembles a spaceship and stands on a mountaintop 120km north of Plovdiv. Slowly being reclaimed by nature, the UFO's interior is no longer safe to explore, but its sci-fi appearance is unforgettable; it's a curiosity in the midst of Bulgarian wilderness. Local guide Hristo Petroff (+359 879 694 681) can drive groups to sights in the mountains; from 150 lev (£68) for three people.
Where to stay
Extending personalised welcomes to all their guests, Hostel Old Plovdiv is the city's friendliest place to stay on a budget. Almost like sleeping in a museum, the guesthouse has been beautifully restored in the style of the original 1868 building. You can loll around on velvet couches, doze beneath hand-painted murals, and take breakfast in a leafy, private courtyard. Hostel beds 22 lev (£10) or private twin rooms 69-88 lev (£31-40) B&B.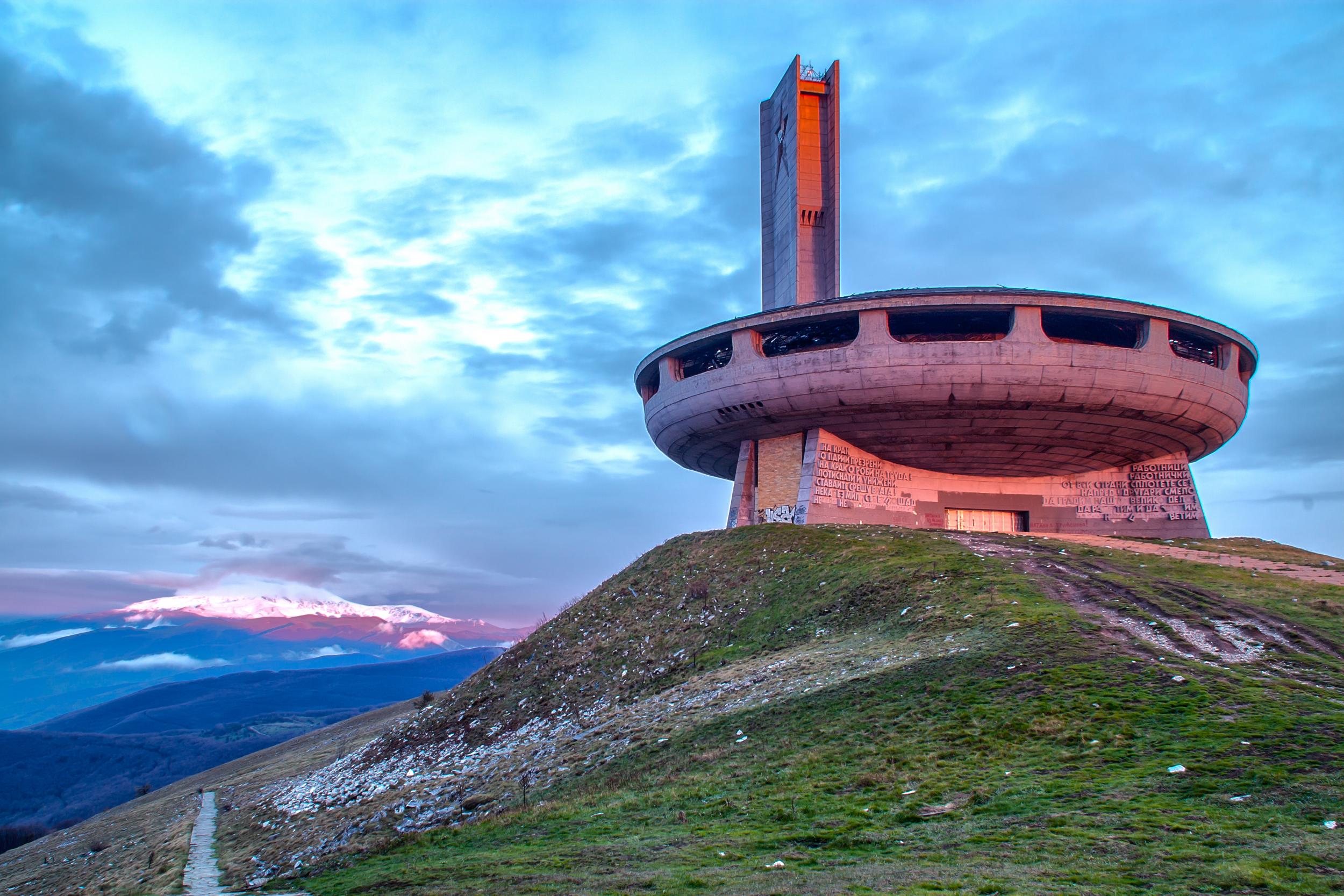 Even more lavish is Hotel Evmolpia. Rooms have a regal feel with hard wood beds and carpets in traditional Bulgarian patterns. Glossy bathrooms are endowed with flourishes such as gilt-edged mirrors and ornamental tiles. A major perk is the free taster of Bulgarian wine and cheese between 6pm and 8pm – an excellent chance to finesse your pronunciation of nazdrave (cheers). Double rooms 88-147 lev (£40-67) B&B.
Over in the vibrant Kapana district is Old Plovdiv House. Despite the name, it offers modern rooms and apartments in easy stumbling distance of the surrounding nightlife. There's a cosy, chocolatey colour scheme, private terraces to watch the world go by, and the gym and spa is open in the evenings for 6 lev (£3) entry. Double rooms 50-70 lev (£23-32) and apartments from 90 lev (£41), room only.
Where to eat
Breakfast in Bulgaria usually involves a grab-and-go snack, often coffee and a banitsa (savoury pastry). The best coffee in town is poured at Monkey House, which ticks all the boxes for its youthful clientele: friendly staff, free wi-fi and a cosy vibe. Open 10am-12am daily.
Just 200m north, you'll find Kapana Bakery (+359 882 330 773) where you can pick up croissants crammed with apricot or raspberry puree, freshly baked almond cookies and other goodies. Open 9am-7pm, Monday to Saturday.
At lunchtime, the creative dishes at Smokini are a treat for gluten-free, vegetarian and vegan diners. The pan-European menu ranges from duck with truffle risotto to spinach and caramelised walnut salad. Save space for desserts including homemade cheesecake and nougat ice cream with figs. Open 11am-11.30pm on Monday and 11am-12am, Tuesday to Thursday.
For a romantic evening meal, it's hard to beat the intimate atmosphere of the outdoor terrace at Memory. This is the place to feast on upscale renditions of classic Balkan dishes – salads lavished with salty white cheese, pork knuckle, cabbage rolls stuffed with rice – or flavours borrowed from the Mediterranean, such as seafood spaghetti and caprese salad. Open 11am-2am, Monday to Saturday and 11am-12am on Sunday.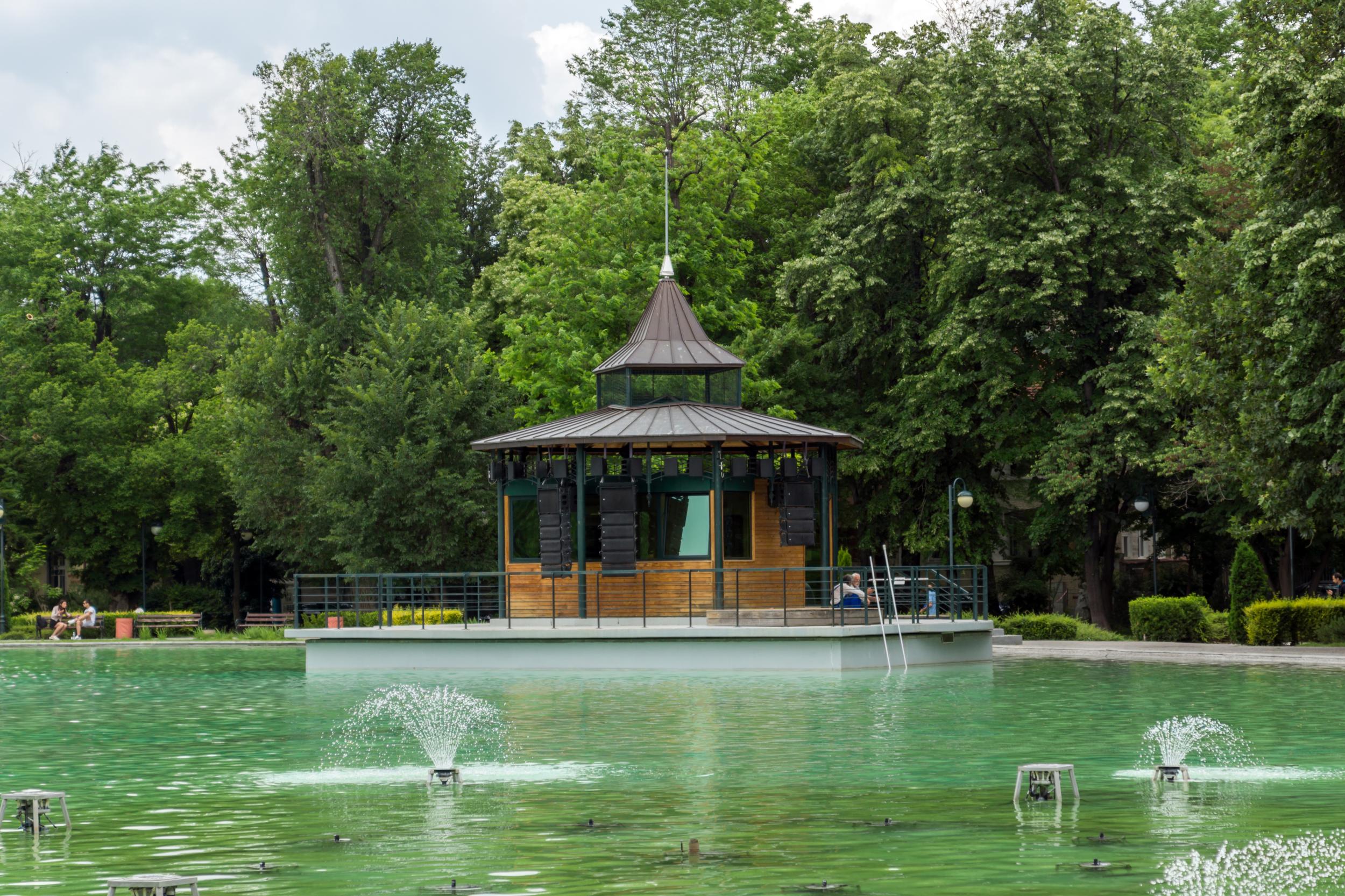 Before joining the locals on an amble through dreamy Tsar Simeon Garden, stop by Afreddo. Gelato flavours such as blood orange and blackcurrant are a lip-smacking accompaniment to a balmy evening stroll. Open 8am-10pm, daily.
Where to drink
There's nowhere hipper than the Kapana quarter, west of the Old Town, known as The Trap because of its narrow lanes. The neighbourhood experienced a phoenix-like rise from decrepitude after young artists set up their studios here.
Barber & Cat shakes up refreshing cocktails from its narrow, brick-lined bar: big bloody marys, geranium-adorned aperol spritz, or zesty homemade lemonades if you're steering clear of alcohol. Open 10am-12am, daily.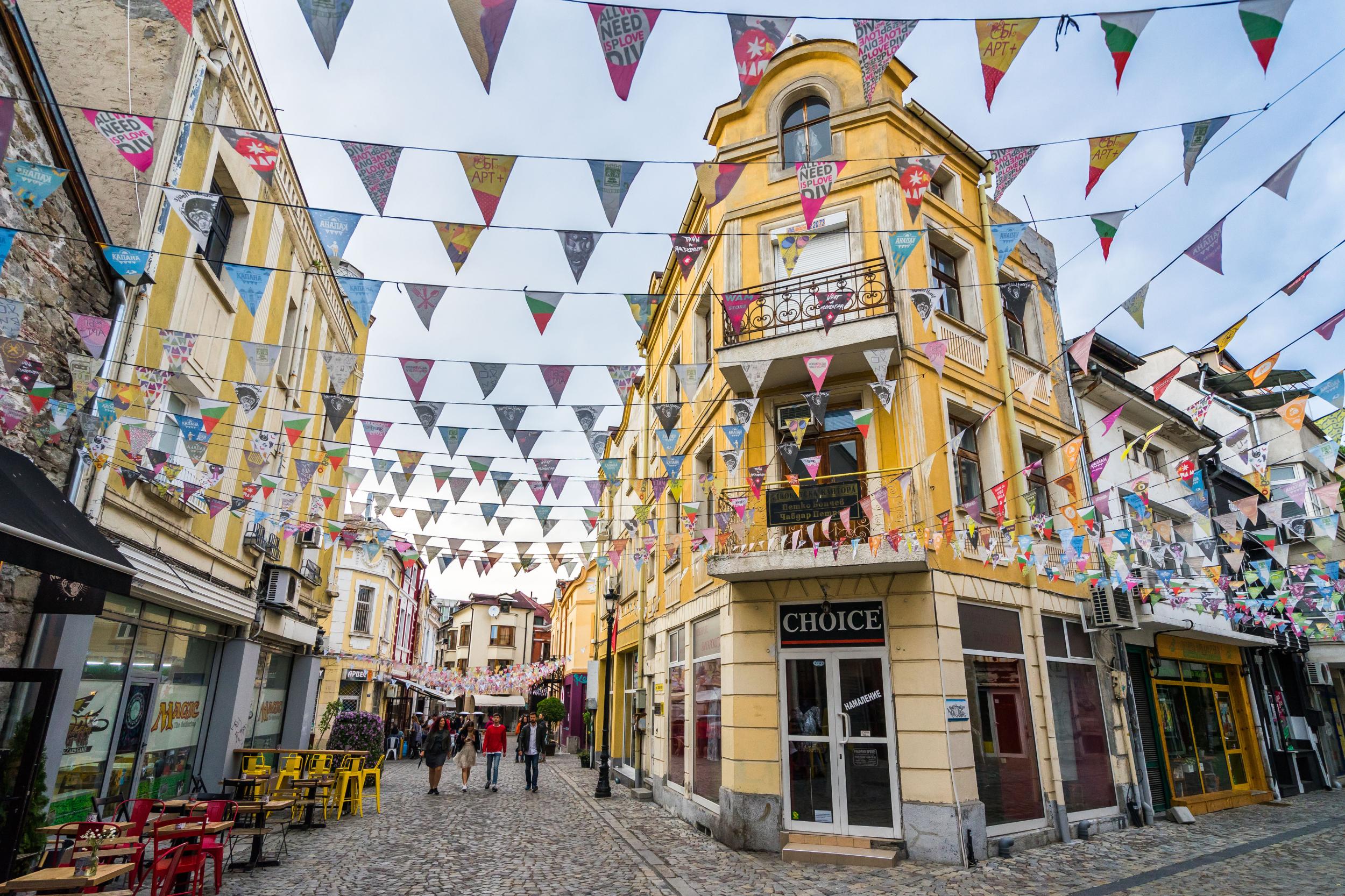 Hop-heads should stroll to Bar Craft. At this industrial-themed beer joint, you can pick from numerous craft brews (as many as 55 at a time), gin cocktails, Moscow mules and more. Open 6pm-12am, Tuesday to Sunday.
Round out your exploration of Bulgarian booze at Vino Culture. Just south of the Kapana district, its unpretentious staff will happily guide you to some of the finest local wines. You're guaranteed to emerge with new-found appreciation of Mavrud (rich and dark), Melnik (plummy and fruity) and many more. Open 5pm-11pm, daily.
Where to shop
Plovdiv's Old Town has plenty of boutiques selling handmade jewellery and art – look out for Troyan pottery featuring a psychedelic "drip" design. Many items on sale are mass-produced, but for one-of-a-kind souvenirs, pop into Andromeda Art. Here you'll find artisan jewellery in materials from bronze to bone, acrylic and oil paintings, ceramics and folkloric ornaments – the handiwork of 32 different Bulgarian artists. Open 9.30am-8pm, daily.
At UTOPIA Art and Design House, you'll find jewellery and clothing made by Bulgarian designers: distinctive pottery, pendants with a sleek modernist style, even handmade lampshades. Open 11am-7.30pm, Tuesday to Saturday.
The pedestrian arcade Knyaz Aleksander, extending from the Roman Stadium to Tsar Simeon Garden, is the main shopping street. You'll mostly find Bulgarian high-street chains, but it's worth flaring your nostrils inside Refan. This parfumerie sells fragrances and lotions infused with flower oils, pressed from petals collected in the Rose Valley, 70km northeast of Plovdiv. Open 8am-5pm, Monday to Friday.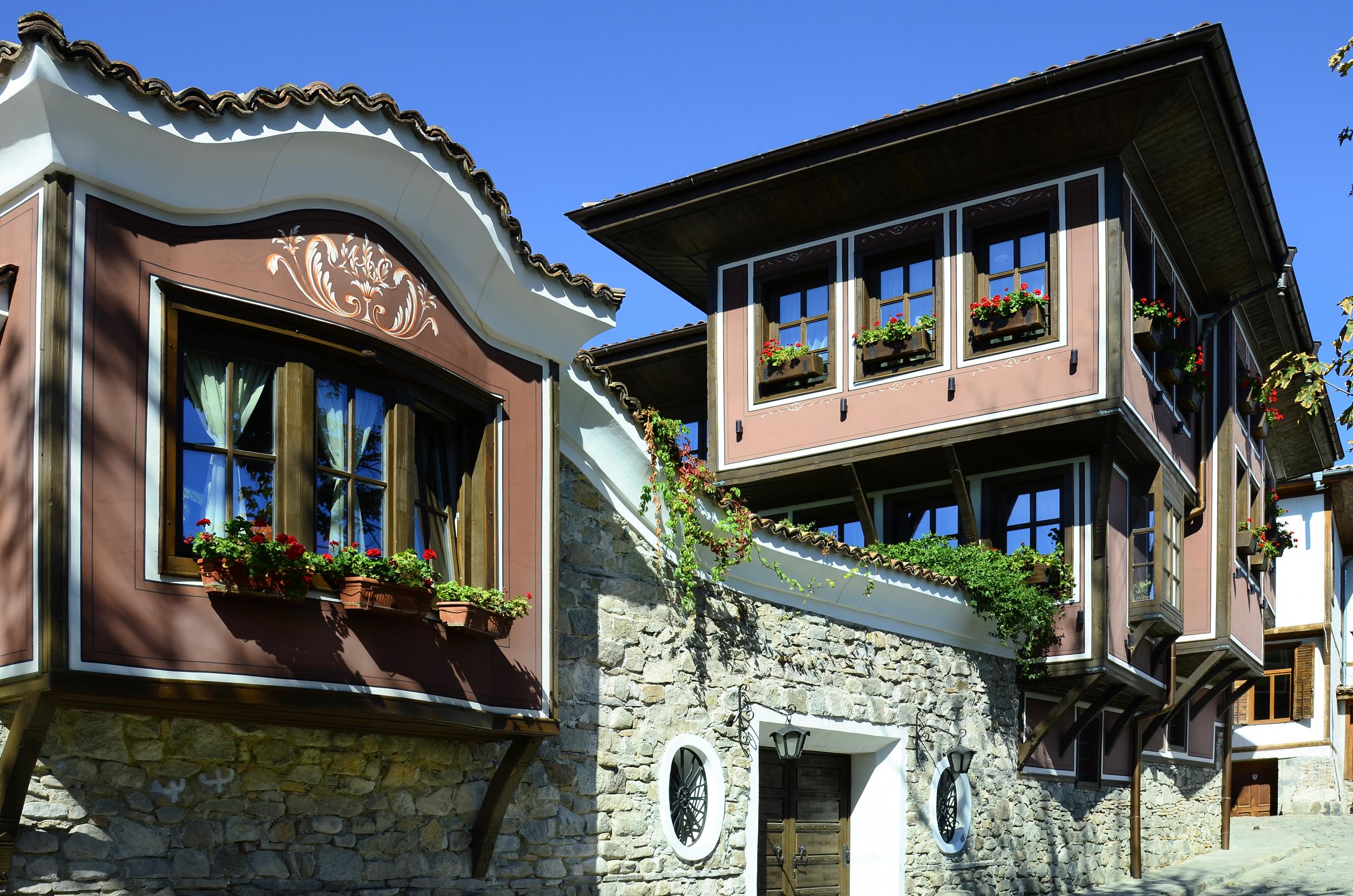 Architectural highlight
Plovdiv's Church of Sveti Konstantin and Elena dates to AD337. It's the city's oldest church and an icon of the Old Town, thanks to its exterior frescoes and gleaming bell tower.
Nuts and bolts
What currency do I need?
The Bulgarian lev.
What language do they speak?
Bulgarian, but English is widely spoken.
Should I tip?
Rounding up the bill is appreciated though not always expected; 10 per cent is appropriate.
What's the time difference?
Bulgaria is two hours ahead of the UK.
What's the average flight time from the UK?
Direct flights between London Stansted and Plovdiv via Ryanair take three hours and 10 minutes.
Public transport
The centre of Plovdiv is easily walkable. Driving and parking is bothersome in the steep, cobbled Old Town.
Best view
Ramble to the top of Nebet Tepe, literally "Guard Hill", where you'll find the crumbling walls of a former Roman citadel. From here, there's a peerless panorama across Plovdiv to the hilly horizon.
Insider tip
When trying fruit brandy rakia, sip it as the locals do – accompanied by a shopska salad. The crisp cucumber, tomato and tangy white cheese is a refreshing complement to Bulgaria's fiery national drink (and might just keep you sober).
Source: Read Full Article