From the moment I step off the plane in Innsbruck, mountains dominate the view. Mighty and majestic, they instil a twinge of excitement (mixed with dread) when I imagine being up among them on two wheels.
It will certainly make for a magnificent backdrop next week, when more than 1,000 professional cyclists descend on Tyrol, western Austria, for the Road World Championships. After events in the US, Qatar and Norway in recent years, the annual UCI (Union Cycliste International) race is coming to the Herz der Alpen (heart of the Alps) – a slogan used on the postersall over the region.
I'm heading to the Ötztal valley, which will be in the spotlight when it hosts the start of the team time trial. Home to the annual Ötztaler Radmarathon, a one-day beast that covers 238km with altitude changes of 5,500 metres, it's an area known for tough, long climbs.
As thrilling as racing around the region will be for the pros, taking in the beautiful scenery and culture won't be a major concern for those concerned with times and positions. I have no such expectations heaped upon me and am free as a bird to discover more of what these mountains have to offer, and keep an eye out for tempting pit stops en route.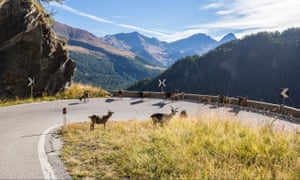 My plan is to take in a few of the popular road cycling routes, which focus on iconic climbs such as the Ötztal Glacier Road (13.5km at 10.5%) and Timmelsjoch (28.7km at 6%), from my base of Sölden, once a remote farming village and now better-known for a thriving ski scene in winter and extensive mountain biking and hiking trails in summer. Then I'll descend into the Inn valley, which runs east along the River Inn towards the capital of the region, following the time trial route, before gently winding off on a 50km culinary route nearby, following a tourist board leaflet listing 25 places noted for their gastronomic offerings.
Around an hour's drive from Innsbruck, Sölden is deep in the Ötz valley, close to the Italian border. I meet my riding partner for the day, professional mountain biker Fabian Costa, in the cafe of the cyclist-orientated Bäckelar Wirt hotel, where I'm staying. He's here to show me some of his favourite routes but is also busy training for his debut in the Ötztaler Radmarathon. As we sip coffee and look out at the rain lashing down, Fabian raises an eyebrow and asks if I still want to ride. The UK is in the grip of a heatwave while I'm sitting here looking out at "British weather". Fortunately, while I'm buying time trying the popular Tyrolean dish of kaspressknödel (cheese dumplings), the weather clears and we head out into brilliant sunshine.
There are no natural circuits in the valley, Fabian says: many of the roads lead nowhere, and to do a loop would mean leaving the valley and re-entering, which is only recommended for the strongest riders. One circular loop from Sölden, which takes in the 2,474-metre Timmelsjoch pass and ski resort Kühtai as well as Innsbruck, means spending 15 hours in the saddle, over two days.
For my first Alpine outing on the bike we're keeping things a bit simpler, with a 40km ride towards the picturesque village of Vent (and back) . The first thing I notice as we wind our way along the smooth roads, jagged rock face to one side, sweeping views across lush meadows and pine trees to the other, is that although the roads look deceptively flat, I soon find myself running out of gears. "A 5% gradient is a flat here," smiles Fabian, cycling casually beside me.
We ride past waterfalls, catching their cool pleasant spray, while cowsdisturbed from their grazinglift their heads to stare, their bells tinkling. From Vent we test out a small winding climbthat brings us to a picturesque dead end in the tiny village of Rofen, where hikers are enjoying the flower-decked terrace of a Tyrolean farmhouse restaurant.
As we head back towards Sölden after a short rest I'm starting to feel adventurous and persuade Fabian that a taste of the Timmelsjoch high alpine road would round our day off nicely. At 28.7km in length, with 1,760 vertical metres at an average gradient of around 6% (maximum 14%), this pass eventually leads to Italy. We don't quite make it as far as the border, stopping instead at the tollbooth, where it flattens out briefly. The 16km slog, broken with a brief stop to fill our bottles at a gushing waterfall, has delivered the taster I was after. After taking in the dramatic panorama from the viewing platform, we're back on our bikes and speeding down the climbs I had previously inched my way up.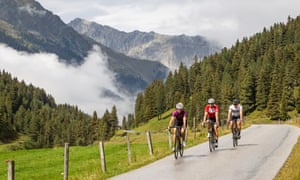 "For cycling, this is a good place but you need to be really fit," says Stefan Kirchmair, who I meet later in the week for a cycle around Innsbruck. Stefan, a former professional racer, won the Ötztaler Radmarathon in 2011 and 2012, so knows the valley's challenges better than most. He now offers coaching services and training camps for amateur riders.
The morning after the Sölden ride, Fabian and I descend out of the Ötz valley, heading north: it's a thrilling hour-longride, but makes me appreciate how easy the professionals make hairpins look. We stop at Area47 (area47.at/en), Europe's largest adventure park, for coffee and rather substantial pretzels in the outdoor cafe. Next week, the elite riders will be here warming up for their team time trial, but for now thrill-seekers can be spotted tackling the high ropes and 17-metre water jump. Mountain bikers can join guided tours of routes starting from Area47, whisking riders and their bikes up in a gondola before they set off on an exhilarating mix of trails.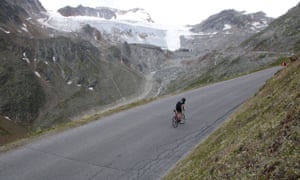 On our road bikes, we head out on to the fast and flat time trial course. After yesterday's cycling in the mountains, it seems outrageously easy. At the pretty village of Silz, we meander towards our first stop on the culinary cycling route: a farm belonging to award-winning honey producer Heinrich Gritsch. Visitors can drop by the farmhouse for tours and tastings, and when he's not around, there's an honesty box for anyone who wants to pick up a jar of mountain blossom honey to take home.
After another kilometre, we turn on to a cycle path that sweeps up past fields of maize, radishes and potatoes, and through quaint villages. Among the fruit orchards and flowers of the Mair family's Beerengarten (berry garden) just outside the village of Rietz, we sample deliciously refreshing sorbet made with thefruits this local family institution is renowned for.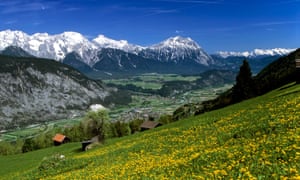 We cycle lazily alongside the River Inn to our next stop, Kattler's Hofladen (farm shop) in the riverside village of Oberhofen. This tiny deli selling freshly baked breads, ham, cheeses infused with herbs, terrines and yoghurts is a popular spot with locals. It's only open two days a week, and queues snake out of the door as people buy products lovingly made by Manuela Fritz and the rest of her family.
As we cycle off, stomachs full, I think about something a local cyclist, with 40 years' experience of riding the area's trails, told me earlier. "The mountains shape our way of life," he said.
Having tasted delicacies of the area, infused throughout by the landscape that produced them and having ridden the highs and lows of the mountains, I think he has summed it up perfectly.
At a glance: Tyrol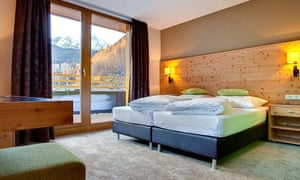 Flights, accommodation, transfers and bike hire were provided by the Tirol tourist board and Innsbruck tourist board. Bäckelar Wirt hotel has doubles from €105 room only. It includes a spa and a bike storage room.
How to do it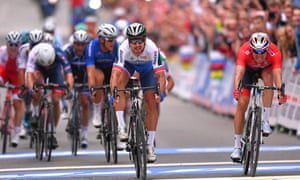 This year's Road World Championship is in Tyrol from 22-30 September. Last year the men's race was won by Peter Sagan. Details of the routes at innsbruck-tirol2018.com. The Ötztaler Radmarathon is at the end of August most years and entry is by ballot. Information about the culinary cycling route at innsbruck.info. Road bikes can be hired from Sport Brugger in Sölden or Die Börse in Innsbruck.
Getting there
Easyjet flies to Innsbruck from Bristol, Gatwick, Luton and Manchester, and British Airways from Heathrow, both from about £85 return.
Looking for a holiday with a difference? Browse Guardian Holidays to find a range of fantastic trips
Source: Read Full Article