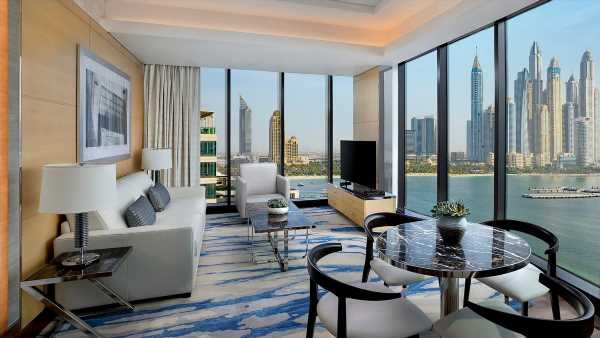 The Biden administration's intense scrutiny of resort fees isn't fazing Marriott International CEO Anthony Capuano.
During Marriott's Q4 earnings call on Tuesday, Capuano indicated that less than 300 of the company's hotels charge resort fees or similar fees. There are some 8,300 hotels in the Marriott system.  
Last week, President Biden during his State of the Union address said, "We're going to ban surprise resort fees that hotels charge on your bill. Those fees can cost you up to $90 a night at hotels that aren't even resorts."
Capuano believes the Marriott hotels that do charge resort fees are on solid ground.
"If you listen to what [President Biden] actually said, his concern was hidden fees," said Capuano. "And the manner in which we disclose resort fees or destination fees, combined with the rigorous process we have to approve the implementation of one of those fees and the requirements for a meaningful value proposition before those fees are approved, gives us comfort that we have the right strategy."
Update on housekeeping at hotels
During the call's Q&A session, Capuano shed light on Marriott's strategy around daily housekeeping, which the hotel industry began phasing out as an industry standard during the height of the pandemic.
"We will have modified housekeeping protocols by quality tier," Capuano explained. "In our luxury portfolio, we are essentially back to pre-pandemic, full daily housekeeping. In the upper-upscale tier, we have daily tidying, so not a full cleaning, but making the bed, changing the terry, emptying the trash, etc. And in our select-service portfolio, we have an every-other-day tidy."
Capuano added that Marriott's housekeeping protocols retain an element of "optionality," with guests able to select for housekeeping preferences during the booking process and at check-in. 
Big growth in group bookings for hotels
Marriott International reported continued progress across all business sectors in the fourth quarter, with groups showing "the most meaningful improvement in 2022," Capuano said.
In the U.S. and Canada, Marriott's largest region, fourth-quarter group revenue increased 10% from 2019. Capuano said group revenue for 2023 is already trending up 20% year over year, with room night and rate gains in each quarter.
Leisure demand remained robust, with fourth-quarter room nights up 7% versus 2019. Meanwhile, business travel demand in the U.S. and Canada remained "steady from the third to the fourth quarter," according to Capuano. He said business travel in Q4 was 90% recovered from 2019. 
Capuano reiterated that while the lodging industry is "not immune to downturns in the macroeconomic environment," Marriott has not "seen any signs of demand softening." 
Marriott reported Q4 revenue of $5.9 billion, a 33.2% increase from a year earlier, and net income of $673 million, a 44% increase.
Source: Read Full Article