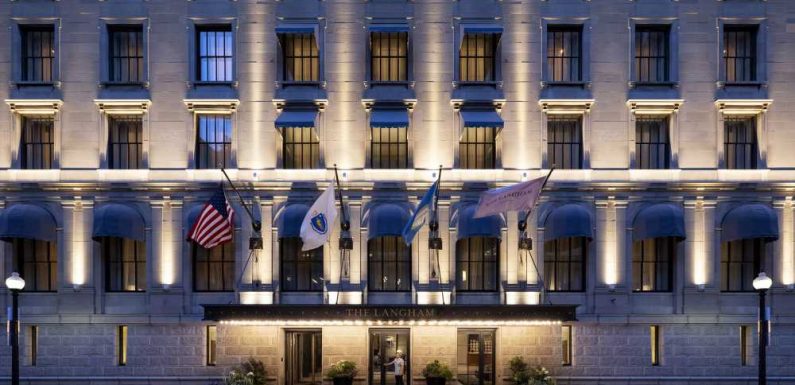 While the exterior of the Langham, Boston hotel may not have changed much, returning guests might not recognize the interior, following an extensive $200 million renovation.
The hotel reopened its doors on June 30 after being shuttered for more than two years while the renovation took place. Originally planned as an $85 million project, the owners decided to increase the investment and make additional changes during the pandemic.
Housed in a building that was once home to the Federal Reserve Bank of Boston, the nine-story hotel has 312 rooms, including 17 suites, all of which were remodeled during the renovation. 
Rachelle Boudreau, the Langham, Boston's director of sales and marketing, said that one of her favorite aspects of the redo is the artwork. 
"We have almost 300 pieces of art, 68 that are commissioned and about 150 are by local artists through the Boston Copley Society," she noted. "A lot of the images portray different parts of the city and historic past and present moments of Boston, so when you're in the hotel you really get a sense of being in a Boston art gallery rather than being in a hotel where you could be anywhere in the world."
The pool and health club are being redesigned, as well, and are set to open at the end of this year or early 2022. Boudreau said those were added toward the end of the process with the expansion of the renovation budget in order to bring everything in the hotel up to the same level of five-star luxury.
Culinary options
The Langham, Boston has also expanded its dining options. They added a lounge called the Langham Club on the eighth floor that will have five different food and beverage presentations throughout the day when it opens in September. 
They've also added a street-level cocktail pub called the Fed, which was designed after the Wigmore, a British-style cocktail pub located in its sister hotel, the Langham, London. Boudreau said that even though the bar has only been open for a few weeks, locals and guests have already been enjoying the culinary offerings, including a build-your-own seafood tower and a "10-mile charcuterie board," for which all the meats and cheeses are sourced within 10 miles of the hotel. 
For further dining options, the hotel will be opening its Grana restaurant in September. Set in the former bank's impressive grand hall, the restaurant will offer family style Italian meals.
For more information, visit thelanghamhotels.com/boston.
Source: Read Full Article