Price aside, eating at a one of the Basque country's many Michelin-starred restaurants and sitting on a sea wall with a picnic have more in common than you'd imagine. The region's greatest chefs – including Eneko Atxa, Elena Arzak, Andoni Luis Aduriz of Mugaritz, and Victor Arguinzoniz of Asador Etxebarri – all say the fertile land and seas, fresh produce, independent artisans (cheesemakers, winemakers, bakers), plus a culture with food at its heart, make for a transcendent gastronomic experience. It's this holistic convergence that made Bilbao the destination of choice for the World's 50 Best Restaurants event this summer.
You'll remember a meal in one of the Basque country's restaurants for a lifetime. But visit the region's artisan producers yourself and you'll get the ultimate picnic – and a lot more euros left in your pocket. I set off on my epicurean treasure hunt from Bilbao, visiting shops, food producers, and wine and beer makers, to enjoy the tastiest treats and finest drink in the most scenic picnic locations.
Bilbao
Where to buy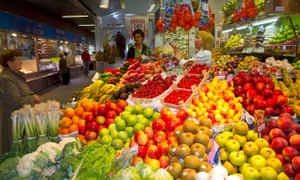 Mercado de la Ribera is the first stop for salads and cheese (idiazabal sheep's varieties, and obscure examples from Navarra). One stall sells a baffling variety of marinated olives, charcuterie from acorn-fed pigs (sausage, cured loin and chorizo bellota).Asier Beato at stall 21 sources crusty wood-oven-baked breads from small producers. Don't ask for butter: these are breads for mopping olive oil or sliding under slices of juicy tomato and anchovy.
Outside in the narrow streets of Casco Viejo (old town), Ultramarinos (c/Artekale, 22) sells wine, oil and tins of anchovies. If you really want to look the part, Cestería Alonso (c/Belostikale 15) will sell you a chestnut wood basket to carry your loot in (they're actually made for collecting mushrooms). Sophisticates should browse the aromatic deli at La Viña del Ensanche (c/Diputación), while the sweet-toothed will enjoy old-fashioned cake shop Arrese (Gran Via 24) for vast cream buns they'll pack in a box. For the lazy option, Bar Eme (c/General Concha 5) near Plaza Moyúa sells tasty sandwiches with its own salsa secreta.
Where to picnic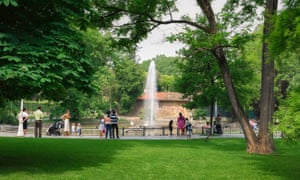 A leafy example of regeneration, Bilbao is both grittily urban and surprisingly bucolic, with plenty of choice spots. Choose a low wall overlooking the Nervión River and eat while watching passing rowers and pleasure boats; sprawl on the immaculate shaded and landscaped lawns of Doña Casilda park; or take the funicular to the Artxanda viewpoint for panoramic views of the city (the station is just across the Zubizuri bridge).
Seaside near Bilbao
Where to buy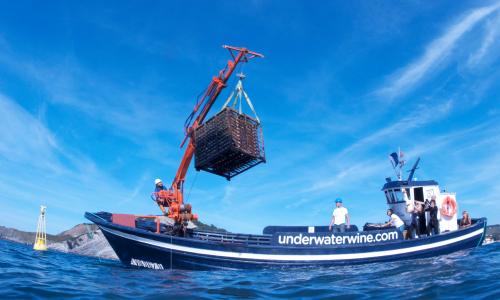 Stock up in the city, but add a seaside note with canned Cantabrian anchovies, tuna and berberechos (cockles) from traditional canneries Zallo and Serrats (available across the region and from the canneries in coastal Bermeo, half an hour to the north-east). Pair it with wine from the underwater winery, Crusoe Treasure, at beachside Plentzia (on the Bilbao metro). Its interesting bottles are on the wine lists of several Michelin restaurants. There are tastings by boat, if your constitution is up to it .
Where to picnic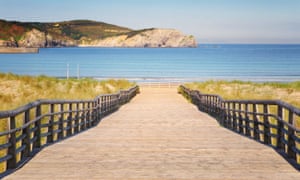 Bilbao can't compete with San Sebastián's lovely La Concha beach, but the sea is just a 30-minute metro ride away from downtown. Take line 1 and get off at Neguri station for wealthy Getxo, Sopela for surfbeaches, or stay on to Plentzia for family-friendly sandsand, if you walk on a bit, Gorliz, with petrified dunes and a lighthouse. Detailed information at metrobilbao.eus.
Alternatively take the train further east from Bilbao-Atxuri station to quaint Mundaka – popular with surfers as it's home to one of Europe's best left-breaking waves – and the gorgeous sandy beaches of the Oka estuary (home to spoonbills and fish eagles, and part of the picturesque Urdaibai reserve). Those with a car (Mundaka is a 50km drive) might consider stopping before Bermeo and picnicking near the San Juan de Gaztelugatxe island hermitage (Dragonstone in Game of Thrones). But Mundaka has its own clifftop hermitage: Santa Catalina, less dramatic, but without the 241 steps and waves of coach party visitors.
• More information frombizibermeo.eus
Urkiola mountains
Where to buy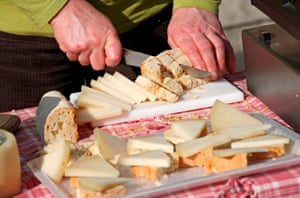 Take the BI-623 south from Durango and look out for a caserio or baserri (farmhouse). Caserío Mañondo, just beyond Izurtza, is a veritable one-stop picnic supply shop. This farm, owned by the Garate family, makes mugarra, an idiazabal cheese, from its own ewes, and sells it in kilo and half-kilo slabs. There's also fresh-picked fruit and veg from their garden and orchards, and in the room behind the counter, bread is shoved into wood-fired ovens on long paddles, destined for neighbours throughout the valley and the three-star Asador Etxebarri restaurant nearby. Their pan de maíz is solid as a brick and best sliced finely and dipped into a hot drink, and the local honey and cider.
The Urkiola area is the home of cuajada, curdled ewe's milk, set like blancmange and, unlikely as it sounds, delicious.
The traditional Basque wine, txakoli, is produced by small wineries in three very different denominated areas – Getaria, Alava and Biscay. Bodega Elizalde, 10 minutes' drive north of Elorrio, makes fine Biscay txakoli, and a crisp, acidic, bubbly. Visit the winery (call in advance) and try it with chorizo and anchovies outside the old farmhouse, or keep an eye out for it in local shops.
Where to picnic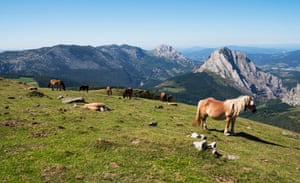 There are nine natural parks in the Basque region, and Urkiola (58 km sq and three mountain ranges) is half-an-hour's drive south-east of Bilbao. Close to Durango and Guernica – still defined by the bombings of the civil war – this is a timeless, mistybut cheery place of lush fields, jagged peaks, stone farmhouses trailing vines and roses growing beside apple orchards. Hiking options are plentiful, and maps, advice and parking can be had at the Toki Alai information centre on Puerto de Urkiola, the steep pass that cuts north-south through the park. On a hot day, a picnic by the crystal stream in the limestone Atxarte ravine is perfect. If it rains, visit the villages of the Durango valley which thrived in medieval times as the crossroads of two trading routes, as the palaces, crests, crosses and Elorrio's ginormous church attest.
• More information from urkiola.net and basquemountains.com
Gorbeia natural park
Where to buy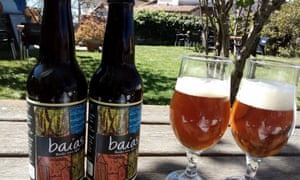 The whole park is a larder. If passing the Alava town of Aramaio, collect jam, chocolate or cream-filled pastel Vasco and a crunchy loaf from Panadería Ibarra (c/ Nardeaga, 23) and apple juice and cider from the Iturrieta cider house (Arraga Auzoa, 2). Idiazabal cheese, smoothly fresh or matured to tingle the roof of your mouth, is widely available direct from the cheesemakers. Local tourist boards keep lists, and there is a cheese route. Try including the makers of Atxeta cheese in the idyllic location of Otxandio and the hamlet of Oleta (appointment required). And for the sweetest of treats, visit the bees and buy their honey at Milalore Aldeko Eztia in the distinctly Swiss-looking Aramaio valley (May-end of October, €5, book ahead, aldekoeztia.blogspot.com)
To drink, opt for beer. Microbrewery Baias – named after the Baias river that flows through Gorbeia, from which the water is sourced– produces a range of natural beers. You're welcome to buy direct, enjoy one in their garden or, if you can join a group, take a tour (c/La Escuela, 6, Urkabustaiz). Available in local bars and hotels, but also in bottles at Panadería Echebarria in Murgia and frutería Luis Mari in Izarra.
Where to picnic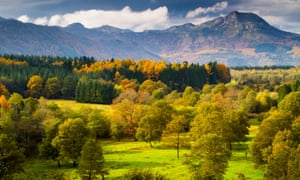 Drive south 20km, and pine and eucalyptus forest planted to supply the shipbuilding, iron and paper industries gives way to native oak and beech. Gorbeia is the region's largest natural park, 200 sq km of ravines, limestone caves and crags. It is wild – home to wolves, deer and boars – but accessible with well-signposted trails for mountaineers and dilettante hikers alike. The nominal heart is a cross, a 12km upward hoof from the Pagomakurre information centre, but many attractions are virtually drive in: the 100-metre Gujuli waterfall can be viewed from the carpark at the top (just west of the A68).
• More information: gorbeiaeuskadi.com
Rioja Alavesa
Where to buy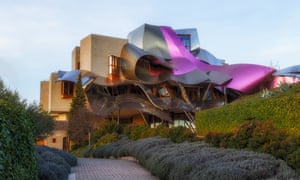 Fill your basket in Laguardia, 112km south of Bilbao. The butcher's on Plaza Mayor sells jamón, chorizo and tins of white asparagus from Navarra. Virtually opposite there's a deli, Enoteca Arburi, stocking rioja and artisan chocolate, and up the narrow street to the church, Panadería Torres (c/Samaniego) sells hefty loaves, sweet bizcocho and magdalenas. With a cafe called Como Vino Para Chocolate, this is a town dedicated to the best things in life.
To drink, try before you buy with a tasting at one of the 50 or so wineries offering tours. For family-run, try the prestigious Remírez de Ganuza winery in Sabaneigo. And a trip to Elceigo and Frank Gehry's wonky titanium masterpiece at the Marqués de Riscal winery is obligatory. On a budget? Collect a Marqués de Riscal Limousin for a modest €12. Feeling indulgent? Splash out on a Rioja Barón de Chirel (€56).
A wine tour at Bodegas Baigorri (€14) is worth it just to see inside the futuristic building, and the shop sells great wines from under €10. Once inside, however, only the most resolute picnicker will be able to resist the three-course €50 tasting lunch (sample menu: watermelon gazpacho with basil ice-cream, artichoke hearts with cockles, candied cod loin with shrimp sauce paired with superb wines, which are included in the price). You have been warned.
Where to picnic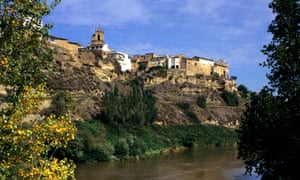 Bordered by the Ebro and the Sierra de Cantabria, and peppered with fortified medieval villages set against serious mountain peaks (2,200-metre San Lorenzo is snow-capped year-round), the Basque Rioja region contains some 300 wineries. Laguardia, encircled by 12th century walls, is the de facto capital and the tourist office here will help with winery visits and also open the magnificent church, the Iglesias de Santa Maria de los Reyes, on request. If it's hot, picnic at Lapuebla de Labarca on the banks of the Ebro, where wine-themed kayaking tours are available (lapueblakayaks.es and rutadelvinoderiojaalavesa.com).
• More at laguardia-alava.com and rutadelvinoderiojaalavesa.com
The trip was provided by the Government of Biscay. For information on walking and cycling routes go to turismo.euskadi.eus. For places to stay and more in Bilbao, see the Guardian Travel city guide
Looking for a holiday with a difference? Browse Guardian Holidays to find a range of fantastic trips
Source: Read Full Article