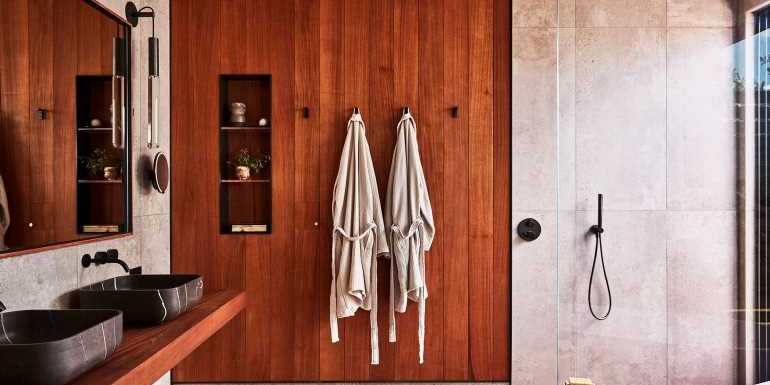 Auberge Resorts Collection has opened Stanly Ranch, a new Napa Valley resort spanning 712 acres of vineyard and ranch land.
Located approximately 50 minutes outside of the Bay Area, Stanly Ranch, Auberge Resorts Collection comprises 135 cottages and guestrooms, all of which include private terraces. The property's largest guest accommodation is its three-bedroom Palomino Suite, which can sleep up to eight.
The property's cottages feature outdoor showers and are stocked with wellness-oriented amenities like yoga mats, meditation cushions and Theragun massage devices.
Wellness focus at Stanly Ranch
Wellness is also the focus at Halehouse, billed as the resort's "center for restoration and recovery." The health center offers individualized programs developed by medical, sports and wellness professionals, as well as physical therapy, massage and chiropractic services, among other treatment types. 
Chief among Halehouse's wellness offerings is its Springhouse Circuit program, with draws inspiration from biohacking regimens and includes a hyperbaric oxygen chamber, tepidarium (warm room), salt room, cold plunge bath and cedar sauna.
The center's fitness club, Fieldhouse, offers fitness assessments, training and coaching, along with a fitness menu ranging from high-intensity interval training classes, yoga and Pilates to trail rides, runs and hikes.
In addition to its wellness and fitness venues, Stanly Ranch is home to three dining venues. They include Bear, which serves breakfast, brunch and multi-course dinners; Gavel, a coffee bar and retail space; and Basin Bar, an alfresco eatery located poolside, specializing in casual, farm-driven fare.
Stanly Ranch, Auberge Resorts Collection marks Auberge's third flag in the Napa Valley, joining the portfolio's Auberge du Soleil and Solage properties.
Auberge Resorts Collection has 22 hotels and resorts around the world.
Source: Read Full Article