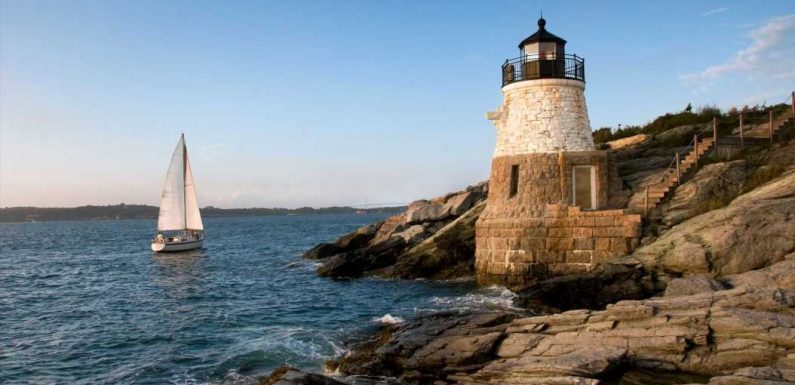 You can listen to the Women Who Travel podcast on Apple Podcasts and Spotify each week. Follow this link if you're listening on Apple News.
In January, our frequently asked questions episode saw us edging back into the world of travel—and with this week's episode, we're actually starting to plan those trips we've been dreaming about for this summer and into 2022. Joined by associate editor Megan Spurrell and transportation editor, Jessica Puckett, we're answering your questions about the outdoorsy domestic destinations to visit right now, the countries open to vaccinated travelers this summer, and where to reunite with your extended family after what has been more than a year apart for many. Plus, we chat about navigating the visa process for traveling long-term as a digital nomad. 
If you have questions you want answered in our next FAQ installment, DM us at @WomenWhoTravel on Instagram. 
Thanks to Megan and Jessica for doling out advice this week. Thanks, as always, to Brett Fuchs for engineering and mixing this episode. As a reminder, you can listen to new episodes of Women Who Travel on Apple Podcasts, Spotify, or wherever you listen to podcasts, every Wednesday.
Read a full transcription of the episode below.
Meredith Carey: Hi everyone and welcome to a new episode of Women Who Travel, a podcast from Condé Nast Traveler. I'm Meredith Carey, and with me, as always, is my co-host, Lale Arikoglu.
Lale Arikoglu: Hello.
MC: There's been a whole lot of change in the travel space since our last frequently asked questions episode in January, which has led to plenty of confusion and an equal amount of excitement for the travel to come. This week, we're answering the questions you submitted on Instagram, covering everything from news that the European Union is opening to American travelers this summer to the sunny destinations we love closer to home. Joining us to offer advice are associate editor Megan Spurrell…
Megan Spurrell: Hi.
MC: And transportation editor, Jessica Puckett.
Jessica Puckett: Hi.
MC: Thank you both for chatting with us today.
LA: I just want to preface this conversation with the fact that this feels like the first time in a long time that we get to be excited about travel in a real and familiar way that we haven't in about a year.
MC: The planning is happening. We are executing the trips we've been dreaming about on this podcast for ages now.
LA: So naturally everyone has a lot of questions, including Elaine and Katherine, who both DM'd us over Instagram this week, who want to know what are some good summer destinations that we should be booking right now, specifically, also, for vaccinated travelers?
MC: So if we want to talk domestic, U.S. destinations, somewhere that I think plenty of people visited last year but I think will be even more exciting and packed honestly this year will be national parks. They offered such a new escape in the last year for everyone to get outside and be able to explore and have more space to move around and maybe be maskless if they wanted to. And I think going forward, just being able to plan longer trips to the national parks, be able to stay in the places that you want to stay, and really get to be outside for a different reason than everyone was outside last year is something that people should be thinking about.
The important thing, and I guess the thing that keys into this question about booking right now is that a lot of national parks that did not previously have reservation systems are going to be requiring reservations this year. So places like Yosemite, Acadia National Park if you want to go see the sunrise, you're going to have to make a reservation in advance—same for sunrise in Hawaii. Rocky Mountain National Park in Colorado is also going to be requiring reservations for certain sections of the park. We have a story about it online, but it's one of those things that you're going to want to plan out pretty meticulously compared to previous years where you might've just been able to drive up, pay your $30 national park fee, and continue on your way.
LA: Mere, I couldn't help but notice that you used the word "packed" when you referred to national parks this summer, and even as more and more of us are getting vaccinated and cases continue to drop, just that word, I think, can conjure some level of anxiousness in a lot of people. Do you have any advice for those who maybe want to avoid the more popular trails and parks, what should their game plan be to maybe avoid the crowds but still get that national park outdoors-y experience?
MC: Yeah. I mean, I think the first thing is to look up what the most visited parks of last year were. They're usually the most accessible, places like Great Smoky Mountains National Park, which crosses North Carolina and Tennessee, Yellowstone, Zion in Utah. So those are places that you may want to avoid if you're looking to avoid crowds entirely. The place that I would look, if you want to visit those states and those natural areas but maybe don't want the crowds, is look to state parks or national monuments, places that might get less recognition or are shared less, so people might not think of them first, but are still equally as beautiful and are recognized obviously for the incredible adventure opportunities that they pose and have the infrastructure to support you. So state parks, national monuments, things like that, will still have the same trails, often the same level of campgrounds, but maybe a little fewer people. I feel like one of the best places to actually take that on is in Utah.
MS: I have two things to say to that. First, we have to shout out that massive "Best State Park in Every State" story we just did that Emily Pennington wrote for us. She plucked out these incredible spots that I've never heard of… There are 50 that we had in that story, and I hadn't heard of any of them and they look like such beautiful places. So I would definitely check out that gallery and look for whatever state you're in, or the states nearby, and find out which state parks are near you.
But my version of doing that is going to Utah this summer. It'll be part of a cross country road trip, but I'm going to basically bypass Bryce and Zion and all the really popular Utah national parks and go to Grand Staircase-Escalante, which is a national monument. But I mean, if you Google it, it has the same incredible red rock formations that all of Utah's parks are known for. I'm excited because there's a new Yonder there, which is sort of a, I guess you wouldn't… It's more than glamping, but they have renovated Airstreams and tiny houses right in the middle of the desert. It's kind of a launchpad for going and doing your hikes during the day and exploring the outdoor areas but with a little comfort. Again, I think when we're focusing on domestic destinations, that's so exciting to me. I don't need to go very far to feel like I'm doing something really special this summer. So that's my approach to avoiding the crowds and still getting that experience.
JP: Yeah. State parks are obviously such a good option, but I know, Meredith, something that you pointed out over the last year is that there are actually national parks that don't receive that recognition that are off the radar. And I know one that you mentioned, that I'm semi obsessed with now, Dry Tortuga is off of Key West. That is my dream. I want to snorkel around Dry Tortuga, take a whole day, have a picnic lunch there, I think you can even camp, and that just sounds so amazing to me.
MS: Speaking of that, the best state park in Florida, in that story, was Bahia Honda, which is also these beautiful turquoise Caribbean waters. Again, you can go visit little islands and you can make it a day trip or you can camp overnight. And just looking at those photos, I couldn't believe this was a state park that I'd never even heard the name of before. I mean, there are just so many places to see.
LA: Just pivoting away from parks and wide open spaces for a second, lots of cities are opening back up. Here in New York, Bill de Blasio has vowed that the city will fully reopen on the 1st of July, which is both exciting and daunting. Do any of you have trips planned to cities and sort of more metropolitan hubs over the summer?
MS: So part of that road trip, I'm going from Los Angeles where I'm from and driving back to New York, and the first part of the trip is going to be a lot of open spaces and state parks and things like that. And then in the Midwest section, I'm just from one city to the next. And I think in planning it, we're going to go through Milwaukee, Chicago, Detroit, Cleveland. For us the approach that's making it easier to picture hopping from one city to the next in a month's time is that we'll have our car. So if it feels intense to be in a city in summer, as everything's opening up, we can take day trips, we can maybe go do some of those hikes, do those other things. But I'm also really excited to see Milwaukee in this new summer when we'll be vaccinated and able to sit outside on the waterfront and maybe check out some bars and food. Yeah, that mix is what I'm doing this summer.
JP: Yeah. I also have a trip coming up quite soon actually to a friend's wedding in L.A., and we'll all be fully vaccinated. It's a little bit weird for me still, just thinking this trip through, honestly. I know L.A. was very hard hit and is just starting to open up so we're trying to focus on some of those outdoor activities still. There's hikes you can do through vineyards and so we're focusing on that, architecture tours outside. So kind of sticking a toe back in and taking advantage of what's there, but still trying to be respectful of a city that is still trying to grapple with how hard hit it was.
MS: And that's something like… I know I mentioned Detroit, and it just makes me think of that, that still is a city that might not be ready for us in a month. I know that there have been still really high cases, so it is this weird thing of being the vaccinated person and feeling the doors are falling open for you, but also that's not the case for everyone. It's the thing that we're going to have to think about beyond just, will things be open in the same way? Will I be able to go to the restaurants I've read about? There's a lot of emotional trauma from the last year and it's still ongoing in places, and maybe it won't make sense to flit through as a visitor, so I guess having flexibility is still really important, even though it feels like the gates have been opened.
MC: To that point, Megan, and heading away from the U.S. for a bit, Angela on Instagram asked with the E.U. opening up, which it's expected to do this summer, do travelers run the risk of going places when businesses aren't open? Is it best to go this summer or is it best to wait?
Greece just opened up a few weeks ago but things there are touch-and-go as far as businesses being open at the moment and curfews being in place. I think something that we've talked about a lot in the office is just having a real sense of grace and flexibility when you're planning your trip and knowing that things could change at the drop of a hat, as we've learned in the last year, and being open to that. What do you guys think about planning a trip to the E.U. or any of the other places that are open to vaccinated travelers outside of the U.S. this summer?
JP: Well, I think you're exactly right, we don't really know what's going to happen. We're hearing some announcements from even places like France this morning that there is a plan to open I think by the middle of May like restaurants for outdoor service, museums, things you would think of as tourist attractions. As you said, I think we have seen starts and stops with reopening throughout the course of this whole pandemic so I would definitely keep that in mind, that just because there is a plan for reopening doesn't mean necessarily by July or whatever time you are planning your trip, it will be the same status. So I would keep that in mind.
For me personally, I think I am going to wait until summer 2022 just to make sure this is behind us. I want to be able to have it booked and not worry about what attractions will be open or not. So I'm looking at making those bookings for next year, at this time. But yeah, I would say if you're comfortable with the attractions and restaurants and all of that being in flux, then it could be something to consider to book this year.
LA: I think to that point, Jess, considering what your priorities are when you are on the ground in a trip, if you are someone who wants to be spending a lot of time walking around inside museums, and attending concerts indoors, and shopping indoors and doing all those sorts of activities that I think we really do associate with a lot of E.U. countries, then maybe this summer isn't the time to go. However, if you are more inclined to being outdoors and for you going to Greece is about being on the beach and being outside and going on hikes on the islands, then maybe it is possible for you and you can just accept the fact that there will be some activities that just are off the cards right now.
I think also just thinking of Greece as an example, just because a country is reopening doesn't necessarily mean that its vaccination rate is at the same as here in the U.S. I think it's really important to factor that into your own risk levels and also whether it feels right to you to visit a country that just isn't there yet. A very good friend of mine who lives in Athens, who is the same age as me, is still waiting to be vaccinated and doesn't know when he's going to be yet, whereas here in the U.S. I just had my second dose. I think, mentally, we're in very different places. So I think it's good to be sensitive to that as well.
MS: Yeah, I have similar feelings, I want to be really mindful of the state that other countries are in and also I feel like last summer I did a couple little things, so what I felt was safe and what I could do and what also helped me get out of my house. But because national parks were so busy, for example, I started to get ideas of a lot of places in the U.S. that I wanted to visit that I actually didn't get to last summer. So I think my approach is like, "Okay, now this year I have both my shots, I can get back out there. Now's the time to do the places that I learned about over the past year that are closer to home so that I can then plan ahead for that big trip next year." Because I also, after the trip cancellations of the last year, I am not up for booking something else that I feel there's a very good chance I'll have to change. I just mentally am like, "I want to do things that feel quite sure or quite easy to change."
LA: Also, just the idea of being on hold with an airline trying to get my canceled or postponed flight refunded is just like, no, I cannot face it.
MS: I can't face another flight voucher, oh my God. And then keeping track of their expiration dates.
MC: Jess, on that front with airlines and hotels, people have been pretty lax the past year, do you feel like that's changing and we're going back to the way things used to be? Or are things going to be flexible for a little while longer so people can at least book with that level of confidence that they'll get their money back if they do need to postpone or change their trip?
JP: Well, I do think things will be flexible for a little while longer. I think we'll see this continue through at least the summer, probably through the end of 2021. With airlines, we've seen a lot of cancellation and change fees just go away permanently. Some of that flexibility was walked back at the end of March with basic economy fares so you now have those very restrictive change rules again going back into place. So I think it's really, really important to, of course, read the fine print of any fare, but just keep in mind that for some of those really restrictive low cost fares, that flexibility has gone away.
I will say that going into summer, there are a lot of schedule changes with airlines just adding flights, merging flights, adding layovers, all that stuff. I actually had to change my flight to L.A. for that wedding I was talking about, and the airline gave me the chance to change my flight within one day to a new time and there was no change fee, there was no change in fare. So there is a lot of flexibility out there even though a lot of things are in flux as far as what airlines are expecting with demands. So they're adding new routes, new flights, and so just be aware of that. But they are, I would say, trying to help you.
MC: Yeah. I'm going back to Texas in a few weeks and I have a flight that has been adjusted within an hour range three times already. So yeah, I think it goes back to that, being flexible, knowing that not everything is going to be as it was two years ago in thinking, "If I book this flight, it'll be this exact flight," is important. And to make plans accordingly, knowing that those things could change.
For people who maybe are looking to go and travel internationally but don't necessarily want to go to the E.U., Megan, are there any places that vaccinated travelers can visit right now that are not in either of those places?
MS: Yeah. So Sarah Kuta recently wrote a story for us that was places that are open to vaccinated travelers, and it's super helpful. I think some places that have been opened to travelers with a negative COVID test are changing it, so now you can bypass the COVID test by showing proof of vaccination. Some of the places on that list that were exciting to me are Croatia and Montenegro for example, are… If you want your experience but aren't waiting to see what happens with the E.U., I know that Croatia is taking either proof of vaccination or a negative test upon arrival. Again, I would make sure to do your homework, like we talked about with Greece, in just making sure that it feels right for you to go now. But again, that's a beautiful place I would love to spend the summer.
And then Central America has been opening quite a bit and the Caribbean. So Belize, for example, you can now show proof of vaccination instead of a negative test. I have a friend who went a couple of weeks ago and was like, "You know what? You can just get far away from everyone, be on the beach, spend some days in the jungle," and to be honest, that sounded pretty great right now.
Yeah, so that list is really helpful. I would say that you'll notice certain regions that are really opening up, Europe's making a big effort, the Caribbean has been all along, but just really doing your homework and figuring out what you really want to think about in determining if it's right for you to go.
LA: God, you've just made me want to go to Belize.
MS: I know. Her telling me about it, I was just like, "Wow. Do I need to think bigger with my trips?"
LA: Well, I think I just am still not letting myself believe that certain things are possible and so when I hear that someone just went to Belize and it was totally fine and allowed, mind blown.
MS: Well, and I think something that her and I spoke about that is guiding how I'm thinking about whatever my first big trip out there will be, was she talked about how even the hotel she booked, just the way she looked at where to stay was so different now, was thinking about how has COVID impacted the local community. What's the mindset? What am I getting from doing research and seeing what people there think? And then she also was like, "It felt more important than ever to make sure that I stayed at a locally owned hotel," which is something that I would have thought about but maybe not researched so heavily before. And then she also found somewhere that had a really small environmental footprint. It made me think about when I do plan that first big trip, I'm going to plan it so much more than in the past and probably have different considerations. And that also made me excited to be really thoughtful with whatever I do next instead of just grabbing a flight deal and going wherever I can.
MC: Moving on to trips that I think a lot of people will be taking this year, which are to reconnect with their parents or their family in some way, Jessie asked, what are good places to take my parents who are around 50 or 60 years old—good hedging—in the Northeast specifically?
JP: Yes, I will take this one. I feel like I always mention Rhode Island on this podcast, but that is really such a nice place for parents, this family reunion type thing. My parents are also in their sixties, and we met in Newport and Jamestown, which are right across the bay from each other, and we were actually able to put this together in September of last year. It was one of those windows that happened at the end of the summer when the amount of COVID cases dropped and they were comfortable getting on a plane, I was comfortable getting on a train from New York, and we met up there and there was so much to do. Newport has amazing restaurants, amazing seafood, you can do mansion tours so there are historical aspects to it. And if you're not comfortable being inside still, there's still a ton of outdoor space, beaches. Jamestown is definitely a little more of the rustic outdoors type and there's a ton of Airbnbs available there. So I'd highly recommend that. I would say that during summer, it does get very crowded in that city or region so be aware of that. And I would definitely avoid any of the peak holidays over the summer if crowds are still a concern for you.
MS: Yeah. I think my trip that I did last summer, similarly, we felt it was finally safe to inch back out, was driving from New York up to Maine, and I just think once we got to Maine and drove along the coast up to Acadia I just couldn't believe I'd never been there before. I'm from California and it reminded me of having these really rugged, dramatic coastlines, but I have to say the seafood was a lot better. It was just such a beautiful escape to see really dense forests leading up to the ocean.
My takeaway from the trip was I would love to bring my mom who is, I'll go with a range: 50s to 60s. I just thought it was so nice to inch along the coast, stop at little beaches. Maine in summer's no secret, but there still are a lot of tiny little spots that you see as you're driving that you can pull over to. And even in Acadia, the main sites are popular and are busy, and now this year will require reservations for some of those places, but it still felt easy to sneak away from the crowds and find little spots to take a dip in the lake or read a book for a while or do a hike that not everyone else was on. I just think it was that summer mood of getting out, sweating a bit, getting in the water, and then having great seafood at the end of the day. I mean, the number of lobster rolls I ate, definitely more than one per day, but it was great. I think that would be a nice trip to do with my mom sometime.
LA: I think, just to tack onto that, the cabins that are all across Airbnb and other rental platforms are primed for family reunions. Lots of them are on lakes with their own jetties, they are near hiking trails. If you're there in a group, if you're with your family, you haven't you seen each other for a year, as many people have, it gives you the space to be together in a house and just truly relax, but you still have all the activities of Maine just at your fingertips and beautiful, beautiful scenery.
But I will also add that I was actually looking at Airbnbs in Maine last week, and they are booking up incredibly quickly. So if you do want to do this trip, you're already too late and you should act last week.
MC: So just to that point, that is true whether or not you're booking in Maine. This summer, people are going to be looking for that space and being able to fit more people in that they wouldn't be able to fit in a hotel room, so you're going to want to be really on top of getting a rental, regardless of where you're going. And again, you're going to need to be pretty flexible. Like Lale said, you want to just start booking last week, whether you're taking a trip this summer or in the fall, because everyone has the same idea right now.
LA: And if you don't consider yourself a planner, I think you might need to become a planner. I'm saying this from experience.
MS: And even though I just waxed poetic about the coast, I would say that a trick I learned last summer, that I'm relearning right now while I look at rentals, is that you can always go inland [in Maine] and find lakes and bodies of water that just… Those rentals are going to be around a lot longer than on the coast. Everyone obviously thinks about ocean, beach, be along the coastline, and one of the spots we're thinking of stopping on our road trip is in a little town along Lake Erie because I think we want to be near the water, but also I don't want to fight with people for a spot right on the Eastern seaboard. So you can use the map function on Airbnb and literally just find bodies of water, because I am currently doing this, and I would say get crafty and have a really nice time somewhere else.
LA: Okay, so to pivot a little bit from immediate summer trips and maybe slightly quicker, shorter getaways, Dana shot us a question, asking about how to figure out the visa process if you're starting to travel long term, which is a question with many, many, many answers that I think all really hinges on where you think you're going to head to start with. The visa process is incredibly complex no matter what country you're traveling to. Megan, I know that you have been doing some research and working on some stories that really get into the nuts and bolts of how this works, what have you learned so far?
MS: Yeah. I think I would also say it hinges on what you mean by long-term. So some people think that they want to travel long-term and maybe hunker down in different countries for three months at a time or something, and I think it's really about how long you want to be in one place. That's what impacts the type of visa you can get wherever you're going.
So I think if you're planning to go to one place for a while, or hop around a region or one country, then you're going to need a visa that allows you to stay there a lot longer. That's when you might want to look into visas, of which there are a lot from the past year, that are targeted towards remote workers. So Barbados, Bermuda, Georgia, the country not the state, have come out with these remote worker visas that are meant to lure people to come to the destination and be there for six months or a year. Costa Rica is rolling out something similar. I think if you want to be in one place, those visas are a great opportunity and are something new.
I think if you want to be really hopping around, it's about doing your homework of every single place you want to go. But the shorter time you stay in one place, the easier it is to get a visa.
MC: So to that point of staying somewhere for a little while and then moving on, we have done a couple of episodes with digital nomads and also talked to people about moving abroad in a more permanent way. Two people I would recommend you follow if you're interested in doing either of those things are Annette, @fromannettewithlove, who also runs Fat Girls Traveling, who zips all over the place and is currently in Mexico for the time being as a digital nomad. And Imani Bashir, who's Instagram is @sheisimanib and who has lived for a couple years in a number of different places, also currently in Mexico. But they're two people, if you're looking for inspiration on how to make it work, would be good follows that I would recommend.
MS: And I think staying somewhere long-term and really moving abroad as the kind of thing you want to do, you can also look into getting a passport for another country through ancestry. We have a story that Ashlea Halpern did for us about different countries that have programs like that. I think what can be really exciting about if you're eligible to get a passport through a grandparent who's from another country or some family tie, is that in certain places, it opens you up to more than just living in that country. It can help you get access to countries that are part of a block. So for example, if you're able to claim ancestry in Italy and get a passport, you now have access to the E.U. A similar thing can happen in South America. So there's an Andean community where if you can get access to a Peruvian passport, for example, you could then have the opportunity to be in Colombia, or Ecuador, or Bolivia. So I think using that kind of thinking, an ancestry passport can open you up to a lot of different types of visa opportunities as well.
MC: And also give you more time to explore this place that you have some historical connection to.
MS: Totally, which is the meaningful kind of travel that I think we're all looking for now.
MC: Well, thank you guys both so much for all of your advice. If people want to follow you on your summer adventures, where can they find you on the internet, Megan?
MS: I'm @spurrelly on Instagram.
MC: And Jess?
JP: I'm @jesspuck on Twitter.
MC: I'm @ohheytheremere.
LA: And I'm @lalehannah.
MC: Links to all of the stories that we mentioned from state parks to ancestry passports will be in the show notes. Be sure to check them out. If you have any questions you'd like us to answer in our next frequently asked questions episode, please DM us on Instagram, @womenwhotravel, or keep an eye out in IG stories for us to post an ask. Be sure to subscribe to our newsletter, which will be linked in the show notes. And we will talk to you next week.
Source: Read Full Article