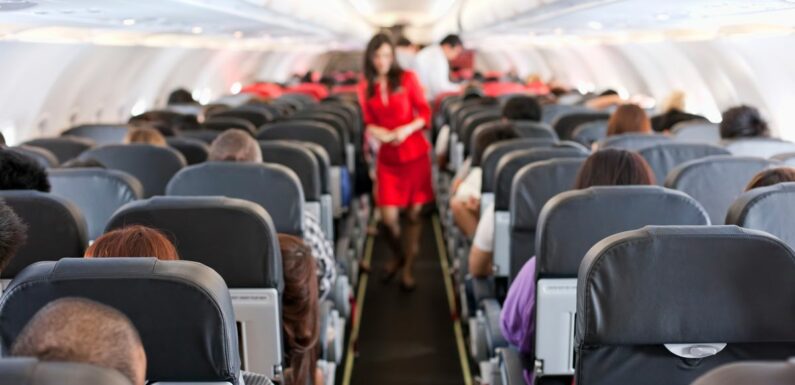 A disgruntled British Airways passenger is calling for compensation after a fellow flyer died on their flight.
The unhappy traveller claims the airline did "nothing" to compensate her for the "extreme trauma" she suffered having witnessed the incident, as well as the "disruption" she then faced on her journey – including the drinks trolley not being wheeled out.
In a long comment that has since been deleted on the British Airways Complaints Advice page on Facebook, the unidentified passenger claims they were travelling back from Jamaica when the medical emergency began.
READ MORE: What happens when someone dies on a flight? Cabin crew explain the process
She wrote: "A passenger directly (two) rows behind us passed away in the most horrific way, giving us the most traumatic experience during a flight."
She then immediately claimed that the flight was "just short of three hours delayed", which she complained affected her kids and "ruined their routines".
She added: "I've never in my life witnessed someone being shocked or having CPR performed and never would I've expected that to (have) happened on (a) flight returning home."
The lack of a drinks and food trolley also proved an inconvenience.
She added that the "flight services were halted and aside from the initial meal, drinks … were discontinued, so we did not receive a thorough flight experience that we had paid for."
She also said that since witnessing the death the family have been left "extremely sad" and had experienced "many sleepless nights".
She continued: "I would have expected some sort of communication from (British Airways) to those of us that have been on the flight, particularly close enough to have been impacted and witnessed the whole experience to check on our wellbeing, apologize for the experience and offer some sort of compensation or counselling following it."
The passenger then asked if the airline would be willing to give her compensation for the distressing experience and disrupted flight.
A spokesperson for British Airways said: "Safety is always our highest priority, and our crew colleagues were focused on providing first-aid."
Cabin crew are trained to deal with medical emergencies – when an incident occurs they do often try to continue the onboard service as planned, where possible.
The rant went viral when someone spotted it on Facebook and posted it to the FlyerTalk forum.
Some commenters said they felt the woman was not being sympathetic towards the person who tragically died on the flight.
"That poor person lost [their] life and all she was worried about was getting her breakfast before landing into London. Me Me Me Me," one person wrote, while another added, "All I can see in that text is 'me me me me me me me … me & me'".
READ NEXT:
'I went to Thailand and the plus size shop names were so savage'

People are only just realising they've been pronouncing 'Dubai' wrong this whole time

Woman films couple loudly bonking in hotel and viewers are 'turned on' by groans

Benidorm lad spills resort secrets – 88p pints, £2 fry-ups and getting drunk for 'nowt'
Source: Read Full Article