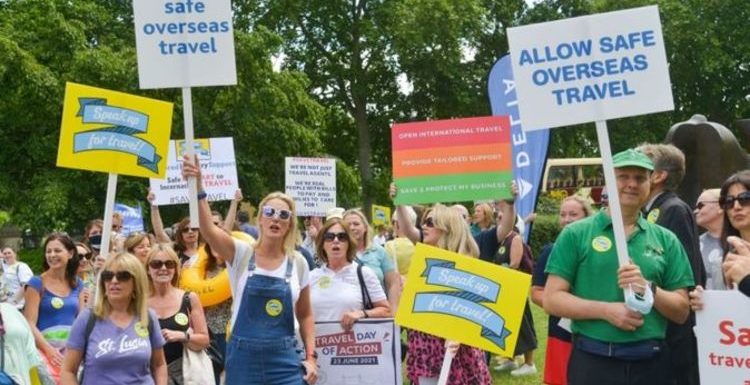 Boris Johnson urges 'patience' over travel restrictions
We use your sign-up to provide content in ways you've consented to and to improve our understanding of you. This may include adverts from us and 3rd parties based on our understanding. You can unsubscribe at any time. More info
The UK's travel traffic light system sets out the rules Brits must follow when travelling abroad. With each travel review that passes, more countries are added to – or removed from – the green and amber travel lists. As the majority of Brits take up their vaccines, the Government seems to be gaining the confidence to relax rules around travel. Experts have questioned should the system itself be reviewed or scrapped entirely?
Many Brits have had to cancel their holiday plans or trips to see much-missed family members as restrictions around international travel have continued this summer.
As many countries are starting to see a dip in Covid cases, the Government is facing mounting pressure to ease its rules around international travel.
All legal restrictions in England have been lifted, despite this rules around international travel remain.
The Government has recently adapted the existing traffic light scheme for international travel.
Changes include an end to the controversial amber watchlist and the need for double jabbed Brits to quarantine after returning from amber list countries.
However, Denis Kinane, a world-leading Immunologist and Founding Scientist of Cignpost ExpressTest, says the Government needs to keep travel rules "simple".
Mr Kinane told Express.co.uk: "The traffic light system has been an integral part of managing this. Keeping it simple, consistent and predictable will help travellers and companies plan with confidence."
The struggling travel industry alongside many sun-starved Brits have been calling for the easing of restrictions faster but travel expert Mr Kinane urges caution.
He said: "It is incredibly difficult to balance all of the different factors that go into making these decisions.
"It's easy to criticise without offering a solution, but a gradual approach allows us to monitor the impact as restrictions are removed, and by maximizing safety we will ensure we do not need to have restrictions reinstated."
For safe travel, he recommends travel restrictions and requirements should focus on COVID testing.
He said: "PCR testing is the only full-proof way to guard against the spread of new variants and keep travel open.
The recovery of the travel sector in the UK is lagging far behind continental Europe.
UK bookings are at just 16 percent of their 2019 levels, compared to 50percent in France and 60 percent in Germany, according to industry figures.
This suggests that while the travel rules may ensure safe travel, they're preventing the UK's travel sector from bouncing back.
Mark Tanzer, chief executive of the ABTA travel association, told The Independent: "The UK is falling behind our European competitors and the opening up of international travel from the UK is progressing at a snail's pace"
He added: "[It is] making it extremely difficult for travel agents and tour operators to generate enough income to kickstart a recovery, which is desperately needed to protect jobs, businesses and livelihoods."
Source: Read Full Article