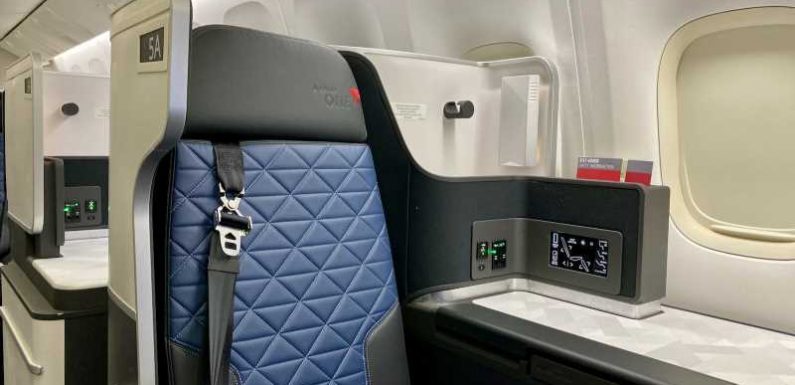 It's been nearly a year since every major U.S. airline extended elite status.
By throwing in the towel, airlines could start fresh in 2021, giving flyers a blank slate on which to earn status this year. But, travel is still down significantly from pre-pandemic highs, and without some more help from the airlines, elite ranks will be thinned.
American and United unveiled reduced thresholds and promotions late last year. Delta finally announced its status accelerator offer on Wednesday.
Now more than ever, more can be done to woo frequent flyers back to the skies. Demand is picking up and more Americans are getting vaccinated. With many pandemic-weary travelers traveling for the first time since last March, it's time for (a modified) round two of the elite-status extensions.
Want more airline-specific news? Sign up for TPG's free new biweekly Aviation newsletter!
Soft landing for all
2020 was one of the worst years ever for the aviation industry. With the stay-at-home orders and quarantine requirements, it made sense that every airline outright extended status for another year.
With demand, especially among leisure travelers, recovering, this year is shaping up to be different. As such, there's little reason for airlines to extend status again. By doing that — as some have suggested — loyalists no longer have as much of an incentive to continue flying their preferred carrier.
No matter how quickly demand bounces back, however, many international destinations will remain closed. Business travel will still be down significantly since the pre-pandemic highs. That's why airlines should instead consider a soft landing for all.
Loyalty programs could tell elites that regardless of how much progress you make at requalifying, you'll enjoy status in 2022 at one level lower than the current tier.
If you were elite in 2019, odds are you're still a valuable flyer for your preferred carrier. So even if you don't organically requalify, airlines ought to recognize that value; after all, the goal of loyalty programs and elite status is to continually generate incremental revenue.
How loyal would you feel if you were a top-tier elite in 2019, but then started flying in 2022 as a general member?
Related: All of the elite qualification changes you need to know about for 2021
Thresholds need a reality check
American Airlines already reduced elite requirements by about 20% to 33% and United reduced its by roughly 25%. Delta just announced a 50% to 75% status accelerator, and the carrier rolled over all Medallion Qualification Miles (MQMs) earned in 2020.
Nevertheless, until long-haul travel meaningfully resumes, the big 3 U.S. airlines would do well to rethink their reduced elite-qualifying thresholds.
For example, AA and Delta have a distance-based component to elite qualification.
We're a quarter into 2021, and the farthest the average American can travel is Hawaii, or the Maldives if you're feeling adventurous. An American Airlines elite would need to fly from Dallas to Honolulu and back roughly once a month in coach to earn top-tier status. Monthly trips to Hawaii sound great in theory, but that doesn't fit a typical travel pattern.
United awards Premier Qualifying Points (PQPs) based on airfare spend. A top-tier Premier 1K needs to earn 11,250 PQPs to requalify this year (after factoring in the 2021 starter bonus). Spending over $10,000 in domestic and short-haul international airfare is equivalent to over $800 a month, assuming someone is traveling every month of the year.
Without attainable goalposts, loyal flyers might give up before trying, thereby defeating the purpose of the loyalty program.
Take a look at JetBlue.
The New York-based carrier halved the flying requirements for Mosaic status and even introduced a new pathway to status that combines cobranded card spend and "butt-in-seat" flying. Earning Moasic this year requires $2,000 of spend on JetBlue flights and 15 segments — that's significantly more attainable than some of the legacy carriers, especially considering that airfares are on the rise once again.
Targeted promotions to close the gap
With a soft landing and reduced qualifying thresholds, targeted promotions can help close the gap to retaining elite status — and keep loyal flyers on the elite-status hamster wheel, even as travel slowly rebounds.
Loyalty programs have been talking about personalization for years. Well, it's time to apply that concept to earning status in 2021.
If you frequently travel solo, perhaps you should be awarded double elite-qualifying credit for flying with a friend or family member for the first time.
Maybe you used to purchase last-minute premium-cabin seats when flying for work, but you've been buying coach recently. Wouldn't you be more incentivized to upgrade your next flight if you earned double or triple the qualifying credit?
Throughout 2020 and into 2021, carriers have launched a slew of brand-new routes, many of which are point-to-point bypassing hubs. To boost load factors, generate buzz and help elites close the requalification gap, why not offer a new route bonus? This isn't a new idea, either. For much of this century, it was a tried-and-true idea for carriers adding new service. Northwest Airlines — and many others — frequently offered bonus redeemable miles for flying new routes. This could be a good year for carriers to consider a qualifying bonus.
United's MIle Play program has historically offered targeted offers for completing certain activities, like taking a given number of premium-cabin flights or purchasing an extra-legroom seat on an upcoming trip.
With the infrastructure already built, United should consider offering promotions to anyone flying these days, while American, Delta and others could consider developing a more personalized offer hub. (United offered all flyers bonus PQPs for the first three trips of 2021, but that promotion expired on March 31.)
The good news? It's possible that more promos are on the way.
"As the year progresses, if we need to launch additional promos to help members get there, of course we'll do that," Luc Bondar, United's president of MileagePlus said late last year. 
Rick Elieson, American's president of AAdvantage, told TPG in October that "if we haven't [made the right goalposts], we'll figure out ways to adapt. We want people to have an engaged and rewarding experience with American."
Though we have no insider information, loyalty executives have promised to reassess the elite qualification as the year progresses. Now, the clock's ticking for another round of adjustments or promotions.
Featured photo by Zach Griff/The Points Guy
SPONSORED: With states reopening, enjoying a meal from a restaurant no longer just means curbside pickup.
And when you do spend on dining, you should use a credit card that will maximize your rewards and potentially even score special discounts. Thanks to temporary card bonuses and changes due to coronavirus, you may even be able to score a meal at your favorite restaurant for free. 
These are the best credit cards for dining out, taking out, and ordering in to maximize every meal purchase.
—
Editorial Disclaimer: Opinions expressed here are the author's alone, not those of any bank, credit card issuer, airlines or hotel chain, and have not been reviewed, approved or otherwise endorsed by any of these entities.
Source: Read Full Article