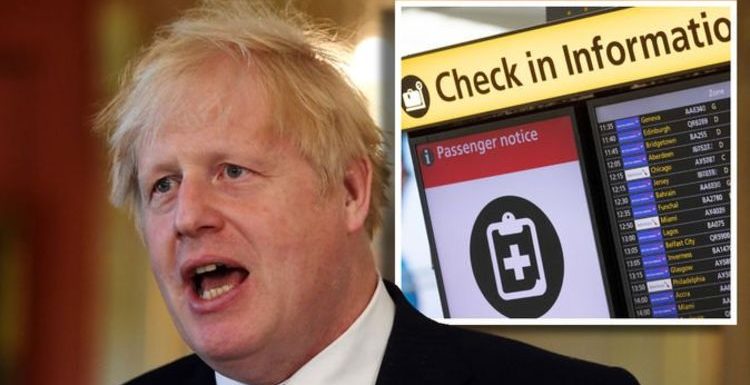 Travel: Richard Madeley questions the 'point' of list system
When you subscribe we will use the information you provide to send you these newsletters. Sometimes they'll include recommendations for other related newsletters or services we offer. Our Privacy Notice explains more about how we use your data, and your rights. You can unsubscribe at any time.
International travel is permitted under the traffic light system, with countries classified depending on their levels of coronavirus, ability to detect Covid variants and vaccination programme. When first announced, the green list disappointed many holidaymakers, with a limited option of where to visit.
Several countries on the green list also had their own entry requirements, making travel even more difficult.
Brits eager for a summer getaway have been able to travel to Portugal and Gibraltar without needing to quarantine.
However, many are waiting for additional countries to be added to the list before travelling.
Under the traffic light system, regular reviews take place to add – or remove – countries to the various tiers.
Read More: British Airways launches new flight and holiday sale
This could soon see travel permitted to more top holiday spots, including the Greek islands.
The review is due to take place every three weeks, with The Independent reporting today – Thursday, June 3 – is the date countries will be reviewed.
Any changes to the green, amber and red lists are then said to be taking place at 4am BST on Thursday, June 10.
Prime Minister Boris Johnson said: "We are going to try and allow people to travel as I know many people want to, but we've got to be cautious.
"We've got to continue to put countries on the red list, on the amber list, when that is necessary.
"We will have no hesitation in moving countries from the green list to the amber list to the red list if we have to do so.
"The priority is to continue the vaccine rollout to protect the people of this country."
What time is the green list announcement?
As yet no official timings have been given, however, a briefing is expected when the announcement is due.
We could see Mr Johnson deliver the news or as before it could be Transport Secretary Grant Shapps.
Express.co.uk will update this page with more information when it is available.
Whenever the review does take place, news channels such as BBC News and Sky News will broadcast it live.
Countries could be moved up or down the tiers, depending on the current COVID-19 data.
DON'T MISS
Are we allowed to travel to Scotland from England? [EXPLAINED]
Flights: easyJet, Jet2, TUI, Ryanair and BA updates [INSIGHT]
Spain holidays: Officials predict late summer green list for mainland [ANALYSIS]
Tiers explained
Green List
Holidaymakers returning to the UK from green locations are not required to self-isolate.
They do, however, need to take one post-arrival coronavirus test.
Any tests need to be booked before travel.
The green list includes Portugal, Gibraltar, Iceland and more, however, restrictions remain in place in some countries for arrivals.
You can visit the Government's website here to see the full list of categorised countries.
Amber List
Travellers returning from amber list locations must quarantine at home for 10 days.
Before returning to England they will need to take a Covid test.
They must also take two post-arrival tests on day two and eight back in England.
Early release from quarantine could be secured if travellers pay for a private COVID-19 test through the Test to Release scheme.
Again, all tests must be booked in advance of travel.
Red List
Travel to red list countries is banned, with all advice warning travellers against visiting.
If people do arrive in England from a red list country, they will need to isolate in a managed hotel.
This costs £1,750 for one adult in one room, with additional adults costing £650.
For children aged five to 11, the cost per child is £325.
Those returning from a red list country will also need to take two Covid tests.
Source: Read Full Article