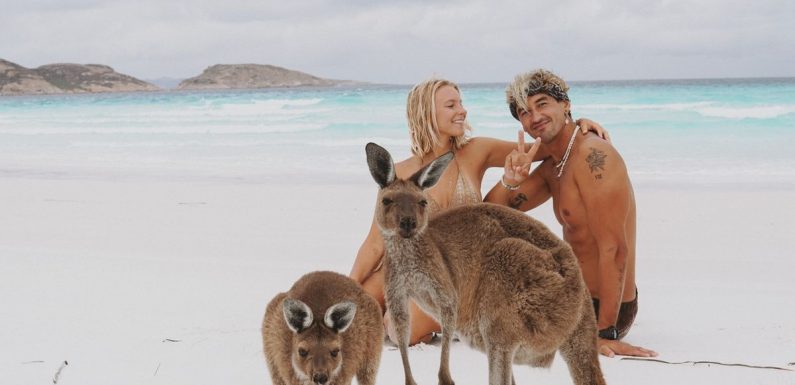 A couple have been living the dream after travelling over 15,900km around Australia.
Becca Hill and Tommy Lloyd, both from the UK, became stranded down under during the coronavirus pandemic.
The duo had arrived separately in Australia in 2020 as solo travellers with big plans that relied on staying for 12-months with a Working Holiday Maker visa.
READ MORE: Couple ditch 'monotonous' life in the UK to travel Australia in an ice cream van
But, just two weeks after Tommy arrived and a month after Becca touched down, the nation closed its borders.
Tommy commented: "I had spent months saving and building an itinerary in preparation for my dream trip and when it was finally starting to happen, news broke of the restrictions.
"I didn't quite know how to process it and had to make a very quick choice between packing up and returning home, or committing to the uncertainty and staying without any governmental assistance."
They both decided to stick it out not knowing how long the lockdowns would continue – and three years later they're still down under, says Welcome to Travel.
Becca added: "We both recognised that farmwork was the safest thing that we could do at the time as it guaranteed some security and meant that we would not be left isolated.
"It was on the muddy fields of Bundaberg farm, covered in irremovable layers of dirt, that we actually met."
Tommy was working driving tractors while Becca worked in the fruit and vegetable fields and after the seasonal work ended they decided to set out together to explore.
The pair managed to snap up a 30-year-old camper van for their journey.
Tommy commented: "Whilst in the National Park of Noosa, we bumped into a campervan mechanic who recognised us from Becca's youtube channel and it was as if he had been sent from heaven.
"He was able to help us find a van for $9,500 (£5421.51) and then spent the next eight weeks helping me kit it out every night after work".
Tommy and Becca then moved off and began their 15,906km drive around all of Australia's most popular tourist spots – at a time when there was barely anyone there.
Becca said: "It was incredible to have the most famous and beautiful areas of the country, such as Whitsunday Island, the Great Barrier Reef and Fraser Island, to ourselves.
"We feel like the luckiest people in the world to have had the one in a million chance to see these world-renowned landmarks in complete privacy and seclusion."
During their travels, they swam with whale sharks and Manta Rays, met kangaroos and went bungee jumping naked.
They even became qualified divers and got to play with sea lions.
Tommy and Becca found that work. Was scarce at the time and so took any shift they could get – from Subway to cat sitting, strimming graveyards and helping people move house.
But, they say they wouldn't swap their time in Australia for the world as it was an "unforgettable experience" and they might never have met.
Becca noted: "If we had not committed to staying in Australia, not only would we not have met, but I would have kept a very different perspective on life.
"I most likely would have gone for further studies and Tommy would probably have settled for a job.
"When these expectations were taken away, we were able to reset and think about what we really wanted in life."
Becca and Tommy aren't the only people to travel round Australia in a van recently.
Izzie and Jack Partridge, both 25, from Birmingham, landed in Australia with £16 in their pocket when they landed a job selling ice cream and donuts in the outback.
Meanwhile, the government of Western Australia is looking for 50,000 people to recruit into new jobs in Perth. – but financial experts have shared a warning for those considering the move.
Welcome to Travel helps young people secure a working holiday visa, supporting them through the process and making it as stress-free and easy as possible.
Darryl Newby and Adam Ogle co-founded the company in 2017 after travelling to Australia themselves on a working holiday visa.
READ NEXT:
You can get paid £2,000 to go on holiday with a plus one and post on social media

Brits share best 'hidden gem' UK beaches – with white sand and bright blue water

Cruise worker reveals glamorous life onboard – including dinners in £9k-a-night suite

'I started travelling the world while studying remotely and now make £10k a month'
Source: Read Full Article