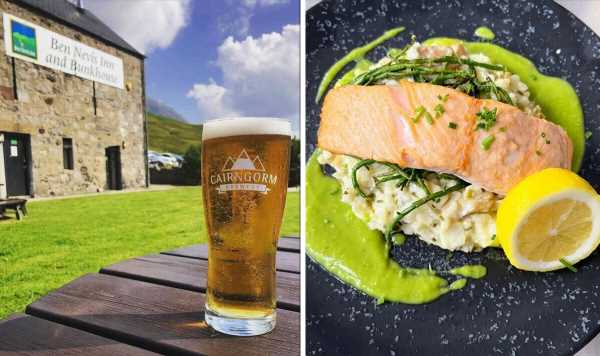 Staycations: Expert says you can save '£500' by going up north
We use your sign-up to provide content in ways you've consented to and to improve our understanding of you. This may include adverts from us and 3rd parties based on our understanding. You can unsubscribe at any time. More info
As temperatures in Britain soar again this week, wellness experts at Eden's Gate have analysed Britain's best beer gardens to come up with a list of the 10 best ones. The research was conducted by examining the number of reviews and ratings per pub on Tripadvisor, and calculating the rating disparity. From these findings, experts were able to rank the data by reviews.
Taking the top spot as Britain's best beer garden is the Ben Nevis Inn in Scotland.
As the name suggests, the pub is located in Fort William, at the bottom of the UK's highest mountain.
It is an extremely popular pub for those hiking Ben Nevis, and has been rated highly by customers.
One reviewer on Trip Advisor said the pub was "perfect", writing: "This restaurant is very cool. The atmosphere is great, the service is superb and the food is wonderful. I would highly recommend it for a traditional Scottish meal. The setting, decor and atmosphere is perfect."
Another reviewer, called Bernard, said: "The service and food were excellent. Staff were very welcoming and friendly with food arriving at the table very quickly. In particular, the Ben Nevis burger was very tasty with good salad and chips."
Another Trip Advisor user described the Inn as "the highlight of our road trip". They wrote: "Dad and I have spent five days travelling and eating around Scotland and this was our highlight. From the moment we arrived it was a pleasure. Tom behind the bar was so friendly; a top chap. The staff generally just seemed a great young team who clearly enjoy what they do. We had Cajun chicken which was absolutely fantastic. Everything I saw come out of the kitchen I would have got stuck into. Highly recommend the Joker IPA. And what a location, simply stunning. You will not be disappointed. A cracking wee inn at the bottom of Ben. We will be back. Thank you all."
A hotel and a pub, the Inn has a beer garden with 1,569 five-star reviews out of 2,259 combined reviews.
Eden's Gate calculated that with just five one-star reviews, Ben Nevis Inn is 157 times favoured by customers, than it isn't.
With an overall rating of four-and-a-half stars, it isn't surprising it that it is ranked the best beer garden to visit in the UK.
In second place was the Hare & Hounds pub.
Located in Bath, somerset, the inn offers cold beer and traditional pub grub to its customers.
A picturesque spot, the Hare & Hounds has an overall rating of four-stars, with 878 five-star reviews out of 1,533.
Many customers have cited how delicious the food and drink is, and how dog-friendly the pub is in general.
Trip Advisor user Sophie said: "We didn't eat in the pub on this occasion, but we sat in the garden and had pizza, which was lovely. Plenty of outdoor space with the most incredible view. Great for kids."
User Asim added: "Amazing find in Bath, highly recommended for both the food and service levels. The venue is in such a beautiful location that it makes the food taste even better! Great menu options, even considered vegan options. Friendly staff who engage with customers which is so refreshing, considering how busy they were. Great food, great atmosphere and lovely views out onto the countryside."
With only eight one-star reviews, the pub ranks high with a rating disparity of 14.
Next on the list is the Drunken Duck Inn.
Coming in third place, this pub is located in the quaint town of Ambleside, in Cumbria.
The pub has a total of 1,294 Tripadvisor reviews and a high four-star rating.
According to Eden's Gate's research, 711 of these reviews were rated five-star and only 63 with a low one-star rating, resulting in a disparity of 11.
Most five-star reviews were made during the months of June, July, and August, therefore it seems to be a beautiful place to enjoy the summer sun.
One Trip Advisor user called described the pub as "absolute perfection". They continued: "Superb! A return visit after many years and it was even better than we remembered. I honestly can't fathom the recent poor reviews as all four of our lunches were faultless – we only couldn't agree on who had ordered best. The aubergine steak was a revelation, pork was 'best ever had', cod was perfection and suet pudding was divine. The soufflé was creamy loveliness but I was jealous of the gin cured salmon—that plate was heaven in every mouthful. I think someone must have been reviewing a different restaurant because the service was excellent, friendly and just the right amount of attention. Without doubt the highlight of our trip – actually felt it was a great value for the quality and quantity, we came away stuffed and supremely happy. Ignore those previous moaners, it is an unreserved recommendation from us!"
Trip Advisor user Jessica added: "A delightful meal on our way from Cartmel Fell to Troutbeck! We'd booked a few weeks in advance and I'm glad we did. The food was just stunningly good; the cod loin with peppercorn sauce is one of my favourite meals I think I've ever had. And the sticky toffee pudding was a revelation. Top marks for service as well."
Full list of the best UK beer gardens
Ben Nevis Inn – Fort William
The Hare & Hounds – Bath
The Drunken Duck Inn – Ambleside
The Wharf – Manchester
The Eagle & Child – Manchester
The Perch Inn – Oxford
Lord Crewe Arms – Northumberland
The Albion – London
The Ship – Wandsworth
Cold Town House – Edinburgh
Atlas Bar – Manchester
The Roebuck Inn – Knutsford
Rising Sun – Pensford
The Old Neptune – Whitstable
The Eagle – London
The Free Trade Inn – Newcastle
Source: Read Full Article