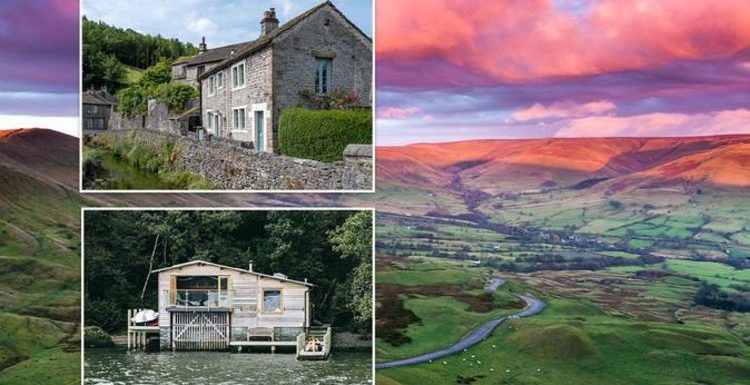 Simon Calder offers advice on booking staycations for 2021
We use your sign-up to provide content in ways you've consented to and to improve our understanding of you. This may include adverts from us and 3rd parties based on our understanding. You can unsubscribe at any time. More info
UK staycations are set for another summer of success amid the seemingly ever-changing traffic light restrictions overseeing international holidays. While it could mean a more costly stay for those seeking a break, property owners are likely to see a "dramatic jump" in income according to a new report.
According to the Sykes Staycation Index 2021, UK holiday lets will experience a 40 percent uplift in bookings compared with 2019.
It's a boost that is set to benefit rental property owners who may have suffered during the previous lockdowns.
Prior to the pandemic, the average Sykes owner earned £21,000 in revenue from their holiday let, but this number is set to increase significantly in the peak summer months.
The Index reveals summer holiday let owners can expect to earn an average income of £9,500 across July and August alone, a massive 56 percent increase on the average summer income in 2019.
However, it seems there are some destinations which are proving more popular than others.
For those weighing up where to invest, the fastest-growing holiday hotspot this summer is the Peak District, according to Sykes' booking figures.
The mountainous region is also described as "the most lucrative destination" for holiday let owners, boasting an average revenue of £27,000 annually.
Cumbria followed closely behind as one of the "top-earning" regions, with an average annual income of £26,000.
DON'T MISS
'This summer is for the bold & desperate': Simon Calder warns Britons [WARNING]
Is Turkey staying on the red list? Holiday hopefuls in despair [INSIGHT]
British bar owner in Spain blasts travel list [INTERVIEW]
These regions are also high on the list of popular destinations for bookings this summer.
The report also found that typically popular regions in the southwest were falling behind more northern destinations.
Booking data is said to show that North Wales and Cumbria are now two "most sought-after summer staycation spots", ahead of Cornwall, Devon and Dorset.
Already, Sykes has seen an increase in buyers looking to secure a second home.
The holiday cottage provider reported new owner enquiries more than doubling in 2021 compared to just two years prior.
According to Sykes' experts, the staycation boom is expected to boost the UK economy by an estimated £30billion this summer.
Amid the surge in domestic travel, it has become apparent that British holidaymakers have a keen eye for specific types of property.
Three in ten say they will spend more money on holidays following the pandemic, with bookings for luxury breaks up 31 percent compared to 2019.
Income figures suggest luxury amenities such as hot tubs and open fires could boost earnings by as much as 16 percent.
Graham Donoghue, CEO of Sykes Holiday Cottages said: "The entire travel industry has undergone tremendous changes and disruptions over the past year, but the UK staycation market has fought back, with the appetite for holidays at home now stronger than ever.
"And with millions of Brits choosing UK breaks over foreign trips, our cottages are generating more revenue than ever before, while the growing attractiveness of holiday letting as an investment opportunity is fuelling more and more new owner enquiries by the day.
"A stronger UK staycation market will likely remain a fixture for years to come, meaning the long-term revenue opportunities for those considering entering the market now could be substantial."
Source: Read Full Article