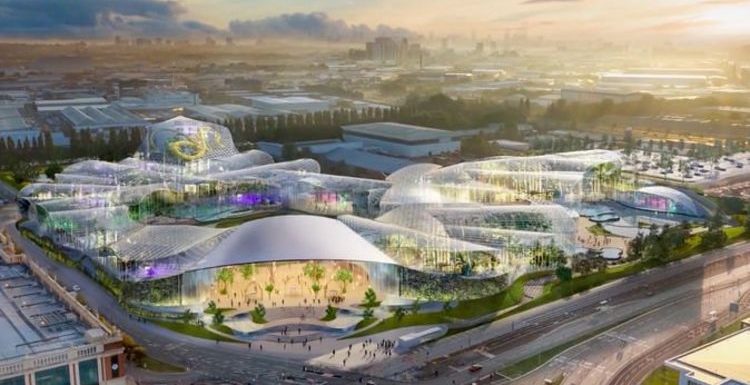 Emma Willis plays in water park on holiday in the Maldives
We use your sign-up to provide content in ways you've consented to and to improve our understanding of you. This may include adverts from us and 3rd parties based on our understanding. You can unsubscribe at any time. More info
Plans for two new water parks have been approved. A new park by Therme will be the largest in the UK.
Across 28 acres, the new water park in Manchester will be the first city-based wellbeing resort.
The plans for the new water park have been approved last week.
The park will have 25 pools, 35 slides, and 30 saunas and steam rooms.
Plans also include a huge botanical garden in the centre of the site, beehives on the roof and a weekly timetable of exercise classes.
READ MORE: Cunard 'ruins family Christmas'
It will trump the current largest UK water park, in Blackpool, which has 18 slides.
Richard Land, Chief Development Officer of Therme Group UK, said: "Therme Group is based on a belief that wellbeing should be accessible for all.
"Therme Manchester will redefine city wellbeing, enhancing mental and physical health through an experience based in water and nature.
"It will offer a unique holiday at home, that acts as a catalyst for healthy lifestyles."
Therme Group is looking to become a major player in Manchester.
It was announced last month the Manchester Marathon would now be known as Therme Manchester Marathon.
The group is the new sponsor for the event, which took place yesterday in the Northern city.
Therme has massive plans for the UK.
The group plans to open in Wales, London and Scotland.
In Manchester, another water park was approved last month.
The Modern Surf park include a surfing lagoon on Barton Dock Road.
Both the Therme park and the surf park will be located in or next to the Trafford Centre.
Opening in 2023, both parks will make Manchester a destination for water wellness and sports.
The Therme Park will be double the size of Bucharest's Therme.
Europe's largest spa, Therme Erding, near Munich, only has 27 slides.
However, Erding is sprawled across 36 acres and will not lose its status as largest spa in Europe when Manchester opens.
Source: Read Full Article