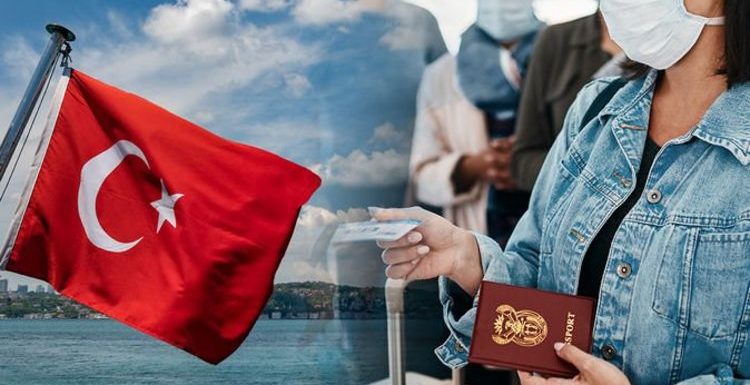 Travel: Grant Shapps issues warning on booking holidays
When you subscribe we will use the information you provide to send you these newsletters.Sometimes they'll include recommendations for other related newsletters or services we offer.Our Privacy Notice explains more about how we use your data, and your rights.You can unsubscribe at any time.
Holidays to Turkey are off the cards for now with direct flights to and from the UK temporarily suspended due to concerns over Covid variants. However, travel to Turkey from the UK via a third country is "permitted" so long as travellers meet a specific set of requirements.
The latest of these is the implementation of a new form which must be filled out by anyone who is not a Turkish citizen or permit holder.
While leisure travel is currently off the cards for Britons, certain "essential" travel reasons are permitted.
The Foreign, Commonwealth and Development Office (FCDO) has updated its travel advice page to explain how this may impact anyone travelling to the country for essential purposes.
"Travel to Turkey from the UK via a third country is permitted," states the FCDO.
It continues: "All arrivals into Turkey, except Turkish citizens or residence permit holders, must complete an online form within 72 hours of travel.
"This is not required for those passengers transiting in Turkey en route to another country."
Details of this form will be provided by airlines.
"You will be asked to provide the residential address of where you will stay, within the borders of Turkey, and your contact information," explains the FCDO.
DON'T MISS
Google Maps Street View: Workmen spotted in hilarious pose [VIRAL]
Spain holidays back on – tourists will be able to return in May [INSIGHT]
Ryanair launches passenger 'COVID-19 wallet' for summer holidays [COMMENT]
"You may be asked by your airline to provide personal information regarding COVID-19 that may be shared with the Ministry of Health and third countries when necessary.
"Anyone who knowingly provides false information may be prevented from travelling."
Arrivals from the UK are also subject to a period of self-isolation.
"Passengers who have been in the UK within the last 10 days will be required to quarantine for 14 days on arrival in Turkey," continues the travel advice page.
"This can be at a residential address. In addition, before boarding, all passengers aged six years and above will be required to show a negative PCR test taken within 72 hours prior to departure.
"Passengers in quarantine can take a PCR test on day 10 of their quarantine – if negative, the quarantine can end at that point."
There are different requirements in place for arrivals to Turkey from different countries.
Therefore anyone arriving from elsewhere in the world is advised to check the latest COVID-19 travel requirements set by the Turkish authorities or with their travel provider.
"All passengers arriving in Turkey will be subject to a medical evaluation for symptoms of coronavirus, including temperature checks," continues the FCDO.
"Passengers who are in transit to another country via Turkey are not required to submit negative PCR tests, unless they are flying from the UK, Denmark or South Africa.
"Transit passengers from these three destinations are still required to show a negative PCR test taken within 72 hours of departure to Turkey."
Turkey has not yet given any suggestion as to when direct flights to and from the UK may be resumed.
Source: Read Full Article