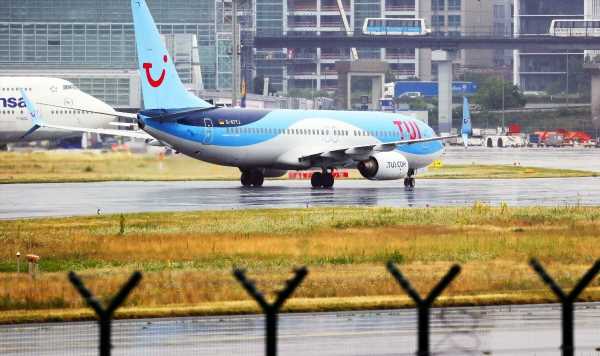 Travel expert Simon Calder discusses airline cancellations
We use your sign-up to provide content in ways you've consented to and to improve our understanding of you. This may include adverts from us and 3rd parties based on our understanding. You can unsubscribe at any time. More info
TUI is one of Britain's biggest holiday companies. The operator shared a warning for passengers facing delays this summer.
TUI posted on its website: "We would like to apologise to some of our customers who have experienced flight delays in recent days.
"As the UK's biggest holiday company, our priority is to take customers on holiday safely.
"We continue to work closely with our airport partners to monitor the situation and continue to provide the best possible holiday experience for our customers."
The holiday provider advised: "We'd like to remind customers not to arrive at the airport too far in advance of their flight, as this can contribute to terminal queueing delays.
"Standard check-in opens at least two and a half hours before departure time for short and mid-haul flights, and at least three and a half hours before departure for long-haul flights."
Customers that arrive too early could exacerbate check-in queues as they may end up ahead of people with earlier flights.
TUI added: "At some airports, we are able to offer a day before bag drop and self-service bag drop."
Passengers who live near the airport or are staying at an airport hotel could drop their bags off the night before.
TUI said: "We are doing everything we can to limit any flight delays, which can happen from time to time for various operational reasons.
"On the rare occasion flight delays do take place, we will do everything we can to support our customers, through direct communications and providing overnight accommodation and transfers where needed, as well as meals and refreshments."
Holidaymakers have faced chaotic scenes at airports across the UK as the industry struggles to cope with staff shortages.
Airlines including easyJet and British Airways have made thousands of cancellations this summer.
A Jet2 executive yesterday blamed the airline's base airports for customer issues saying they were "woefully" unprepared.
The holiday company operates from 10 UK airports including East Midlands, Stansted, Bristol and Manchester.
In June, passengers had to queue outside the terminal at Bristol and Manchester airports due to lengthy security queues.
Passengers with a cancelled flight should be offered an alternative flight on their intended day of travel.
This is the case even if the only available seat is on a rival airline.
Passengers could also receive cash compensation if their flight is cancelled with less than two weeks notice.
Industrial strike action by easyJet and Ryanair workers in Spain could impact holiday flights this July.
However, Heathrow BA workers have now suspended planned strike action for July after negotiations with the company.
Source: Read Full Article