The family
Rachel Holmes, 36, and family spent five months travelling round South America
Two weeks after my husband, Danny, was made redundant, we decided to literally take the money and run – to South America, a region neither of us had been to, with our two young children. It was our last chance to travel before Evie, three, started school and Frankie, seven months, became, well … heavier and less portable.
We looked at the weather (thunderstorms in Rio, sun in Lima) and booked a one-way flight to Peru with the vague aim of doing a U-shaped journey, ending in Brazil and taking in Bolivia, Argentina, Chile and Uruguay. Our only must-sees were Machu Picchu and Iguazú Falls.
We travelled light, filling two 70-litre rucksacks with clothes for us all. We hoped Evie would walk lots – which she did – but took a buggy, which frequently doubled as a luggage trolley.
In mountainous Peru, the ladies in their beautiful embroidered waistcoats and skirts would shyly approach to look at the blonde oddities that were Frankie and Evie. I bought a length of cotton and played a one-sided game of charades to learn how to fold, tie and secure Frankie to my back (he ascended to the Sun Gate at Machu Picchu in this regal style).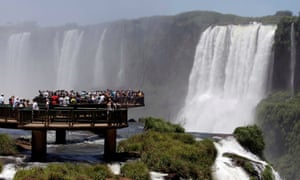 We ditched the idea of the Inca Trail, a four-day trek through the jungle, and instead took a scenic train ride and stayed in the nearest town, Aguas Calientes, queuing for a bus at 4am to get to the ancient site. The early start meant we saw the sun rise over the mountain, a humbling, unforgettable experience, and less crowded than we'd thought possible.
In Copacabana, Bolivia, we got a taste of political unrest, with buses to La Paz cancelled because of road blockades. Rushing to get to a bus we'd heard was leaving, we got stuck in a procession of indigenous people shouting anti-government slogans and dragging a straw man, which they then strung up from a post in the street. Despite the high tension, every protestor had a smile and a few words for the kids.
Buenos Aires has lots for families. We found ride-on robots in the Parque Tres de Febrero, and at the Museo de Los Niños, Evie tried out a variety of adult occupations – including plumber, with a giant toilet she could climb into to discover the journey of a poo.
We took it fairly easy, doing only one or two things a day, and having long lunches and siestas where possible. Things that worked well were walking tours – we did excellent ones in Santiago, Buenos Aires and Montevideo – trips to see natural wonders, lakes, forests, mountains, Inca ruins, deserts. We went to a few museums and galleries, and discovered that some hotels in Peru let you use their pool and facilities for a small daily fee.
We stayed in hostels, B&Bs (such as Casa Ko Cinco Robles, in Frutillar, Chile, where we ate breakfast overlooking an aquamarine lake, with an active volcano smoking in the distance), weird empty golf resorts (Hotel del Lago Golf & Art Resort, Punta del Este, Uruguay), and finally Airbnbs, which were always the most difficult because of arranging to hand over the keys.
We took the odd flight, and sometimes hired a car if we were staying in one area for a while (we did this in northern Argentina, driving through desert landscapes that felt like being on Mars; in Chile for the Island of Chiloé; and in Bariloche, the lake district of Argentina), but mostly we took buses everywhere. We even tried overnight journeys – hello fully reclining chairs – but they were difficult with a baby breastfeeding through the night.
Neither Evie nor Frankie is a fussy eater, so food was never a problem. Restaurants opened late, so we had to adjust our routine for the kids, letting them nap late and stay up late most nights. There would always be something on a menu they'd eat, or sometimes we'd cook in a hostel. Frankie was weaning, so tried all manner of things off my plate – alpaca steak, guinea pig, ceviche (he hated it) and dulce de leche ice-cream (he loved it).
Daily budget Around £70 for the family.
One thing we would have done differently We'd have saved Bolivia for when the children were older and more capable of dealing with the altitude – they both got mildly sick and didn't sleep well.
The older traveller
John Kirkaldy, 70, travelled around the world for a year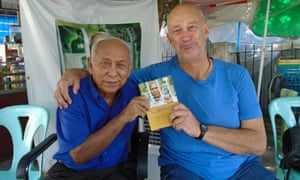 I had a terrible gap year at 18, and it has haunted me ever since. And so, after a 45-year career as a university and college lecturer, I decided to try again in my retirement. I had £5,000 in savings, plus a state and various other pensions that would sustain frugal living.
The year provided me with so many good experiences. As a historian, I was very moved by walking the battlefields of Gallipoli, Troy, the Spanish civil war and Vietnam. The French left the village of Oradour-sur-Glane, in west-central France, as it was when the Nazis killed nearly everybody living there in June 1944.
I joined WWOOF (Willing Workers on Organic Farms)and worked on farms in France, Australia and the US.
I did things I never thought I would: selling clothes in a boutique in India (I have zero fashion sense) while volunteering for the Sambhali Trust, a women's sewing project in Jodphur; and fronting a cacti stall in an Australian market as part of my wwoofing placement in Queensland's Atherton Tablelands. Perhaps most surprising of all was becoming the world's least-likely bungee jumper: overweight, risk-averse and a lifelong sufferer from vertigo, I jumped from the Kawarau Gorge suspension bridge in Queenstown, New Zealand. I was petrified, but I did it, and as the bus took us back to Queenstown and a celebratory beer, I felt that I had at last laid my gap year ghosts to rest.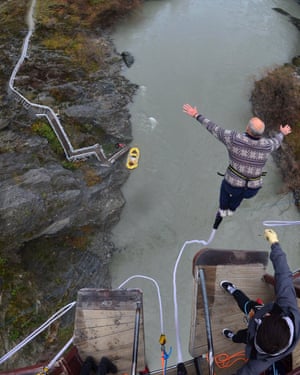 I encountered nothing but friendliness on my travels. People did not just point out directions, but often walked with me to show the way. Two people stand out: Chum Mey, one of only a dozen survivors of the notorious Khmer Rouge's Tuol Sleng prison, where I met and talked to him through an interpreter – by the end of our 20-minute conversation, we were both in tears; and Erwin, the Queensland smallholder I worked for, with whom I used to have heated discussions on philosophy while weeding.
I stayed in hostels (no longer the spartan places of my youth) and cheap hotels. I also cut corners by sleeping on trains, planes and buses, and at stations and airports. The cornerstones of my travels were, however, friends' and friends of friends' homes.
There were, of course, a few downsides. I didn't take to Casablanca, as I was robbed there (only £20) and didn't see any Ingrid Bergman lookalikes. I had a mild attack of cellulitis in Istanbul. I have two middle-aged children and five grandchildren, and leaving them was a wrench, but social media and modern technology made contact so much easier.
Overall, the year showed that I could still hack it. It gave me confidence to deal with whatever life might throw at me over the next few years. I'm planning more, albeit shorter, trips. For older people thinking about a gap year, all I can say is: go for it.
Daily budget Roughly £50, but it varied hugely.
One thing I would have done differently Pack lighter (after my first week in France, I took half my stuff out and posted it back to England), and take a Swiss army knife.
The disabled traveller
Tony Giles, 40, spent three months backpacking around west Africa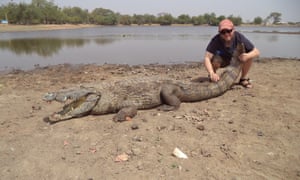 I am totally blind and 80% deaf in both ears without my hearing aids, but I've visited all seven continents, and in 2017 I backpacked solo through Ghana, Burkina Faso, Ivory Coast, Guinea, Guinea-Bissau and Senegal, staying with local people, via couchsurfing.com – . I researched the countries I wanted to visit using screen-reading speech software on my laptop. I changed the sim card of my simple mobile phone, with its tactile buttons, as I journeyed through each country. But mostly I learned to trust people I met on the streets to guide me into museums and other tourist attractions, and even to help me get money, because cash machines in Africa don't have audio technology like they do in the UK.
Travelling blind and partially deaf in Africa is challenging but rewarding, as most people simply want to help. I saw West Africa through the smell of spicy food, by hearing the sound of booming African music, tasting local food like fufu (a type of porridge), and by touching intricately carved masks. I experienced places with my cane and other senses, noticing the rough, uneven, often broken pavements and roads, huge steps and open drains, and was often guided by my couchsurfing hosts or one of the many kind locals I met.
Each bus journey was exciting and adventurous. I felt all the bumps and bounces, the twists and turns – it gave me a picture of the country as I travelled. My hosts took me to bus stations, helped me buy tickets and told the conductors my stop. Many people I met were astonished that a blind guy was wandering their country alone, but once I explained how I "see the world", they relaxed and we had fun.
My first host, Charles, was Nigerian, but had been living in Accra, Ghana's capital, long enough to know the layout. We listened to music in his room and he showed me some of the city's historic places. I sampled local cuisine at a street cafe, eating fish and rice in spicy sauce while music boomed, people laughed and I sweated.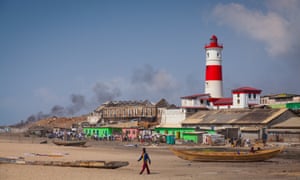 I explored the old "slave" forts of Ghana's south coast, feeling the bloody history in the stone walls, entering underground prisons and touching rusty cannons. Leaving the coast, I headed inland by bus, staying with lovely people in Kumasi, Sunyani, Tamale and Bolgatanga.
I crossed the border to Burkina Faso with help from one of the guides from Ghana's Paga Crocodile Pond and a border guard, who took me to a taxi. My most memorable experience of BF, apart from the basic lifestyle of bucket showers and mud-brick houses with corrugated metal roofs in 33C heat, was travelling by motorbike from the capital, Ouagadougou, in the dust and heat before hiking to Karfiguela Falls with local guides.
In Abidjan, Côte d'Ivoire's largest port, I listened to a fantastic jazz band, who swung African style.
Then my travels became more difficult. It took more than 30 hours to reach the Guinea border from Abidjan, due to terrible roads and taking the wrong bus. After a comfortable night in Nzérékoré, I caught a shared taxi, 10 people in a seven-seater, and bumped, rattled and bounced all the way to Conakry, Guinea's capital. After 30 hours of breakdowns, bumps and bounces, I arrived, late as usual, and my couchsurfing host had to rescue me from the military police who were being overly inquisitive about a blind guy roaming their city alone at 1am.
The next morning, I was off to Guinea-Bissau, or so I thought. Unfortunately, not only did the shared taxi from Conakry to Bissau take more than six hours to find the necessary passengers, but also had the slowest driver in Africa, so we crawled into Bissau 50 hours after leaving Conakry. I stayed two nights with a friendly local, and explored the capital with his girlfriend, the market being the highlight, along with the harbour.
When I finally arrived in Abéné, a south Senegalese beach town, a motorbike taxi whizzed me through tall bushes along a narrow lane and, 10 minutes later, I was at my friend's place, drinking a cola and relaxing. I was in paradise.
Daily budget About £20.
One thing I would have done differently Organising visas in advance would have saved a lot of time.
• Tony Giles is the author of two self-published books, Seeing The World My Way and Seeing The Americas My Way
The career-breaker
Antonia Wilson was 30 when she travelled around the world for 10 months with her boyfriend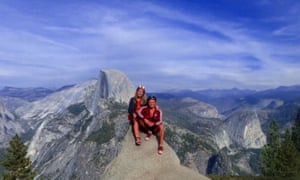 It was a wintery night in an east London pub. My brother had just returned from backpacking with epic tales.
"I want to do that," my boyfriend said. "Well, I've always wanted to do it," I replied. A few weeks later we'd paid a deposit on flights to take us around the world for 10 months. Why then? Why not. Both of us had a career and a life in the UK, but it was the easiest decision. For the next year we saved while we mapped out a fantasy itinerary.
The first flight was into Bangkok, the second out of Bali, giving us three months in between to explore south-east Asia overland. From a Cambodian long-tail boat powered by a car engine to a Chinese sleeper train for 25 hours, the more cramped or hairy the journey, the more vivid the memory. We rode mopeds in the Thai mountains to golden temples at dawn; cycled in flip-flops across Vietnamese paddy fields for 12p beers; climbed hundreds of steps as giant buddhas peered down at us from misty peaks all over the continent.
Some moments of the trip felt wholly unreal – learning meditation with monks in Chiang Mai; camping on a remote part of the Great Wall; going to the Olympics in Rio; standing underneath multiple rainbows at Iguazú Falls; and in Mexico seeing a giant turtle in the wild for the first time, finally, after eight months away.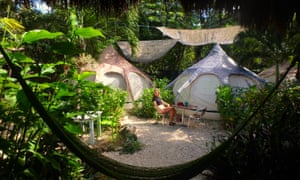 We met old friends in new places, and made new friends all over. In Kuala Lumpur, we went to a rooftop pool party on a skyscraper with a couple of Malaysian comedians. And on the Gili islands a group of us tried local happy shakes on the beach, laughing for hours in the setting sun.
Food played a major part too: a banh mi crawl in Hội An changed how I feel about sandwiches, for ever. On Colombia's Caribbean coast, in Palomino, we waited while fish was caught, grilled and served with fried plantain. Peru topped the trip, with the zesty hit of ceviche in Lima, followed by hiking and biking to Machu Picchu, with mountains of guacamole at homestays along the way.
The ultimate freedom came from campervanning: driving down the east coast of Australia, from the Daintree rainforest to the Canberra, losing ourselves in the ripples of the Whitsundays and a music festival in Byron Bay. And driving up the US west coast, feeling small in Yosemite's deep forests, meeting cowboys on Death Valley's salty plains, and waking up on a clifftop to the beautiful blues of Big Sur.
As winter approached, it was Thanksgiving with family in New York and a slice of Iceland's Golden Circle for my birthday. That crispy frost underfoot still didn't prepare me for returning home – whatever that now meant. I found freelance work and my boyfriend lined up interviews. We stayed with family. It was tough.
Not that being away was always rosy – long-term travel rarely is. Sometimes you get sick, tired or argue. Or all of your clothes get burned up in a tumble drier fire … but even that becomes a great story, eventually.
Daily budget Around £50 each, but it varied by location (much less in Asia, more in Australia and the US).
One thing I would have done differently Avoided the party on the first night in Cusco, Peru, 3,400 metres above sea level. Playing drinking games does not help altitude sickness.
Looking for a holiday with a difference? Browse Guardian Holidays to find a range of fantastic trips
Source: Read Full Article