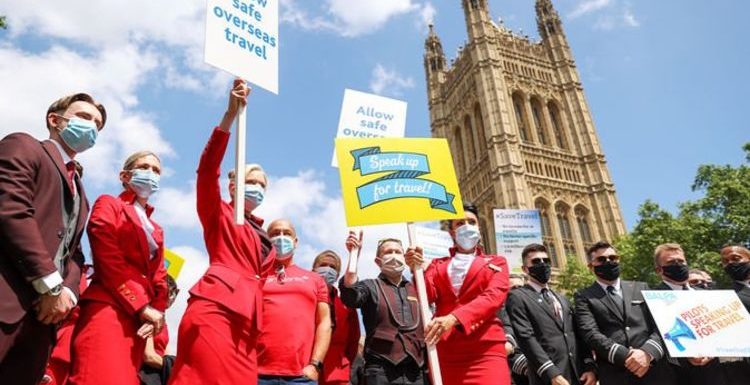 Travel industry worker calls for a 'clear road map'
When you subscribe we will use the information you provide to send you these newsletters. Sometimes they'll include recommendations for other related newsletters or services we offer. Our Privacy Notice explains more about how we use your data, and your rights. You can unsubscribe at any time.
Hundreds of crew, pilots and travel agents have gathered outside Westminster to protest and call for action. They asked the Government to help an industry that has been suffering for 18 months now.
Travel industry workers are demanding financial support and the sector to be reopened in order to save the summer.
Travel agent Kelly Cooks said: "The last 18 months for everybody in the travel industry have been absolutely catastrophic."
She explained that what the industry demands is a clear plan to recover from the current situation.
"There has been no income and really no plan for how the industry is going to recover from this."
"Many jobs have been lost and today is really about saying 'enough is enough'."
She explained that protesters were asking for two things specifically:
"A very clear roadmap out of this for the safe resumption of international travel and a sector specific financial support package."
The travel agent explained that most of the businesses she works with are now trading at 10 percent of what they would be doing, at best.
DON'T MISS
Hotels in Spain sue Booking.com for 'abusive' practices [INSIGHT]
Quarantine 'should be' axed for 'fully vaccinated' [FURY]
Thomas Cook chief predicts huge holiday breakthrough on way [ANALYSIS]
"We agree that international travel has to resume safely.
"The issue is that we have one of the best vaccination rollouts, the numbers are decreasing and yet we are not seeing any data giving clarity around why some of these other countries, that are also progressing very well, aren't being moved to the green list.
"What we really need is clarity around the data that the Government is looking at, but also some consistency in the messaging.
"We saw the Global Travel task force come together and put together that framework for the resumption of international travel and at the first hurdle, it was all pulled down.
What do you think? Join the debate in the comments section here
"We saw Portugal move straight from green to amber with no warning and lots of people were left out there.
"It seems the frameworks that have been put in place are largely being ignored and we just don't understand why."
According to the travel agent, if restrictions don't ease for at least vaccinated Britons, there will be "more job losses."
Chris Harrison, managing director of 21-branch Dawson & Sanderson, said: "I think the industry has been forgotten by a Government that doesn't understand the structure of our industry. We either need a traffic light system that is transparent and taken seriously, or we need tailored support as an industry. There is metric evidence that borders can open."
Tom Jenkins, CEO of ETOA said: "520,000 jobs depend on overseas leisure visitors to the UK.
"The UK inbound tourism market was due to generate £30billion in 2020, only 20 percent materialised. Recovery could be swift, but only if visitors are welcome stopped by red tape.
"The UK is in danger of losing 2021, and falling behind in 2022 and 2023," he explained.
The protesters were even more furious after the Government announced football fans will be allowed in the UK at later stages of the Euros without the need to quarantine
Source: Read Full Article