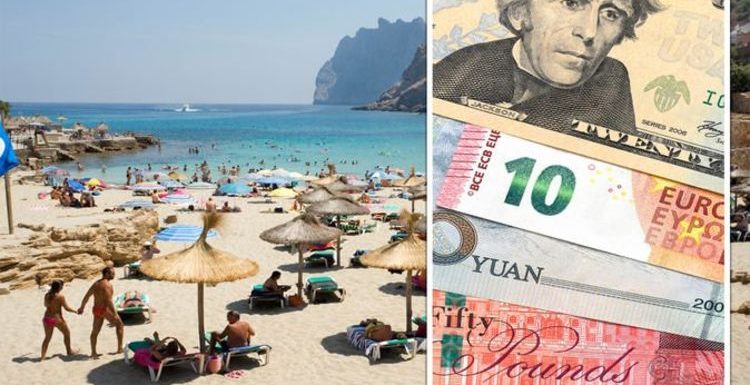 Hotel Benidorm: Guests explain why they like Benidorm
We use your sign-up to provide content in ways you've consented to and to improve our understanding of you. This may include adverts from us and 3rd parties based on our understanding. You can unsubscribe at any time. More info
Tourist taxes are a small fee paid to enter or stay overnight in a country. Where will British tourists have to pay a tax in 2022?
THE EU
Towards the end of 2022, British tourists will need to pay a fee to holiday in any EU country.
The ETIAS scheme is a border and security EU initiative. Britons and other third country nationals will need to pay seven euros (£5.90) every three years to enter the EU.
Although the scheme is under development it is not yet known when it will be officially introduced and may not be in place until 2023.
Border officials fear there could be huge queues at crossings such as the Eurostar due to the additional checks.
SPAIN
The Spanish Valencian region, which includes the popular holiday spots of Benidorm and Alicante, has proposed a new tourist tax.
However, Benidorm's mayor has said the resort will never implement it and that the tax was suggested by those who "hate tourism".
Tourists heading to the Balearic islands including Ibiza or Majorca have to pay the Sustainable Tourist Tax.
The price varies depending on the type of accommodation with luxury spots incurring the highest taxes. Prices can reach four euros (£3.37) per night.
PORTUGAL
Tourists over the age of 13 need to pay a nightly tourist tax in Portugal which costs around two euros (£1.69).
Visitors will only need to pay the tax for the first seven days of a holiday in the beautiful country of Portugal.
GREECE
British tourists visiting Greece will need to pay a tourist tax which varies depending on the type of accommodation.
The fee is not likely to be more than four euros (£3.37) per room and hotels with the highest number of stars will cost the most.
FRANCE
Tourists visiting France will need to pay the taxe de séjour which is added on to a visitor's hotel bill.
The amount of tax paid varies on the city and can cost anything from 20 cents (17p) to four euros (£3.37) per night.
ITALY
Venice will soon introduce a tourist tax to combat problems of overcrowding in the beautiful city.
Tourists may have to use airport style turnstiles to enter and pay a fee to explore on a day trip. Rome already has a tourist tax in place.
THE CARIBBEAN
Many popular Caribbean destinations including Barbados and Jamaica have a form of tourist tax.
This is normally added to the price of the hotel or included in a departure fee and can cost up to £37 per holiday.
THAILAND
Thailand has announced it intends to introduce a tourist tax in April of around £6.74 to cover tourist healthcare.
Austria, Belgium, Bhutan, Bulgaria, Croatia, Czechia, Germany, Hungary, Indonesia, Japan, Malaysia, New Zealand, the Netherlands, Slovenia, Switzerland and the USA all have a form of tourism fee.
Often a package holiday company or hotel will include the price of the tourist tax in the overall fee.
Source: Read Full Article