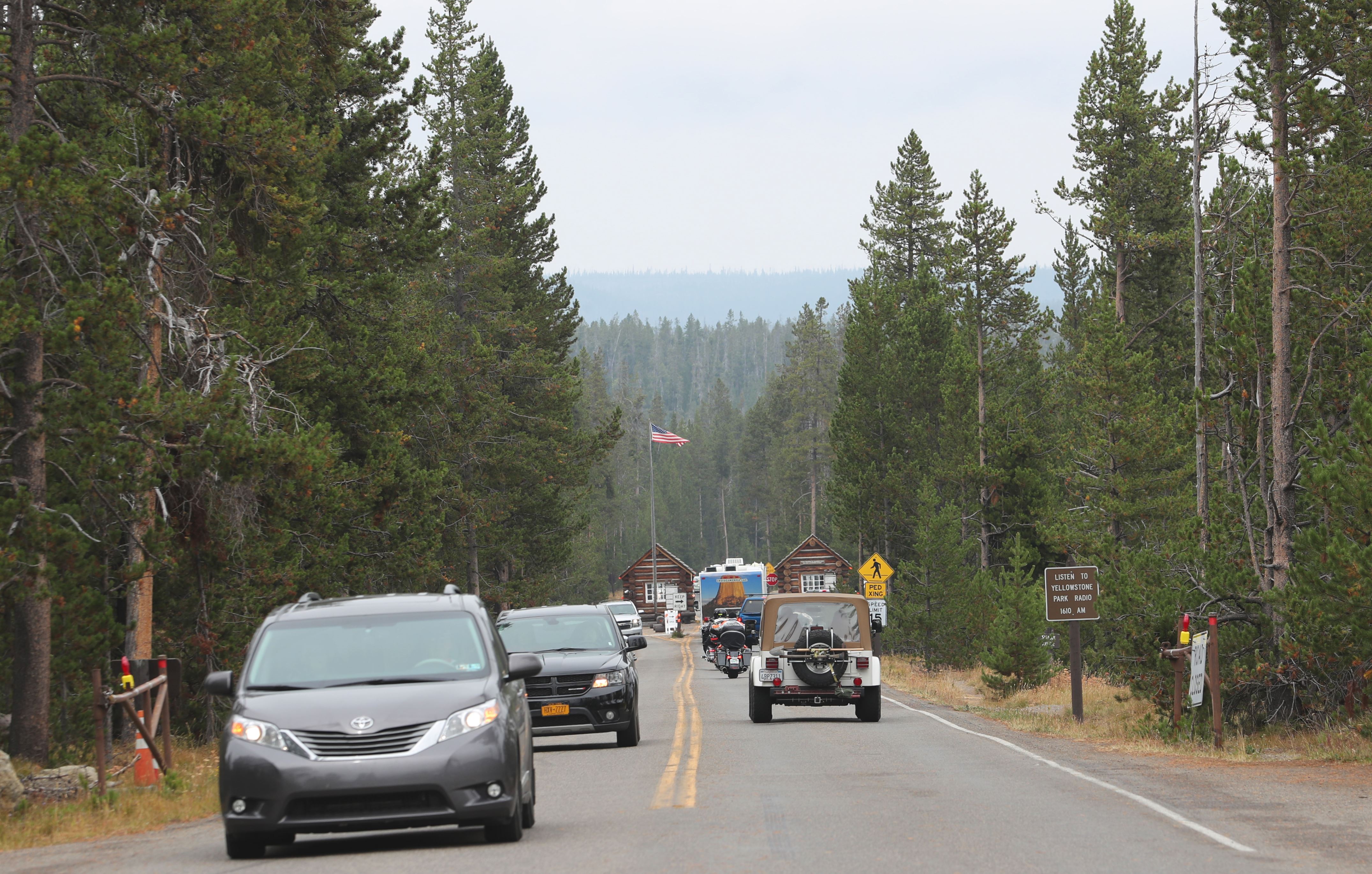 These U.S. cities have the worst traffic during the holiday season
Come holiday season, with everyone on the move, tired travelers can easily run out of patience. If you plan to visit one of these American cities during the holidays, be prepared for what could be a long wait.
Los Angeles, California
Long known for its urban sprawl and complex highway system, Los Angeles consistently tops lists of the worst places to drive in America. In recent years, Los Angelenos have added another tradition to the holiday season: watching helicopter footage of the gridlocked 405 freeway as thousands of people return home.
New York City, New York
According to analytics firm INRIX, the Big Apple will have the worst uptick in traffic problems of any city in the United States as the holidays approach. New York will have three times as much traffic as normal, and it's likely to be made worse by the sorry state of the famed New York City subway system.
San Francisco, California
San Francisco often seems like the cooler, smaller upstate cousin to Los Angeles, but both of these West Coast cities share a traffic problem. San Francisco was recently ranked fifth-worst in the world for traffic congestion, and INRIX estimates that the problem will be two times worse over the holidays.
Atlanta, Georgia
Atlanta is known for having some of the biggest, ugliest highway interchanges around. The worst of the bunch is the Tom Moreland Interchange, nicknamed Spaghetti Junction by the locals, and the American Transportation Research Institute recently named it the worst traffic bottleneck in the country for the second year in a row.
Miami, Florida
Miami is a beautiful city with a lot to offer over the holiday season, but it's also got some of the worst traffic in the country. Just ask the Miamians who got stuck in gridlock as they were trying to leave the city before Hurricane Irma arrived in 2017. Cars were squeaking along the I-95 for 60 miles.
Washington, D.C.
An awful lot of people drive in and out of the nation's capital on a daily basis, and it's only made worse during the holidays. INRIX data shows that the worst Christmas traffic occurs on the I-95 southbound to Virginia, so maybe try a different route if you want to avoid gridlock.
Boston, Massachusetts
Located in cold and stormy New England, Boston can effectively shut down due to bad weather. Combine that with holiday traffic and you've got a recipe that can really ruin Christmas dinner. In 2017, bad weather shut down the area around Logan airport, surely causing many headaches and delayed family dinners.
Chicago, Illinois
According to the American Highway Users Alliance, the Interstate 90 outside of Chicago's O'Hare International Airport is the worst bottleneck in the country. Combine that with bad weather, icy streets and thousands of flights coming in and out of the famously busy airport, and the result is gridlock.
Seattle, Washington
Seattle may not be as well known for its traffic congestion as fellow West Coast metropolis Los Angeles, but it does suffer from some of the worst congestion in the country. In particular, commuters from Everett, a suburb to the north of the city, spend more time in traffic than anyone else in the country.
Dallas, Texas
Like many cities in southwestern United States, Dallas is a city of sprawl and, therefore, congestion. Locals cite the narrow stretch of Highway 183 that takes cars back and forth from Dallas to Fort Worth as a problem, but there are numerous interchanges that cause headaches for Dallas residents, especially during the holidays.
San Antonio, Texas
Traffic and gridlock in San Antonio is set to triple by 2035 and many worry that the city's response to growing traffic concerns isn't sufficient. Throw in holiday visitors and a busy border crossing and San Antonio traffic can get to be just as bad as their jammed-up neighbors in Austin or Dallas.
Detroit, Michigan
One might expect "Motor City" to have a traffic problem, given how much of its history is tied up with automobile production. Detroit's gridlock comes, at least partially, from a reticence to invest in public transit. If you're traveling to Detroit for Christmas, avoid downtown. Most gridlock can be found on major arteries in and out of the city.
Honolulu, Hawaii
Hawaii might seem like a paradise to mainlanders who travel there for vacations, but Honolulu can be a traffic nightmare for locals. It's difficult to build infrastructure on Hawaii's volcanic landscape and the holiday season, with its influx of tourists, can add hundreds of cars to existing freeway entrances and exits.
Portland, Oregon
Traffic in Portland has gotten so bad that the state is currently planning to add tolls on surrounding highways, but some say this is a good problem to have. Portland and its economy are growing, putting more cars on the road. Unfortunately, it can be tough for a municipality to keep its infrastructure up to date with the times.
Sacramento, California
Nearly 70 percent of Sacramento drivers choose to drive alone, which does not bode well for the future of gridlock in California's capital. Make sure you avoid key rush hour travel times if you're planning to cross the Golden Gate Bridge during the holidays because traffic is even worse on the other side in San Francisco.
Las Vegas, Nevada
The influx of tourists to Vegas can cause real traffic problems over the holidays, especially during the town's boisterous New Year's Eve celebrations. New Year's gridlock is exacerbated by road closures and, sadly, the risk of coming into contact with drinking and driving.
Houston, Texas
Houston is known as the largest city in America without municipal zoning laws and, as a result, it is the victim of massive sprawl. At 600 square miles, Houston could fit several major cities inside its municipal borders. The lack of urban planning has led to major traffic challenges for the city and its residents, especially at Christmas.
San Diego, California
As the economy improved in the post-recession era, San Diego's congestion got worse as more cars packed themselves onto the city's copious network of highways. If you're planning to visit sunny California for Christmas, make sure you bring a fair amount of audiobooks and podcasts for the time you'll be stuck in traffic.
Austin, Texas
Austin may not be the worst traffic in the country, but 83 percent of Austin residents despise it. In 2007, Mayor Will Wynn went so far as to yell at a truck driver for blocking a downtown thoroughfare. If you go to Austin for Christmas, try to avoid the notorious I-35, which offers the worst traffic in the state.
Stamford, Connecticut
Stamford, Connecticut only has a population of 120,000 people, but it still ranks as one of the most congested cities in the United States. Studies point toward the Bridgeport-Stamford commute on the I-95 as the main culprit for Stamford's notoriously bad traffic, so try to avoid that stretch of road if you're traveling to Connecticut for the holidays.
Tacoma, Washington
Tacoma, like its neighbor Seattle, has a congestion problem, and the Washington Department of Transportation points to the I-5 highway to Olympia as one of the worst routes to travel during the Christmas holidays. Tacoma's problems are made exponentially worse when there's some snowfall during the holiday season… West Coasters aren't used to the white stuff.
Minneapolis, Minnesota
Minneapolis has grown by almost 10 percent since 2010, and its economy has been on the rebound since the 2008 recession. That might explain why traffic is worse than it's ever been, and four of the country's worst bottlenecks can be found in the Twin Cities. Add in Minnesota's infamous winters, and you've got the recipe for a holiday traffic jam.
Philadelphia, Pennsylvania
Philadelphia, like many of the older cities on the Eastern Seaboard, is relatively dense, which means that driving downtown can feel like a "traffic apocalypse." The good news, however, is that Philadelphia is one of the most walkable cities in the country. Unfortunately, that won't do you much good during a holiday season snowstorm.
Denver, Colorado
The good news for Denver is that it's thriving and growing. The bad news is that growth results in gridlock when the infrastructure can't keep up. Traffic in Denver has gotten so bad that the city's paramedics are complaining that they can't get around. If you're visiting Colorado for the holidays, stay on the ski hills.
Orlando, Florida
People who have never visited Orlando might be surprised to learn that there are lakes and ponds all over the city, which makes traditional urban planning… tricky. Throw in some good ol' American sprawl, a spaghetti-like network of freeways and a bunch of tourists spending the holidays at Disney World, and you've got a recipe for a traffic disaster.
Phoenix, Arizona
Phoenix, Arizona is another sprawling big city with serious traffic problems, especially concerning the freeways that run straight through the city. In particular, locals point to the I-10, which carries almost 300,000 vehicles a day. Be careful taking it on the Friday before Christmas, as it's likely to turn into a parking lot.
Baton Rouge, Louisiana
Baton Rouge is no one's idea of a major metropolis, but among mid-sized cities, the capital of Louisiana ranks as the second-worst in the country for congestion. Baton Rouge's problems stem from major arteries that just aren't sufficient for getting people from outlying communities to downtown, so maybe avoid downtown over the holidays.
Tampa, Florida
Congestion in the Tampa Bay Area is expected to double over the next two decades as the city continues to grow and prosper. Florida plans to ease the problem with "diverging diamonds," an innovative new approach to highway interchanges, but don't expect them to get built before your holiday visit to the Sunshine State.
Baltimore, Maryland
Workers in Baltimore, particularly those who live in the suburbs, face one of the longest commutes in the country. It's a situation that gets exacerbated with winter weather and holiday congestion, but it also faces another unique challenge: Baltimore has the worst drivers in the nation according to Allstate.
Cincinnati, Ohio
Anyone who thinks they can avoid the rat-race of coastal city living by moving to Ohio should make sure they're not getting stuck in one of Cincinnati's three notorious bottlenecks, among the worst in the nation. As with other cities in the north, it's only made worse when you add winter and Christmas to the mix.
Source: Read Full Article