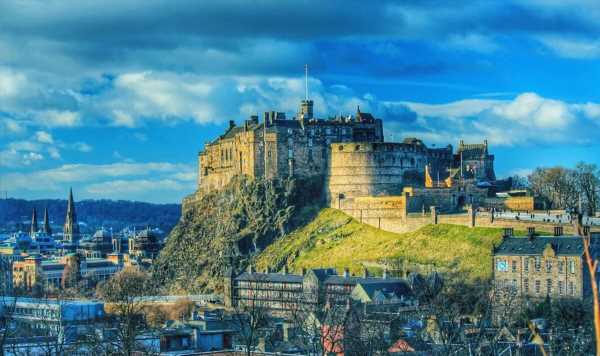 We use your sign-up to provide content in ways you've consented to and to improve our understanding of you. This may include adverts from us and 3rd parties based on our understanding. You can unsubscribe at any time. More info
While King Charles III will be crowned at London's Westminster Abbey, there's plenty of royal destinations and landmarks beyond the capital. Elizabeth Atkin, of the Points Guy UK, shared a few of the best spots.
Top Royal destinations in the UK
Edinburgh Castle, Scotland
Queen Elizabeth II Statue, York
Osborne, Isle of Wight
Sandringham Estate, Norfolk
Royal Pavilion, Brighton
Balmoral Estate, Scotland
Tresco, Isles of Scilly
Caernarfon Castle, Wales
Hampton Court Palace, Surrey
Hillsborough Castle, Northern Ireland
Edinburgh Castle topped the list of royal attractions outside of London. One of Europe's oldest fortified places, Edinburgh Castle was home to kings and queens for many centuries.
Mary Queen of Scots gave birth to James VI at the Royal Palace. The unfortunate Queen was ousted from the throne in favour of her one year old child, but tourists can see the crown jewels she wore for her coronation at the castle.
The Castle holds many secrets and one of its medieval latrine closets was even used to hide the Crown of Scotland from the enemy during the Second World War.
A tourist 'Melanie' wrote on Tripadvisor: "Fantastic. Absolutely worth it for the history, the views and knowing that you're walking the same footpaths of royalty and historic icons."
Don't miss…
Bali to ban tourists from motorbikes after bad behaviour [LATEST]
Simon Calder shares underrated 'good value' holiday destination [INSPIRATION]
UK's cheapest seaside resort has a 'beautiful beach' [STAYCATION]
York's Minister was recently named England's most beautiful building and tourists are now able to see a slice of royal history at the site.
The new Queen Elizabeth II statue was unveiled by King Charles III in November 2022, just two months after the late Queen's death.
Originally built to mark the Platinum Jubilee, the statue weighs nearly two tonnes and adorns the minister.
It's actually one of just two statues honouring the late Queen in the UK, the other can be found in Windsor Great Park.
The Isle of Wight is home to the UK's third best regal spot. Osborne House was the beloved holiday home of Queen Victoria.
Elizabeth said: "Queen Victoria once said it was "impossible to imagine a prettier spot" than her favourite holiday destination.
" It's even possible to visit Victoria's private beach and check out the unusual bathing machine she used to change clothes before swimming in the sea.
"If you want to spend a night or two sleeping so close to royal history, holiday cottages are available at Osborne."
Norfolk's Sandringham Estate took the fourth spot on the list and sits in an Area of Outstanding Natural Beauty.
Sandringham House is open seasonally to the public but tourists can explore its Royal Park all year round.
Brighton's Royal Pavilion snatched fifth place. The Regency-era palace was an indulgence of King George IV.
Tourists can tour the extravagant interior and check out the astounding chandelier-topped Banqueting Room.
Source: Read Full Article