I knew things were bad in LA when Tuesday yoga got cancelled due to "bad air quality" and people in Santa Monica started donning gas masks to shop in Wholefoods.
Not many of us are up at 4am – LA is a city of early risers, yoga bunnies and (organic) almond milk latte drinkers, scorning the late night bar-hopping scene and 24-hour diners of other US cities. But I was up uncharacteristically late on Tuesday evening, lured over to North Hollywood to a love interest's house, a night which lingered into the early hours of Wednesday… when I suddenly remembered the early class and three annoyed pets I had waiting back home.
I ran to my car and sped off on empty roads. The Santa Anas – those hot, dry, persistent winds which had created the conditions for the new fires bordering LA – had been blowing hard all day, but by 4am they'd stopped completely, and the city felt still – neither asleep nor awake, in a kind of twilight zone, holding its breath just for a second.
I remember an uneasy orange glow in the sky: a sharp reminder of the "Creek fire" just a few miles north in Sylmar and Sun Valley. My throat felt thick and my chest hurt, but I figured it was because of the time – I'm an early riser, like all of us Angelenos, normally in bed by 10pm and up at 5:30am for my four times a week commute to Santa Monica College on the Westside.
But by the time I got home to my cottage in Downtown LA, I knew it wasn't the late night. It was the air – thick, ashy and warm. I fell asleep, and woke up at 9am to find my phone had text after text from amber alerts (weather warnings sent to all mobile phone users), college alerts (telling me not to go in to class) and the emergency services.
Bleary, itchy-eyed and cold, I stumbled onto social media to check if my friends were OK, and found the now-famous iPhone video of the "Skirball fire" – the enormous wildfire threatening the Getty Center and lavish Bel Air homes (including, it was rumoured, a home belonging to Rupert Murdoch).
The video was shot from the 405 freeway – one of LA's busiest motorways – just an hour after I'd driven home on empty freeways on the opposite side of town. It shows the morning commuters packed bumper to bumper, gazing up at the hillside bordering the freeway – a hillside which now resembled a scene from the apocalypse, some unearthly war zone, flames engulfing it, raging unchecked. The road had been closed for about five hours. I grabbed my camera and decided to drive over.
By the time I got there, heading north from Santa Monica to the Getty Center, it was noon and the freeway had reopened again. At the Getty Center, where those apocalyptic scenes had been shot a few hours before, I found scorched, black landscapes, ominous wisps of smoke rising from black brittle branches, fire scars which nearly touched the road, ending inches from its concrete barriers.
Fire engines lined the freeway, helicopters buzzed overhead, news crews drove aimlessly around, the turn offs for the Skirball Center and the Getty Center were blocked by police and highway patrol, and one lone plume of water rose steadily in an arc from a fire truck, landing on a smouldering building on the side of the hillside between the Sunset Boulevard and Getty Center exits.
I pulled off at Sunset, and found my way to Moraga Drive, an affluent area with lavish family homes, where around 10 residents lingered at the gas station, ash floating down gently around us like delicate specks of snow. I spoke to Brent Thomas, a gentleman in his sixties, who had been woken at 5:30am by his neighbour knocking on his door. He'd glanced out of the window of his bedroom, only to find his normal views of the canyon were obscured by a wall of flames.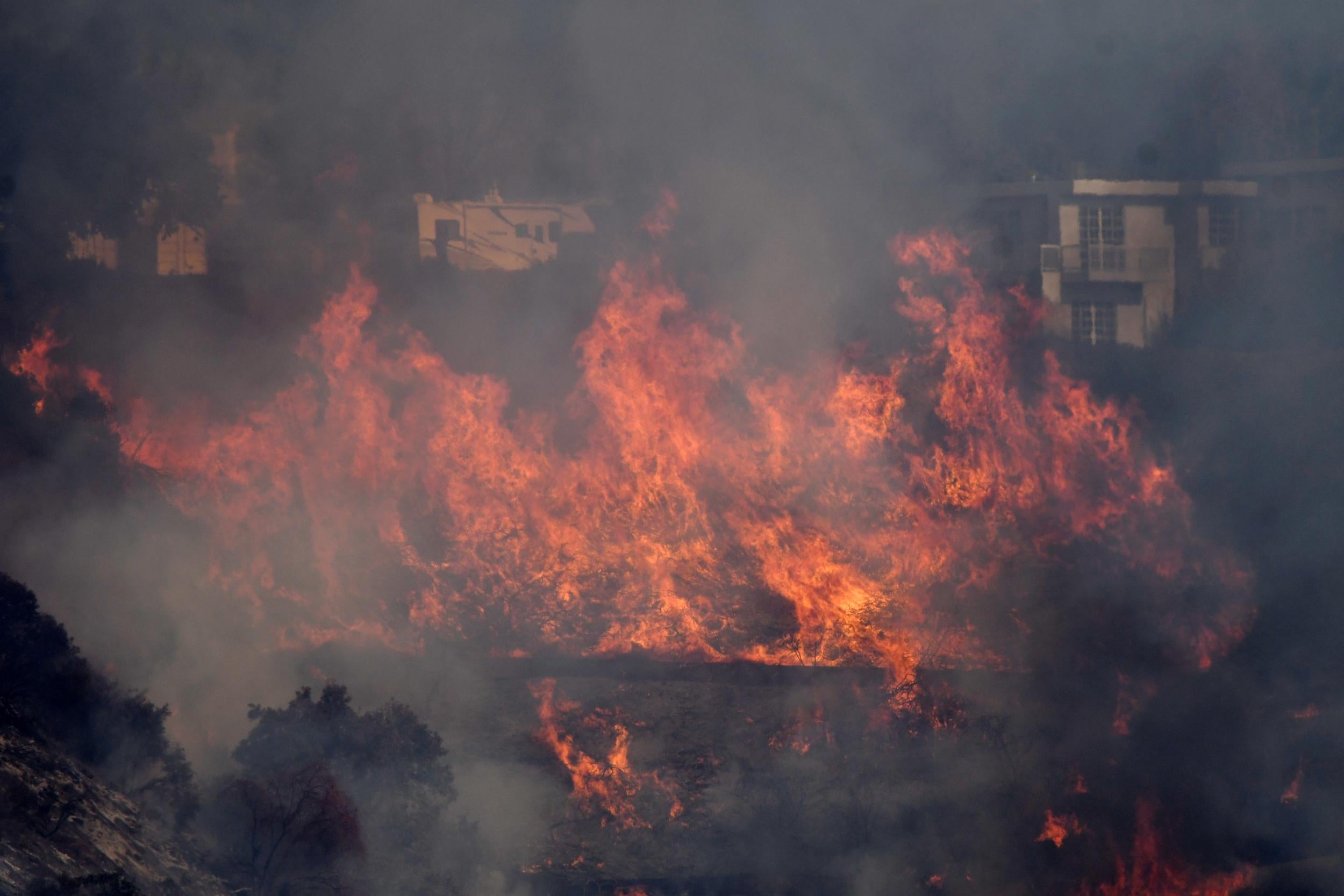 He had been given no indication when he could move back, and simply wanted to get home to Cassiano Road to pick up medication with a police escort, then return to his friend's home, where he had evacuated.
As I talked to Brent an exhausted fire crew arrived for a toilet break. They said they'd been awake at that point for 30 hours, first fighting the Creek fire, napping for a couple of hours on their rig, before being woken again at 5:30am for a call over to the Skirball Fire. They smiled, tired, downed Gatorade, and set off again to tackle a new blaze.
The police weren't letting me past the barricade, and I was beginning to feel light-headed and nauseous – my lungs aching as if I'd smoked 60 cigarettes. The fire at Skirball, they said, was under control now, and reporters had either headed back to the Creek Fire or Ojai – the fires in nearby Ventura County are now threatening the popular weekend resort for LA residents – or back home to sleep and wait for the next round of Santa Anas to bring more devastation to our city.
I drove back to Santa Monica in my beat up Volvo, past people bustling by in gas masks and wheelie suitcases, shiny Priuses and glittering, brand-new SUVs, and did what every self-respecting Angeleno does when your city is burning.
I took a yoga class.
Source: Read Full Article