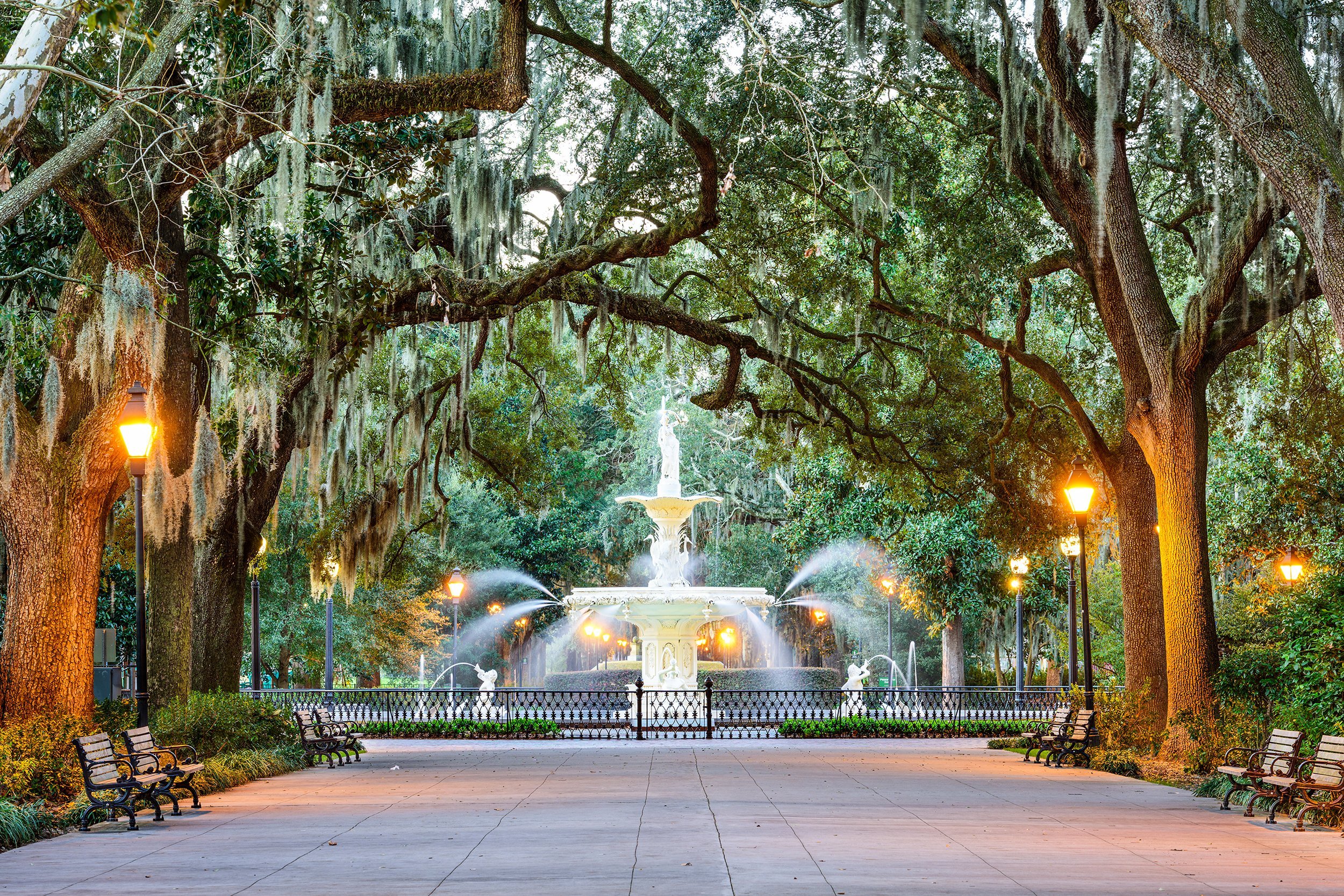 Get Going!
The U.S. is packed with must-sees and must-dos, but even the most ambitious traveler with an unlimited budget is unlikely to get to everything over the course of a lifetime. For anyone who's ever wondered what just shouldn't be missed, we've culled the destinations into 50 bucket-list experiences, one for every state, based on local guides, online reviews by visitors, and in-person visits. From the best national parks and historic sites to fantastic food and festivals, each is difficult — or downright impossible — to get anywhere else in the nation. Happy traveling!
Alabama: Geek Out at the U.S. Space & Rocket Center
Although visitors aren't allowed a peek inside NASA's Marshall Space Flight Center, Huntsville welcomes them at the U.S. Space & Rocket Center. The largest spaceflight museum in the world showcases artifacts including the Saturn V moon rocket and the Apollo 16 command module. The center also hosts Space Camp and Space Academy for budding astronauts ages 9 to 18. There's now an Adult Space Academy, too.
Alaska: See the Northern Lights in Fairbanks
Fairbanks is only 198 miles from the Arctic Circle. It's situated in the auroral oval, making this cold city a hotspot for travelers who want to see the Northern Lights. City officials recommend at least a three-day stay in fall, winter, or early spring for an 80 percent chance of successful viewing. Area hotels offer Northern Lights wake-up calls, but visitors can opt for a more quintessentially Alaskan experience like a cabin stay or sled-dog trip, too.
Arizona: Stargaze at the Grand Canyon
The Grand Canyon welcomed more than 6.3 million visitors in 2018, second only to Great Smoky Mountains National Park. Travelers who can tear their eyes from the astounding daytime scenery will find another treat at night. The Grand Canyon is a top spot for stargazing, because there's so little air and light pollution. The park hosts weekly ranger-led star-viewing sessions and an annual weeklong Star Party every June.
Arkansas: Dig for Diamonds
Most people don't strike it rich while gem-hunting at Crater of Diamonds State Park near Murfreesboro. But there have been several notable finds, including the 40-carat "Uncle Sam," the biggest diamond ever discovered in the U.S. Visitors search the eroded surface of a volcanic crater for white, brown, and yellow diamonds, as well as amethyst, garnet, jasper, agate, and quartz. Those who get lucky get to keep their gems.
California: Take a Night Tour of Alcatraz
Alcatraz Island in San Francisco Bay is home to one of the nation's most infamous prisons. Night tours are less crowded — just a few hundred people are allowed — and provide for sunset and nighttime views of the Golden Gate Bridge and San Francisco skyline. Visitors get a boat trip to and from Alcatraz, a guided tour outside the prison, a self-guided audio tour inside the prison, and programs available only to evening visitors.
Colorado: Durango & Silverton Narrow Gauge Railroad
Running along 45 miles of track between Durango and Silverton, in Colorado, passengers on Durango & Silverton Narrow Gauge Railroad are treated to scenery that hasn't changed substantially since the railway was constructed in 1882. The traditional Silverton trip is a little more than three hours each way and travels alongside the Animas River, one of the last free-flowing rivers in the western United States. The train also passes farmland, old stagecoach roads, former mining camps, and mountains more than 14,000 feet high. 
Connecticut: Visit Mystic Seaport
What better way to get a feel for New England than by visiting the nation's largest maritime museum? This 19-acre site features a recreated seafaring village, daily performances and re-enactments, and preserved vessels including the world's only remaining wooden whaler. Visitors who want to get out on the water themselves can rent wooden rowboats or sailboats to explore the Mystic River.
Delaware: Hang Out on Rehoboth Beach Boardwalk
Although Rehoboth Beach isn't as large or well-known as other Atlantic Coast beach towns such as Ocean City, its low-key, laid-back charm makes it a family favorite. The mile-long boardwalk has an assortment of quaint shops, restaurants, arcades, and other attractions including an amusement park, Funland. The bandstand hosts more than 50 free concerts on weekends in the summer.
Florida: Camp at Dry Tortugas National Park
Dry Tortugas National Park is a must-see for any theme-park-weary visitors to Florida. This island group near the Florida Keys can be accessed only by boat or plane and is home to Fort Jefferson, the largest all-brick fort in the nation. Camping trips departing from Key West include a narrated tour of the fort and allow visitors time to snorkel, birdwatch, stargaze, and explore remote beaches.
Georgia: Stroll Through Savannah's Historic District
Strolling under moss-draped oaks in Savannah's Historic District will take any visitor back in time. Can't-miss stops include Forsyth Park, with its landmark fountain, and the ornate Cathedral of Saint John the Baptist. Many historic homes, including the birthplaces of writer Flannery O'Connor and Girl Scouts founder Juliette Gordon Low, are also open for tours.
Hawaii: Pay Tribute at the USS Arizona
Hawaii's island landscape means outdoor activities abound, but visitors should make time for history at the USS Arizona Memorial. Now part of the World War II Valor in the Pacific National Monument, the USS Arizona sank when Pearl Harbor was attacked on Dec. 7, 1941. Accessible only by boat, the memorial rests atop the sunken battleship and includes a shrine dedicated to the more than 1,100 killed. (Note: The USS Arizona Memorial is currently undergoing repairs and is expected to reopen this fall.)
Idaho: See Surreal Landscapes at Craters of the Moon
Thousands of years ago, lava spewed from massive cracks near present-day Arco, Idaho. Craters of the Moon National Monument and Preserve showcases the surreal lunar-like landscape left by those long-hardened lava flows. Visitors can take in the sights on a 7-mile loop drive or hop out of the car for hikes ranging from 30 minutes to a day or longer. Five caves are open for public exploration, but would-be spelunkers must get a permit at the entrance.
Illinois: Test Your Fear of Heights at Willis Tower
The Willis Tower (perhaps better known by its former name, the Sears Tower) is the nation's second-tallest building, with sweeping views of Chicago and Lake Michigan from the Skydeck on the 103rd floor. Braver visitors can check out the Ledge, glass-bottom boxes that extend 4.3 feet from the side of the building and offer a hair-raising view 1,353 feet down to the ground below. The experience was especially hair-raising recently when a layer of the glass cracked. The glass was quickly replaced and the venue reopened.
Indiana: Fulfill the Need for Speed at the Indy Racing Experience
Indianapolis hosts the ultimate bucket-list activity for any racing lover: the opportunity to ride or drive an open-wheel chassis IndyCar on a variety of tracks — including the oval course or road course of the Indianapolis Motor Speedway. Visitors who just want a taste of racing can opt for a slower, shorter Victory Lap instead.
Iowa: Step Back in Time at the Amana Colonies
Southwest of Cedar Rapids, the seven Amana Colonies were established by German settlers who had separated from the Lutheran church. Today, the colonies are a National Historic Landmark and have much to offer visitors: antiques, handmade furniture and quilts, local art, wineries, and, of course, plenty of German food. Two theater companies also offer shows most of the year.
Kansas: Experience the Wild West in Dodge City
Dodge City retains some of the essence of its frontier-town history. The Boot Hill Museum is the town's must-see, with 60,000 artifacts, a variety show at the recreated Long Branch Saloon, and gunfights on old Front Street. Other attractions include old wagon ruts from the Santa Fe Trail still visible in the prairie outside of town. Come during Dodge City Days  in late July and early August for bull riding, steer roping, and barbecue.
Kentucky: Take the Wild Cave Tour at Mammoth Cave
The Bluegrass State is home to Mammoth Cave National Park, where visitors can explore some of the massive cave system's 405 miles of surveyed passageways. A variety of ranger-led programs are available, but none are more adventurous than the Wild Cave Tour. For six hours, visitors with sturdy hiking boots get to scramble through areas of the cave that are farther off the beaten path.
Louisiana: Experience Mardi Gras
New Orleans' biggest party is worthy of any travel bucket list. Peak party time is the weekend before Fat Tuesday, which falls on March 5 in 2019. While dozens of elaborate parades are the main draw, Cajun food, jazz, and the city's numerous other attractions are still on offer during Mardi Gras. Officials caution that travelers with kids may want to avoid the French Quarter, but there are plenty of other spots where kids can join the party and watch the floats pass by.
Maine: Take a Lobster Boat Tour
Up to 80 percent of the nation's lobsters are caught off the Maine coast. Hop aboard a boat tour to get a feel for how lobstermen make their catches — some even let participants haul up traps themselves and purchase the lobster for dinner. One of the state's best-known tours, Lulu Lobster Boat Ride, departs from Bar Harbor and offers glimpses of harbor seals, bald eagles, and the rugged coastline near Acadia National Park.
Maryland: Spend a Day in Annapolis
Maryland's historic capital city is postcard-perfect, from the 18th-century architecture to sailboats on the Chesapeake Bay. Tour the U.S. Naval Academy, which is open to the public and includes a museum and stunning nondenominational chapel, or take a boat tour of the harbor. Also open to visitors is the Maryland State House, the oldest statehouse in the U.S. still in use. Boutiques, art galleries, and restaurants abound — don't forget to eat some fresh blue crab.
Massachusetts: Follow the Freedom Trail
A trip to Boston isn't complete without a stroll along the 2.5-mile Freedom Trail, which connects some of the city's most important historical sights. Stops include Boston Common, Faneuil Hall, the Paul Revere House, Bunker Hill, and the USS Constitution, better known as "Old Ironsides." Visitors can follow the red-brick-marked trail or opt for public tours led by costumed guides, the Freedom Trail Players.
Michigan: Step Back in Time on Mackinac Island
It's mandatory to slow down on Mackinac Island — after all, no cars are allowed. Explore on foot, bike, or even horseback to discover quaint shops, restaurants, and the island's famous fudge. Two main attractions are Fort Mackinac, the oldest building in Michigan, and the elegant Grand Hotel, but make time to enjoy the Lake Huron shoreline and 80 miles of hiking and biking trails.
Minnesota: Explore the Boundary Waters
A staggering 1 million acres of lakes, streams, islands, and forests, the Boundary Waters Canoe Area Wilderness provides ample space for visitors to explore a classic Minnesota landscape. There are more than 1,200 miles of canoe routes and 2,000 campsites. Overnight visitors must have permits during the summer, but day-trippers can also access the area from the nearby resort town of Ely.
Mississippi: Learn About the Antebellum South in Natchez
On a bluff above the Mississippi River, Natchez offers unbeatable views of the nation's longest waterway. Largely spared during the Civil War, it's also full of antebellum history. Can't-miss attractions include Longwood, the nation's largest octagonal house, as well as Rosalie Mansion and Stanton Hall, both classic examples of antebellum architecture. Road-trip lovers won't want to miss the 444-mile Natchez Trace Parkway, which connects Natchez to Nashville, Tennessee.
Missouri: Catch a Show in Branson
Branson is a mainstay family vacation destination because of its kitschy, down-home country shows. Longtime favorites include Dolly Parton's Dixie Stampede, the Baldknobbers Jamboree, and Presleys' Country Jubilee. The city's location in the Ozarks also gives visitors plenty of incentive to get outdoors. Fishing is especially good at Table Rock Lake and Lake Taneycomo, and 200 miles of trails await hikers.
Montana: Drive Going-to-the-Sun Road
Traversing Glacier National Park's Going-to-the-Sun Road reveals some of the most stunning scenery in the country: craggy mountains, pristine waterfalls, and, of course, glaciers. Travelers cross the Continental Divide at Logan Pass, home to colorful wildflowers, mountain goats, bighorn sheep, and popular hiking trails. Like several other scenic highways, the entire trip is typically possible only in summer and early fall — the rest of the year, snowfall closes portions of the road.
Nebraska: View the Sandhill Crane Migration
One of only two kinds of cranes in North America, sandhill cranes converge on central Nebraska's Platte River to rest as they head to breeding grounds farther north in Canada, Alaska, and Siberia. As many as 60,000 cranes visit in March and early April. One of the best viewing spots is the Audubon's Rowe Sanctuary, which offers guided tours of river roosts.
Nevada: Marvel at the Massive Hoover Dam
As soon as visitors tire of the neon lights in Las Vegas, a visit to Hoover Dam should be next on the list. Once the world's largest dam, this National Historic Landmark is still staggering in scale; its 17 turbines are capable of keeping the lights on in 1.3 million homes. Visitors can tour the power plant and dam passageways. An observation deck offers sweeping views of Lake Mead and the Colorado River.
New Hampshire: Visit Mount Washington's Weather Station
The highest peak in the Northeast, New Hampshire's Mount Washington is infamous for its weather extremes. The mountain regularly sees hurricane-force gusts, and below-zero temperatures are possible in late fall, winter, and spring. Guided weather station tours let visitors see how scientists live and work on the mountain. Overnight winter visits include trips in a snowcat and a chance to experience extreme conditions firsthand.
New Jersey: Slow Down in Cape May
At the southern tip of the state, Cape May is the ultimate destination for changing travelers' Jersey Shore preconceptions. Overflowing with Victorian charm, the whole town is a National Historic Landmark. Hop on a trolley for a tour or explore character-filled bed and breakfasts, tons of dining options, and Washington Square's shops on foot. Beachgoers have to purchase access tags during the summer, but most say it's worth it: The town is home to one of the best beaches in America, and the sand is pristine
New Mexico: Get High at the Albuquerque International Balloon Fiesta
The world's largest hot-air balloon festival attracts more than 500 balloons each October. Last year, it also drew close to 900,000 spectators. The festival is one of the most-photographed events in the world, with an annual photo contest among the events. Visitors can take in daily balloon glows and launches, music, laser light shows, fireworks, and chainsaw carving.
New York: Bear Witness at the 9/11 Memorial
At the 9/11 Memorial, a three-part historical exhibition explores the terror attacks, what led up to them, and the events that followed. Cavernous Foundation Hall houses a surviving portion of the World Trade Center wall and a 36-foot column covered with posters, mementos, and inscriptions. Outside, reflecting pools and waterfalls cover the towers' original footprints, and the names of those who died are inscribed on panels along the pools.
North Carolina: Live Large at the Biltmore Estate
Biltmore Estate, the nation's largest privately owned house, is much more palace than family home. Although visitors can explore only a portion of the house, there's plenty to see, including the seven-story banquet hall and the bedrooms of George and Edith Vanderbilt. The extensive formal gardens, designed by Frederick Law Olmstead, are worth a long stroll.
North Dakota: Explore the International Peace Garden
Established in 1932, the International Peace Garden straddles the border of North Dakota and the Canadian province of Manitoba. Open year-round, it boasts more than 155,000 flowers, two lakes, waterfalls, hiking trails, and camping facilities. Highlights include a large floral clock, a cacti garden with more than 6,000 specimens, and a 9/11 memorial with steel girders from the World Trade Center.
Ohio: Enjoy World-Class Thrills at Cedar Point
Cedar Point's many roller coasters make it something of a mecca for coaster lovers. Last year, it introduced Steel Vengeance, which it bills as the tallest, fastest and longest hybrid roller coaster in the world. There's still plenty to do for visitors who want to take things a bit slower, though — the park offers tamer rides, daily shows, and sweeping views of Lake Erie. 
Related:
25 Amusement Parks Then and Now
Oklahoma: Get Your Kicks on Route 66
Oklahoma is home to the longest drivable section of U.S. Route 66, which traverses the state from northeast to southwest. Travelers can learn more at three Route 66 museums, including the Oklahoma Route 66 Museum in Clinton, and spot roadside oddities like the world's largest concrete totem pole, in Chelsea. Another highlight, a section of the highway from the 1920s called "Ribbon Road," is just 9 feet wide and found between Afton and Miami.
Oregon: Marvel at the Nation's Deepest Lake
The collapse of a major volcano more than 7,700 years ago left one of Oregon's most-visited landmarks, Crater Lake National Park. At 1,943 feet deep, it's the deepest lake in the U.S., and because its water comes entirely from rain and snow that runs off nearby cliffs, it's also one of the most pristine. Visitors who want to drive the lake's entire rim should visit in summer or early fall, as snow closes parts of the road at other times of the year. Rafts, canoes, kayaks, and other boats are prohibited, but swimming is allowed in approved areas.
Pennsylvania: Pay Tribute to the Fallen at Gettysburg
A trip to Gettysburg National Military Park is a must for any history buff. Located about two hours west of Philadelphia, Gettysburg is where the tide of the Civil War turned against the Confederacy, at a high price: 51,000 soldiers from both sides were killed, wounded, captured, or went missing. Visitors can take a free self-guided driving tour. Points of interest include McPherson Ridge, where the battle began, and the Soldier's National Cemetery, where Lincoln delivered the Gettysburg Address in 1863.
Rhode Island: Take the Cliff Walk in Newport
A public walkway that's been designated a National Recreation Trail, the 3.5-mile Cliff Walk offers sweeping views of the sea on one side and Newport's most opulent Gilded Age mansions on the other. Walkers will get to see the Breakers, summer home of Cornelius Vanderbilt, as well as Rosecliff Mansion, where parts of the 1974 adaptation of "The Great Gatsby" were filmed. Some rocky, unpaved areas at the southern end require nimble feet and sturdy shoes.
South Carolina: Brush Up on Civil War History at Fort Sumter
Fort Sumter has a dubious place in history: It's the spot where the Civil War began when Confederate troops fired on this Union-controlled landmark in April 1861. Now a national monument, Fort Sumter is accessible by boat only. Tours include a trip around Charleston Harbor, where dolphin sightings are common, and an hour-long ranger-led visit to the cannon-filled fort. During warmer months, sunset tours throw in stunning evening views and hors d'oeuvres on the return boat trip.
South Dakota: Cut Loose at the Sturgis Motorcycle Rally
Even non-bikers will appreciate the spectacle of the Sturgis Motorcycle Rally, held every August. In 2015, it brought an estimated 739,000 people to Sturgis, a town of just over 6,600 in the Black Hills. Major draws include concerts, races, food vendors, and motorcycle merchandise galore — not to mention some of the best people-watching west of the Mississippi. Mount Rushmore, Custer State Park, and Badlands National Park are easy side trips.
Tennessee: See Country Music's Grandest Stage
Nashville's Grand Ole Opry has been launching music careers since 1925, when it began as a humble radio show. Today, fans can still listen on the radio, but seeing a show in person is a worthy bucket-list experience. Most performances showcase at least eight country artists — a mix of Opry members and guests — that range from rising new acts to established stars. Visitors should consider sticking around after the show for a behind-the-scenes tour.
Texas: Act Like a Kid Again at the State Fair of Texas
Held in Dallas, the State Fair of Texas is the nation's longest state fair, spanning 24 days. Slated for Sept. 27 to Oct. 20, this year's fair will include more than 70 midway rides and dozens of concerts on the fair's main stage alone. Other highlights include Big Tex, the 55-foot-tall cowboy at the fair's main entrance, the 212-foot Texas Star Ferris wheel, and food stalls selling deep-fried everything.
Utah: Hike the Narrows in Zion National Park
It's all about perspective in the Narrows: Hikers traverse sections of Zion Canyon with walls that are 1,000 feet tall but just 20 to 30 feet wide. Scenery includes waterfalls and stunning sandstone rock formations. After a paved 1-mile section at the entrance, visitors have to get their feet wet in the Virgin River. Hikers should avoid the area when rain threatens because of flash-flooding risks.
Vermont: Get a Dose of Classic Americana at the Shelburne Museum
Encompassing 39 structures and 45 acres, the Shelburne Museum south of Burlington offers a window into a huge range of Americana: folk art, textiles, toys, horse-drawn carriages — roughly 100,000 artifacts in all. The buildings showcase New England architecture and include a round barn, schoolhouse, apothecary, and meeting house. Twenty gardens, a carousel, and even a steamboat round out a museum visit like no other.
Virginia: Tour Thomas Jefferson's Monticello
Thomas Jefferson designed and redesigned his Charlottesville estate, Monticello, for more than 40 years. The result is a UNESCO World Heritage Site that's a stunning example of neoclassical architecture. Visitors can not only tour the house, gardens, and grounds, they can also learn about the lives of slaves who lived on the estate plantation.
Washington: Visit Pike Place Market
Spanning 9 acres, Seattle's Pike Place Market boasts more than 200 shops and 80 restaurants. Highlights include watching fishmongers hurl the latest catches, browsing abundant fresh flowers, and visiting the original Starbucks. Visitors with strong stomachs may also want to add to the infamous chewing-gum wall located in an alley under the market.
West Virginia: Raft Some of the Nation's Best Whitewater
West Virginia's New River Gorge has rafting for everyone: gentler, family-friendly rapids on the upper New River and more intense excursions on the lower New. Outfitters offer everything from placid sightseeing trips to extreme whitewater runs. True adrenaline junkies should hold off until the fall, when they'll find world-class whitewater on the upper Gauley River, otherwise known as the "Beast of the East."
Wisconsin: Come for the Cheese, Stay for the Cranberries
Wisconsin is famous for its cheese, but it also produces 60 percent of the nation's cranberries. Central Wisconsin's 50-mile Cranberry Trail includes a museum, the Wisconsin Cranberry Discovery Center, and several marshes that are open for tours in the fall. In September, the world's largest cranberry festival draws more than 100,000 visitors in Warrens with a huge range of cranberry-inspired foods, from cranberry wine to cranberry brats.
Wyoming: Visit Yellowstone National Park
The first national park is still one of the best, and visitors to Yellowstone National Park will find much more to see than Old Faithful, the famed geyser that is now one of America's best places for a selfie. Grand Canyon of the Yellowstone is a prime spot for hiking, while geothermal wonders abound in the Mammoth Hot Springs and Norris Geyser Basin areas. Hayden Valley offers dazzling views of wildlife, including elk, bison, and grizzlies. To avoid the crowds and save on accommodations, skip summertime and go in spring or fall.
Source: Read Full Article