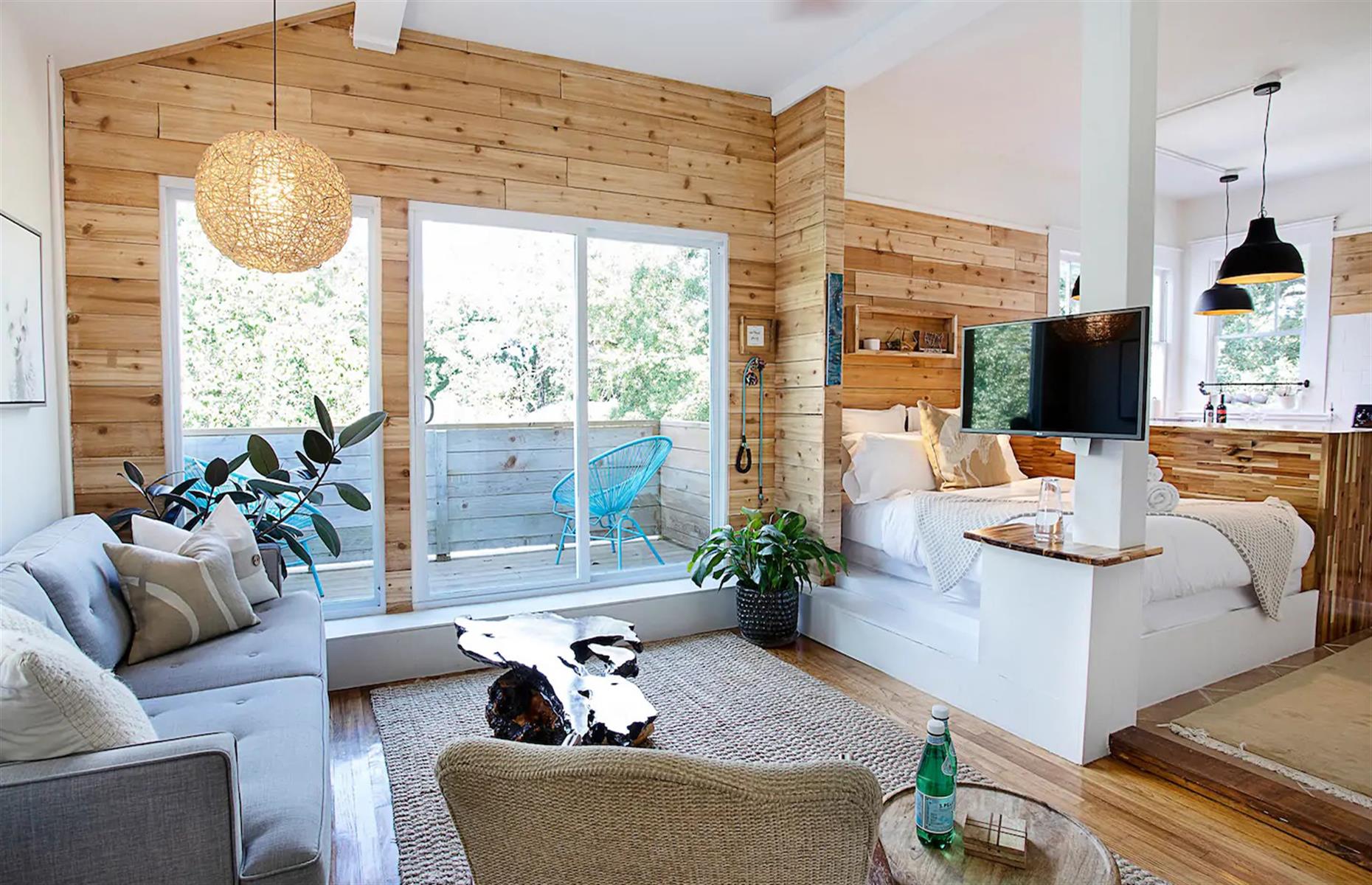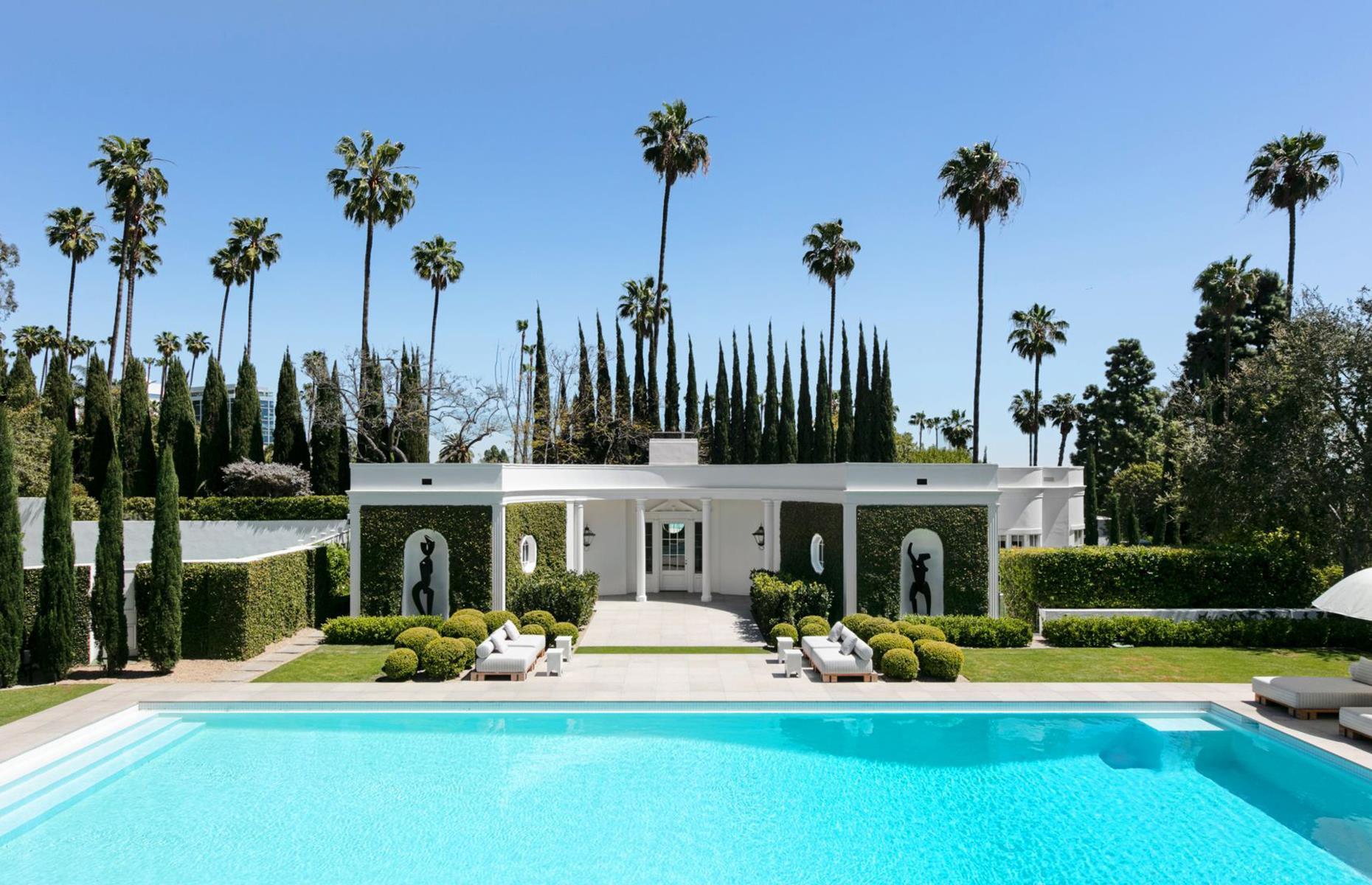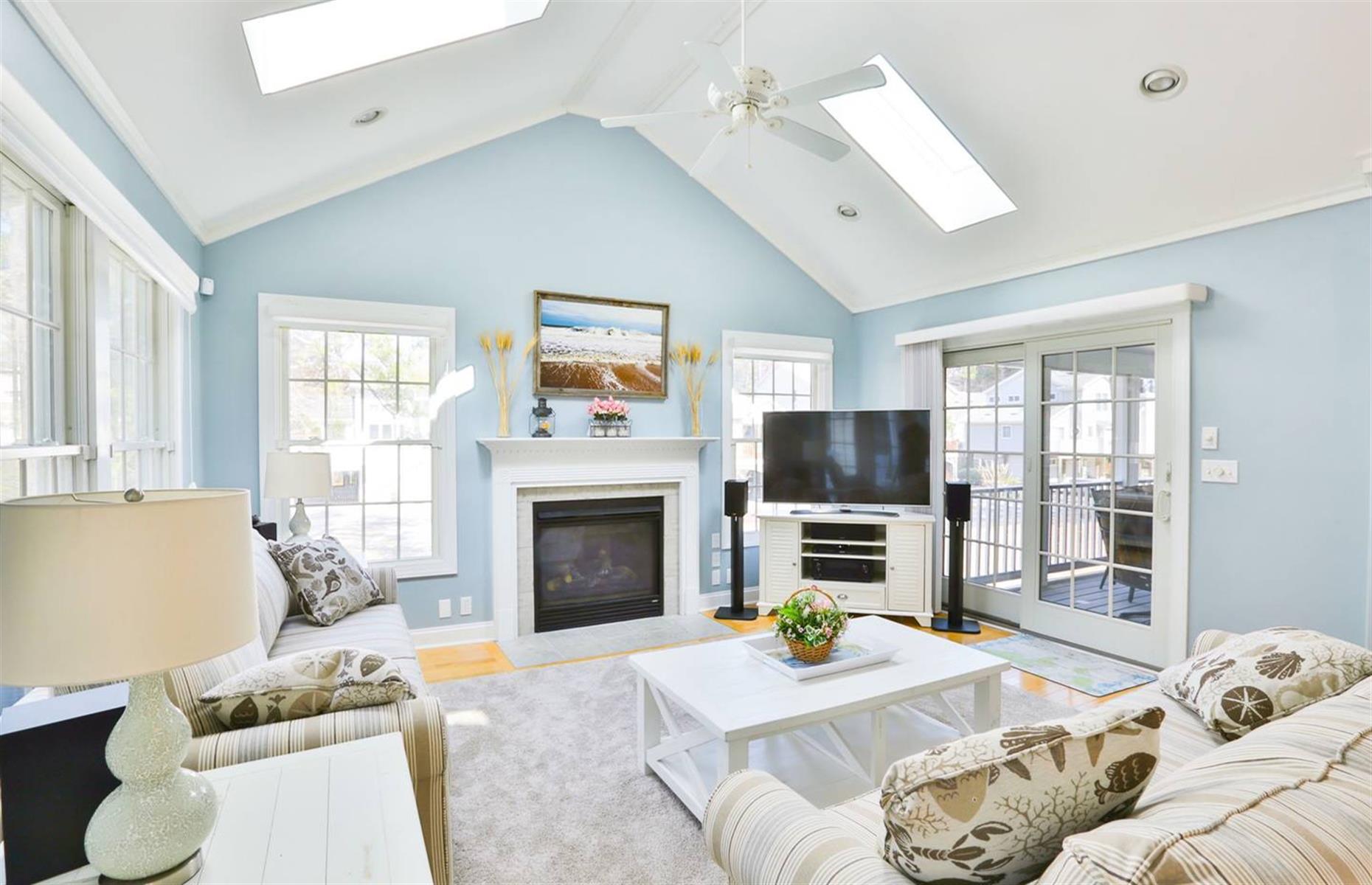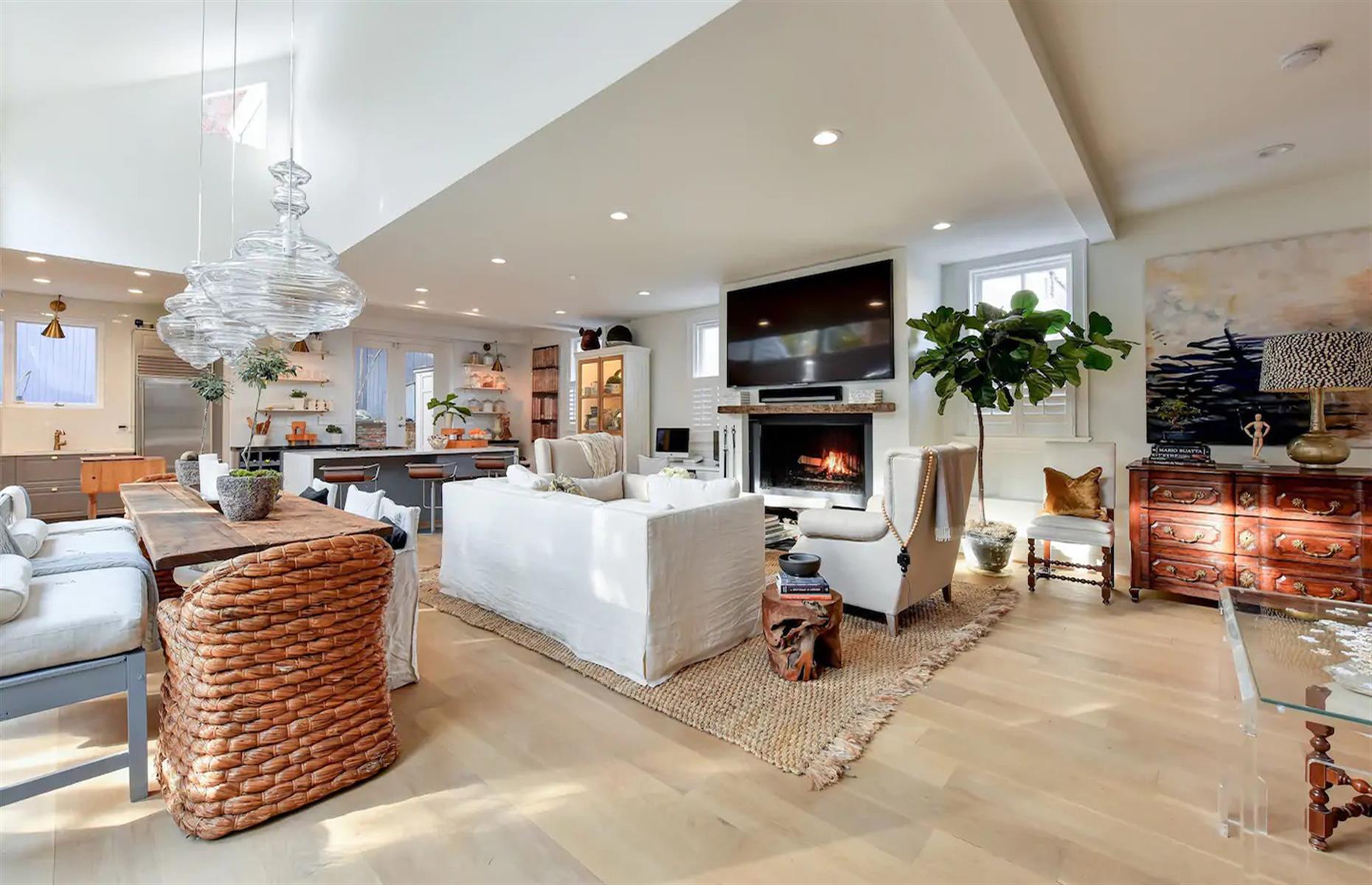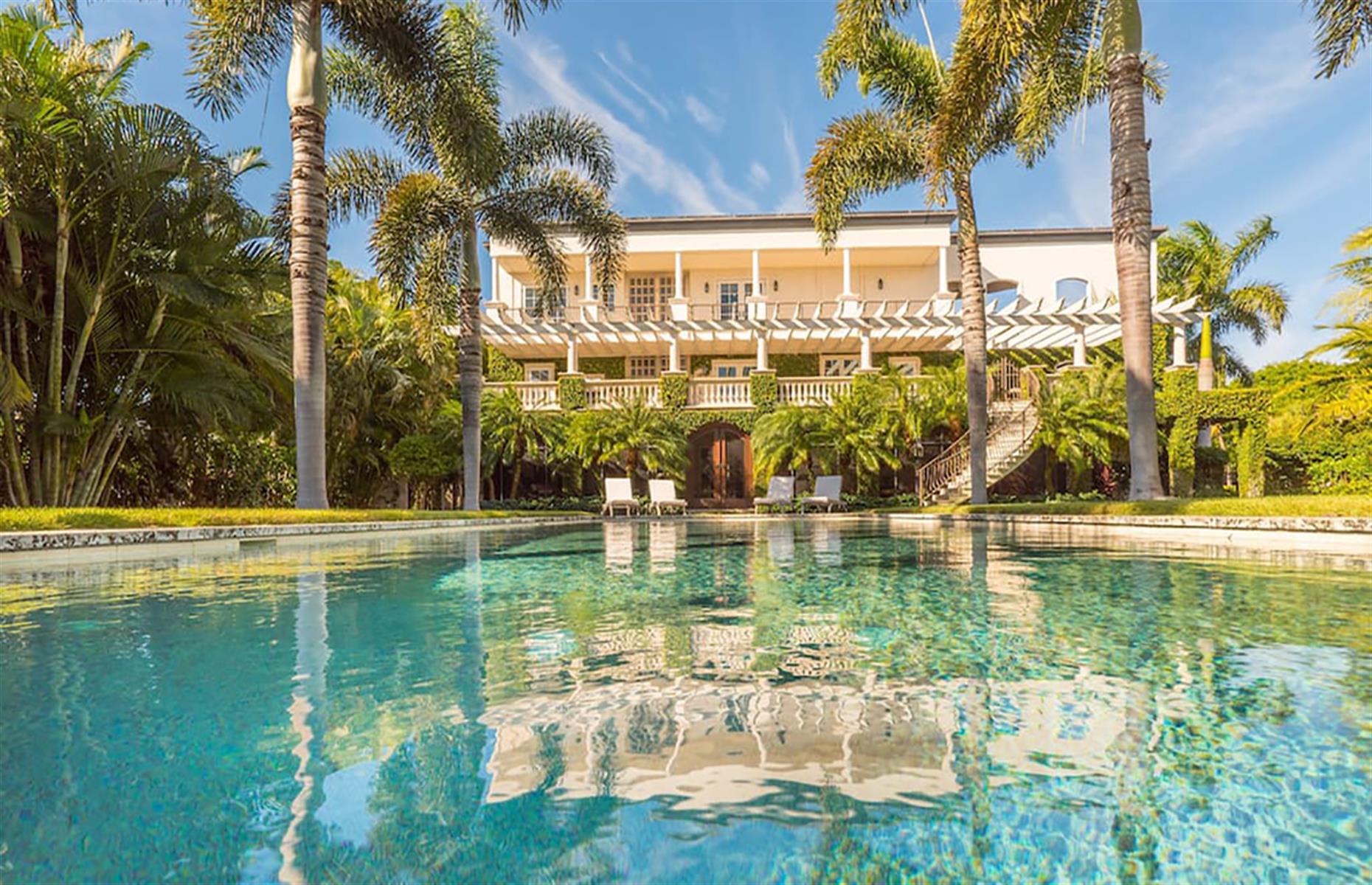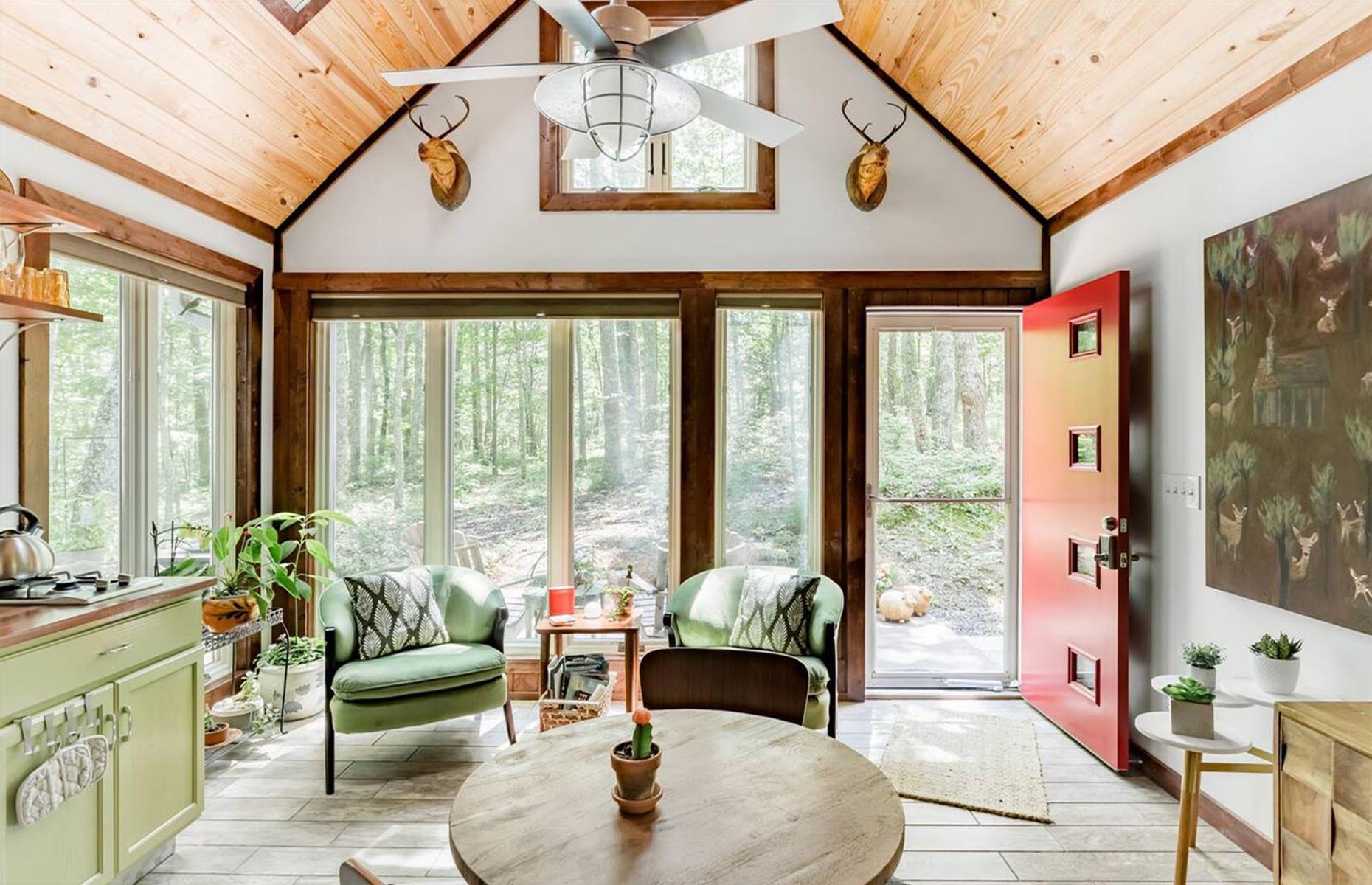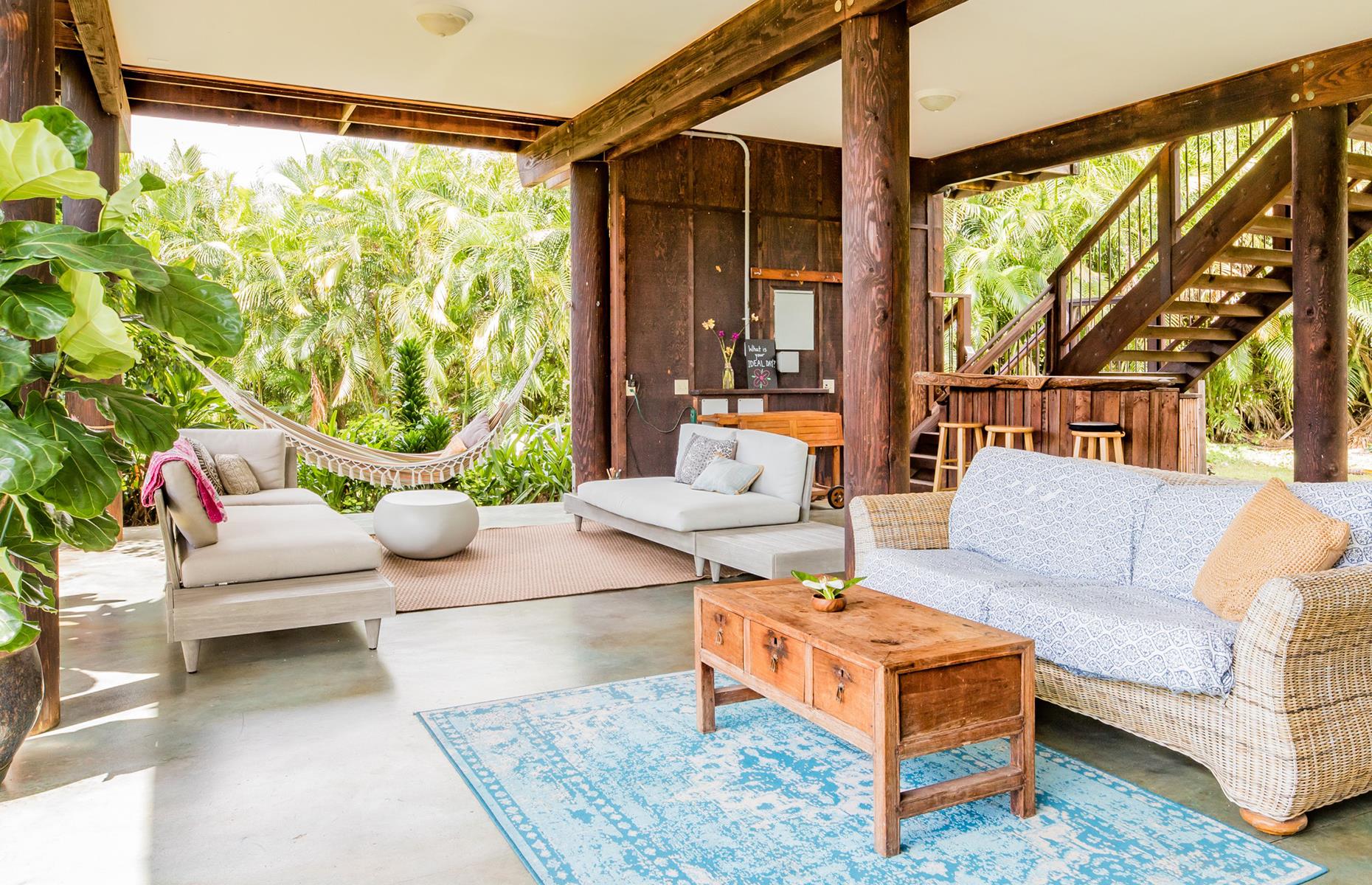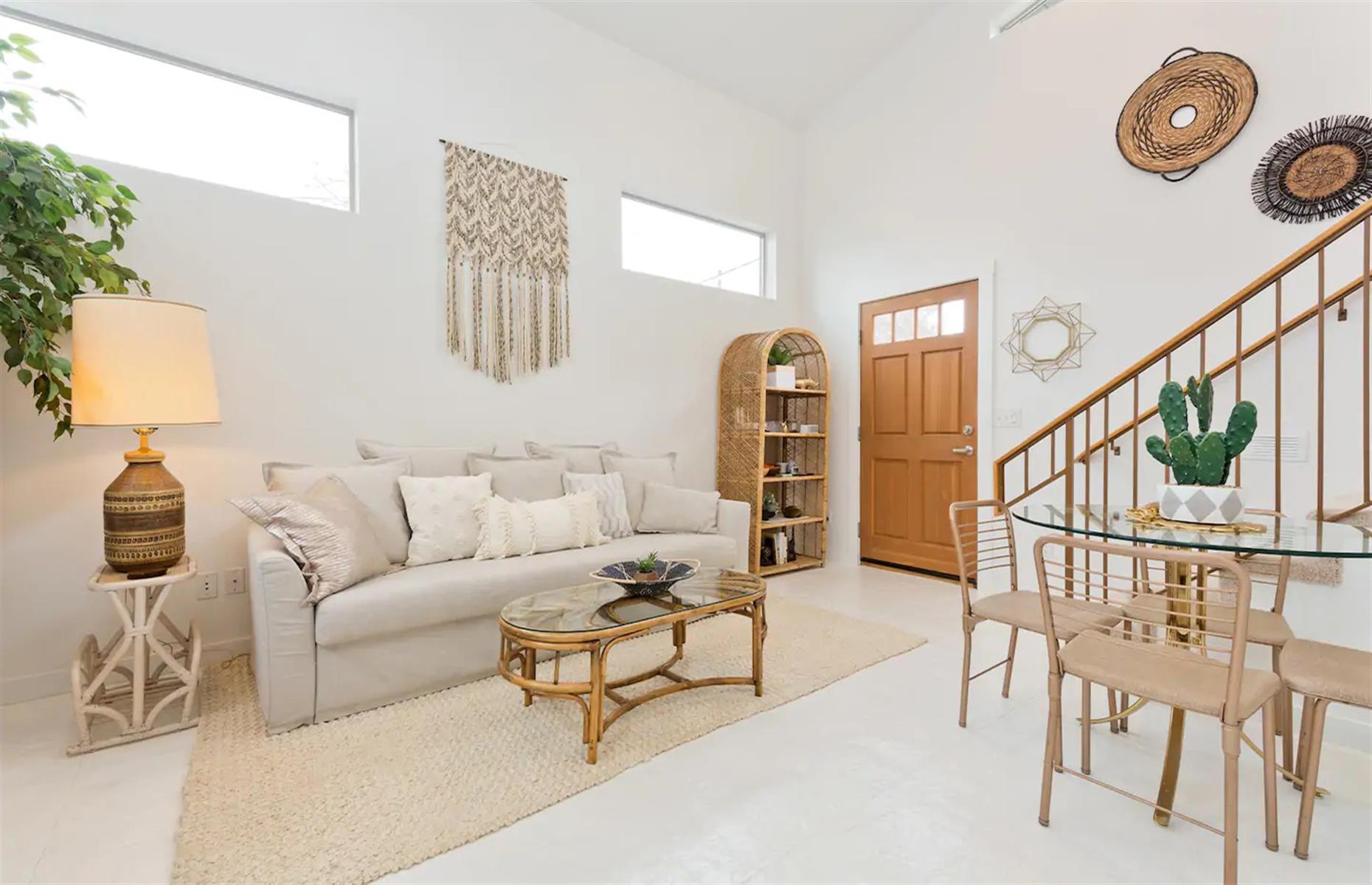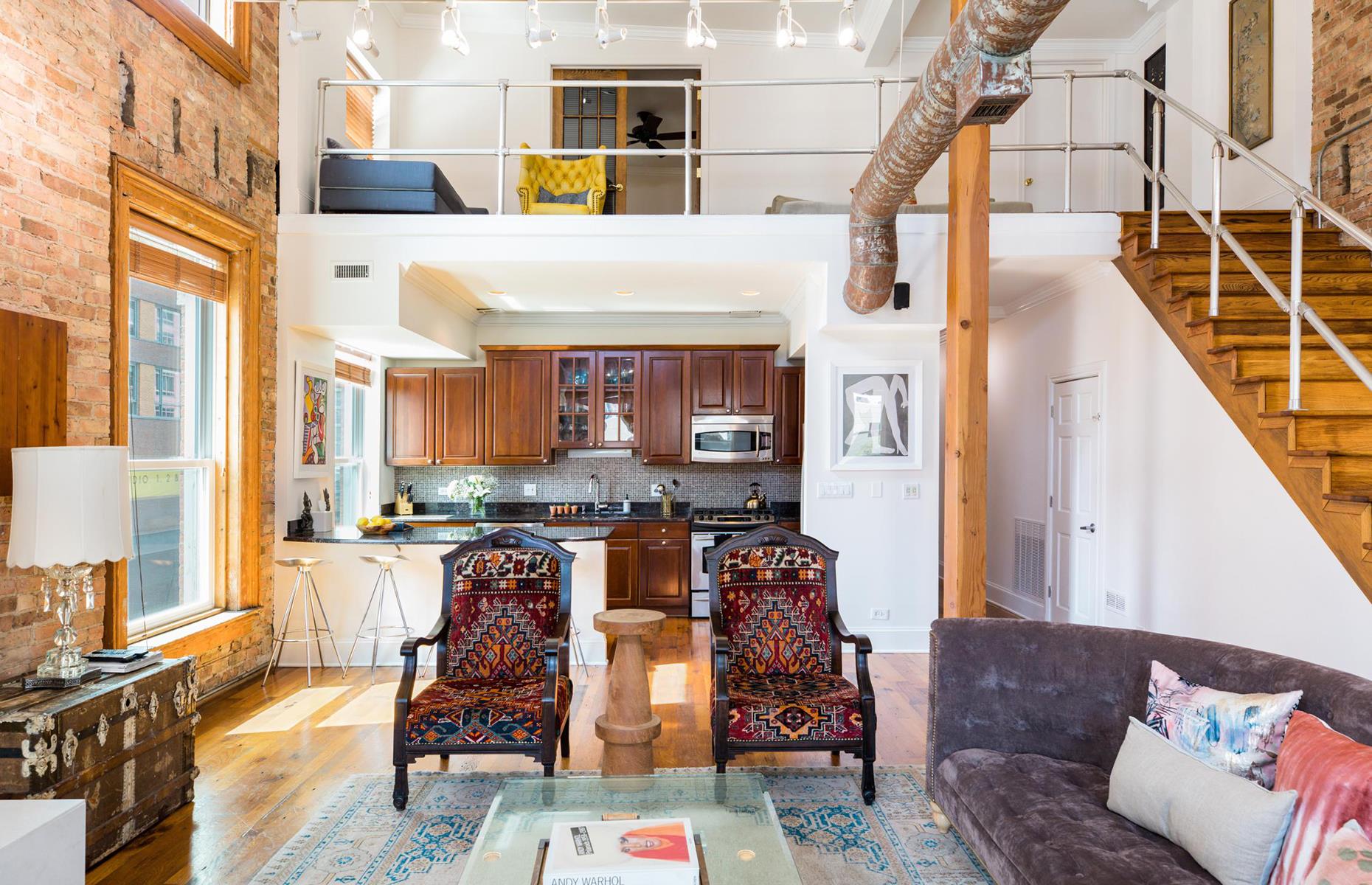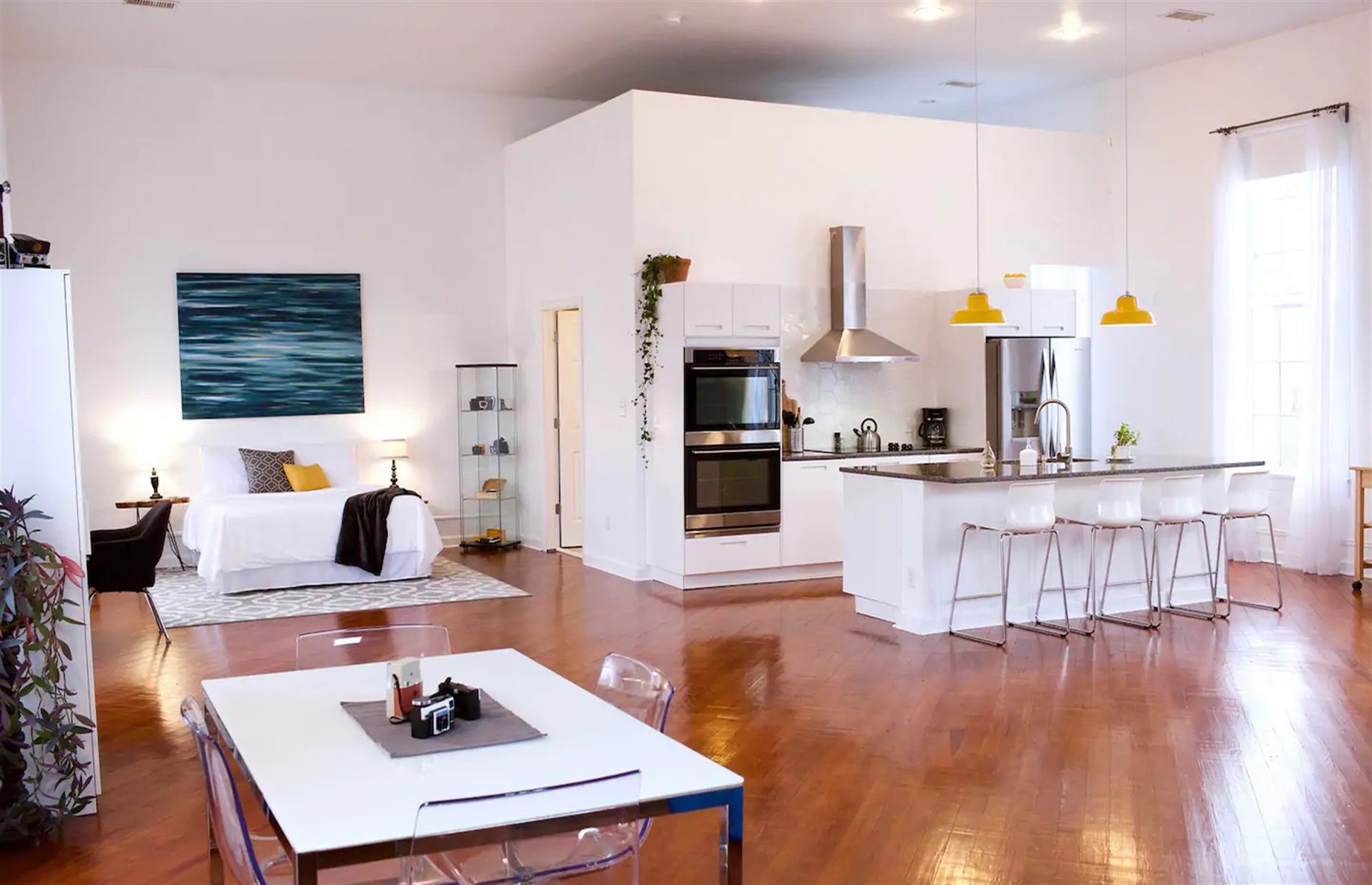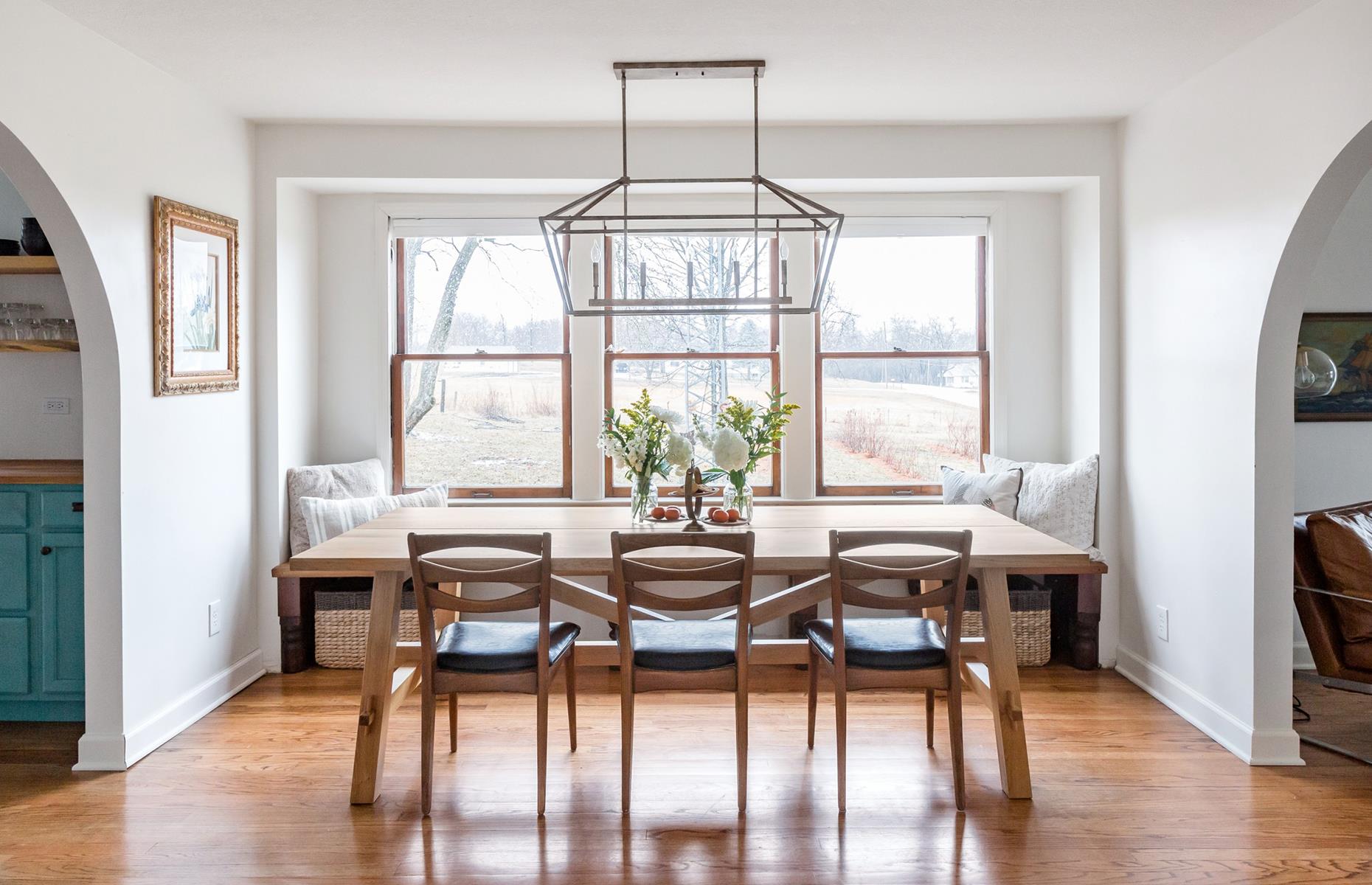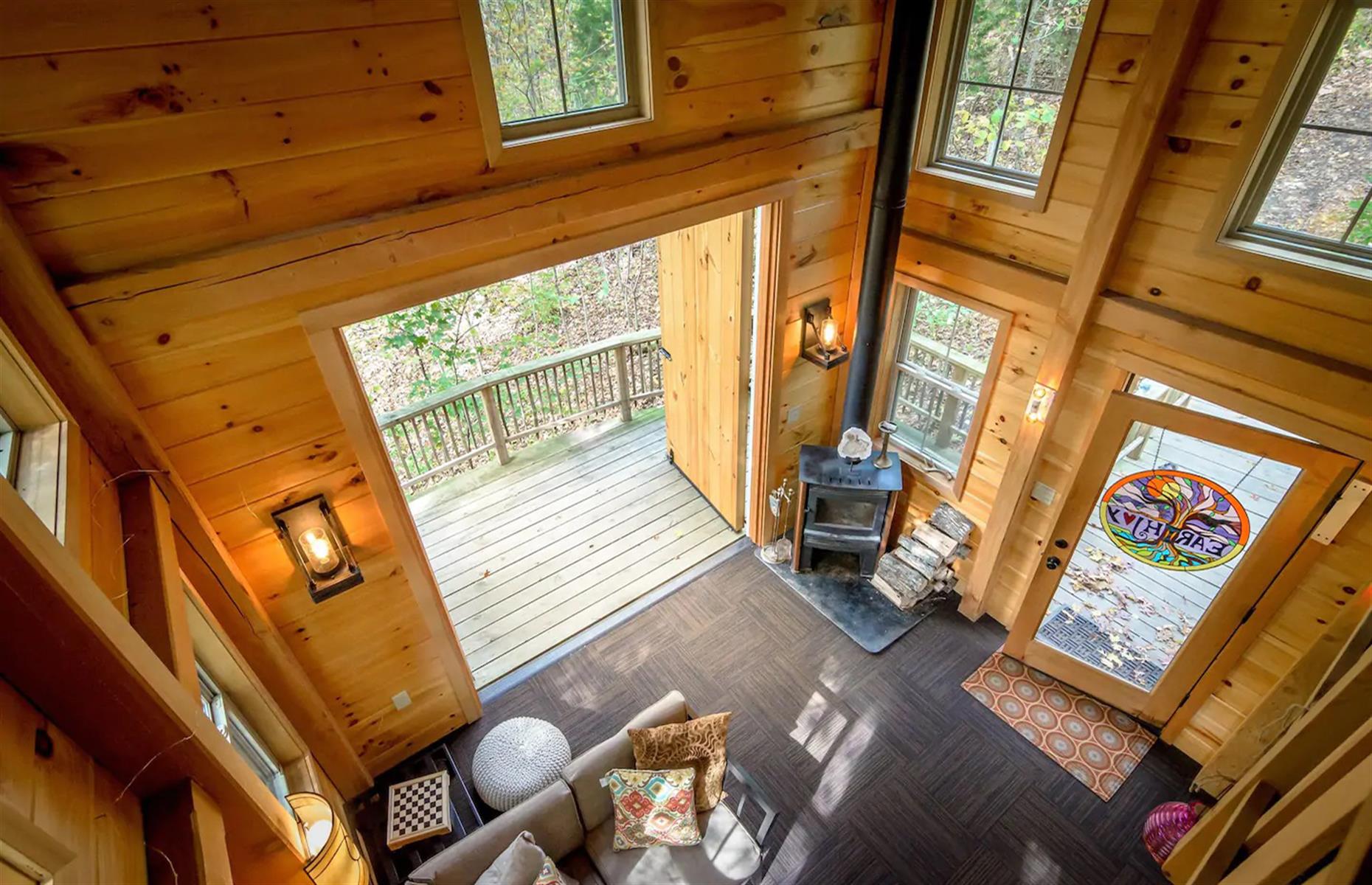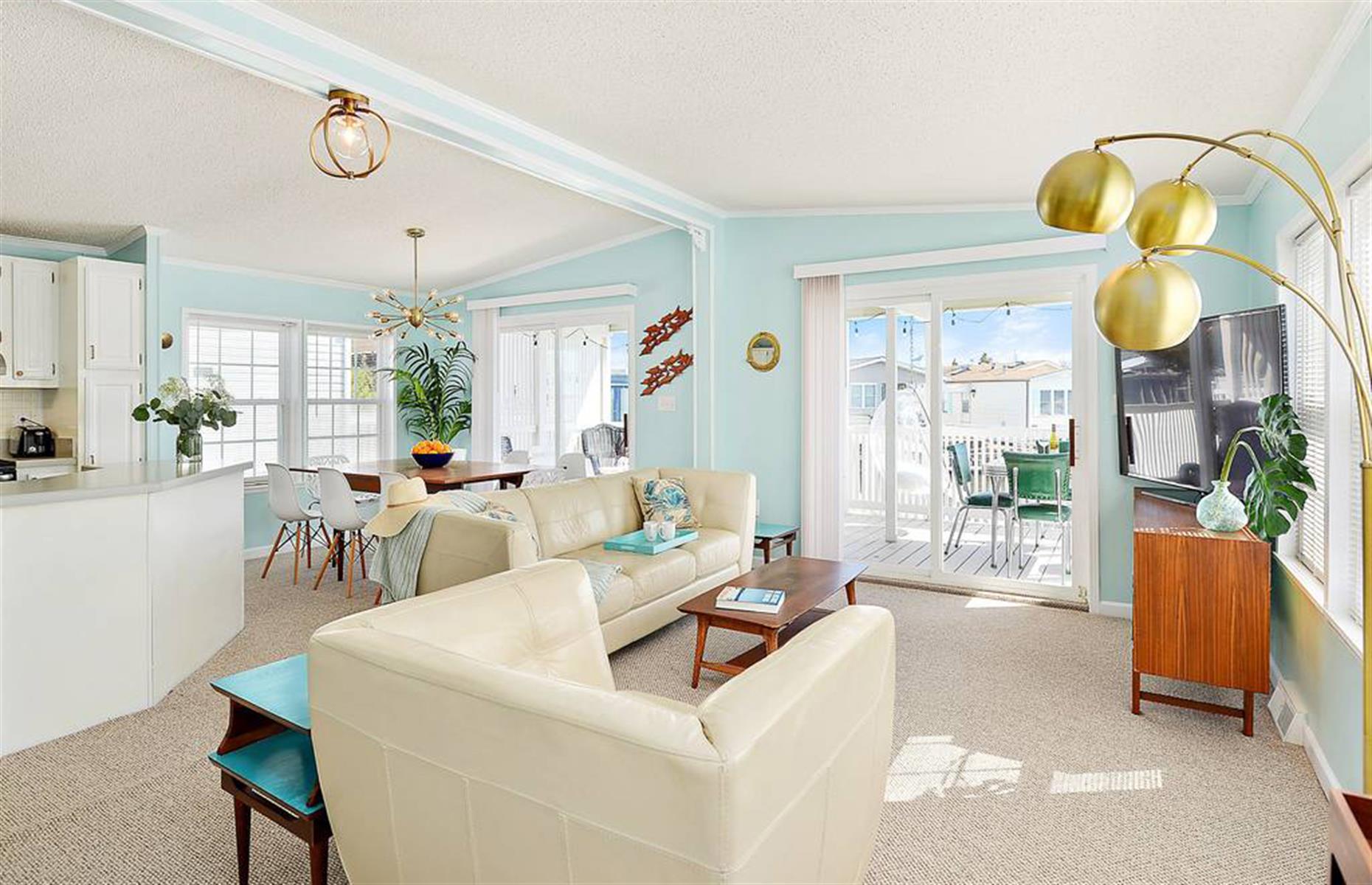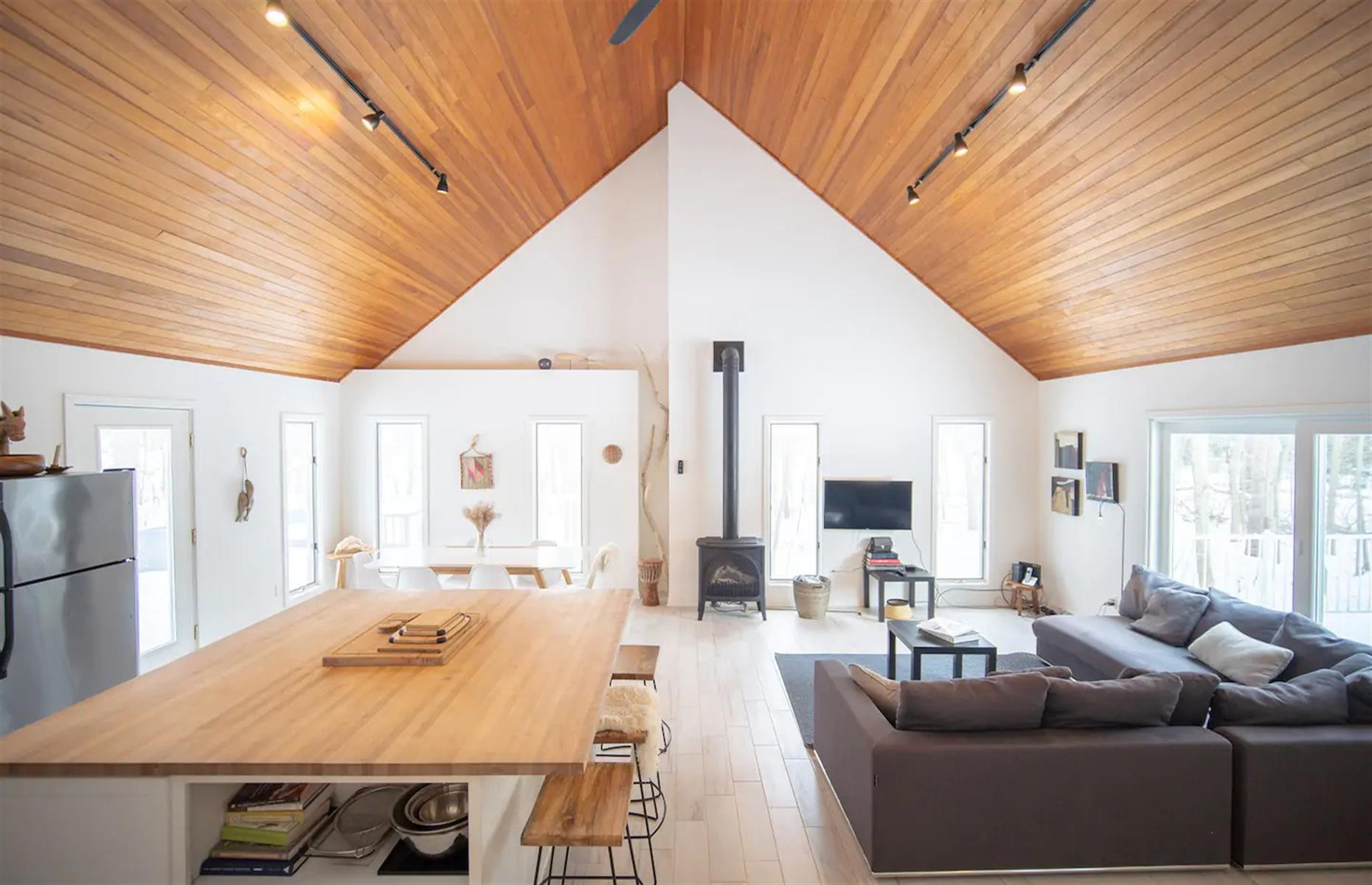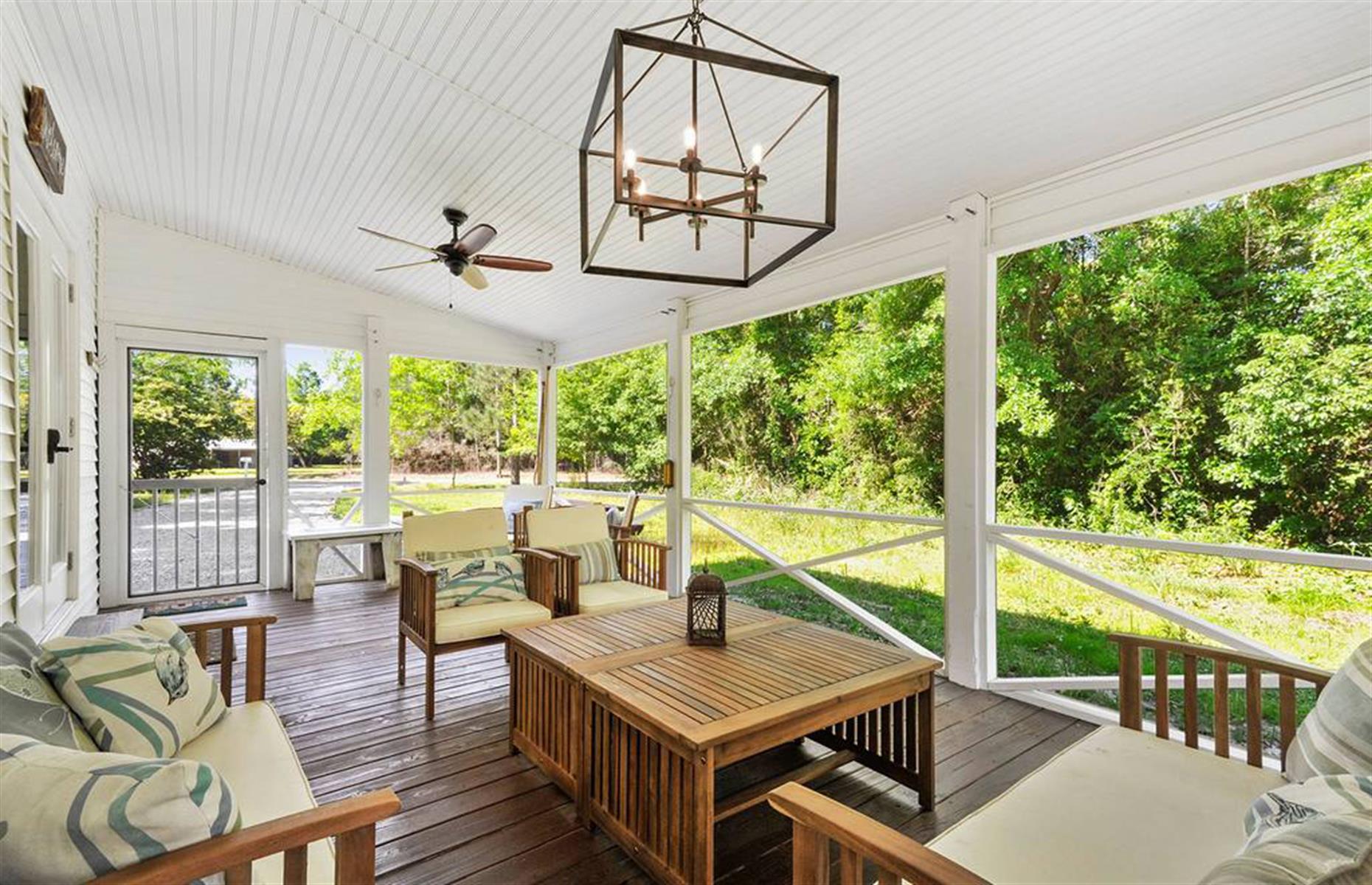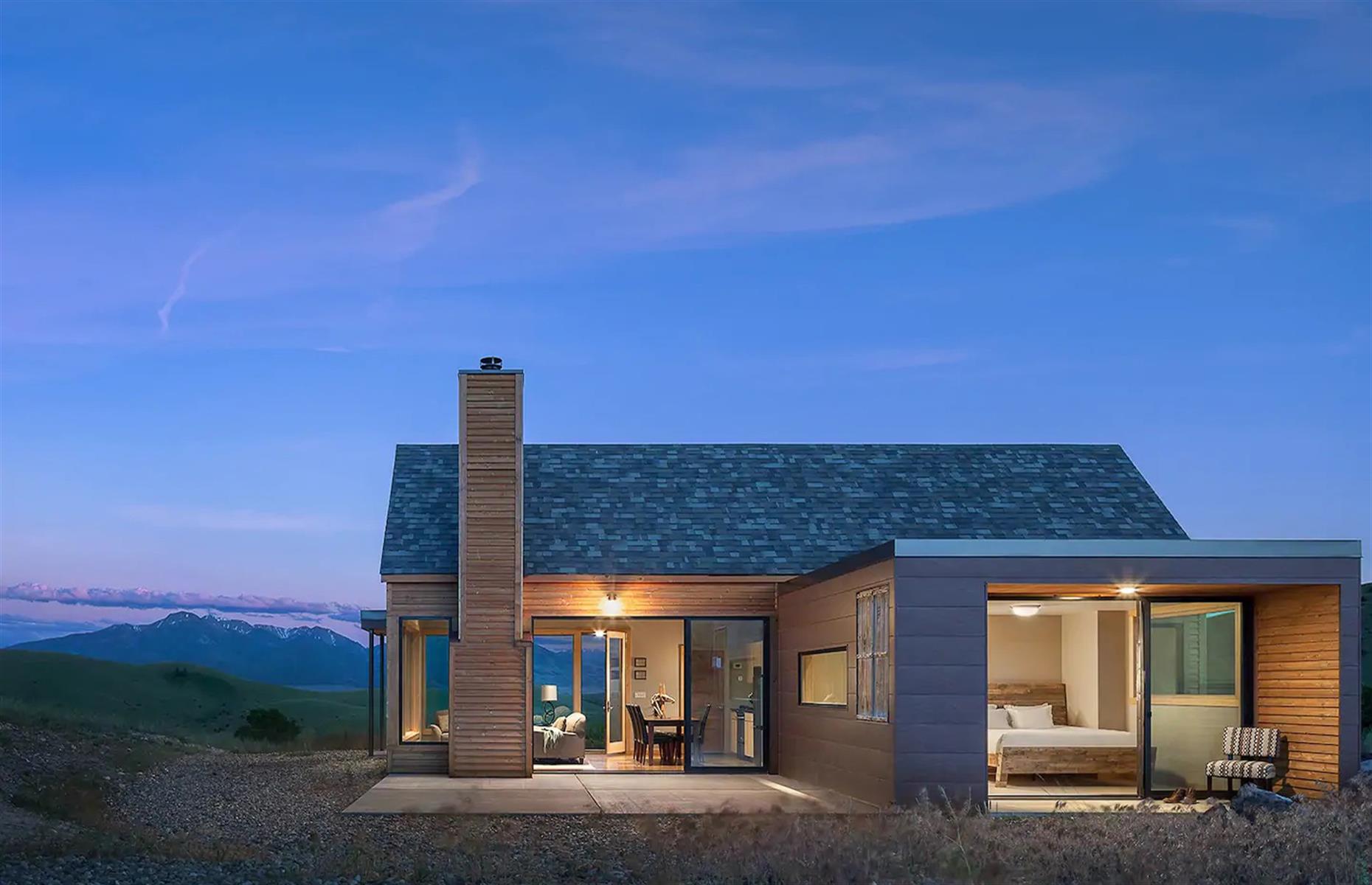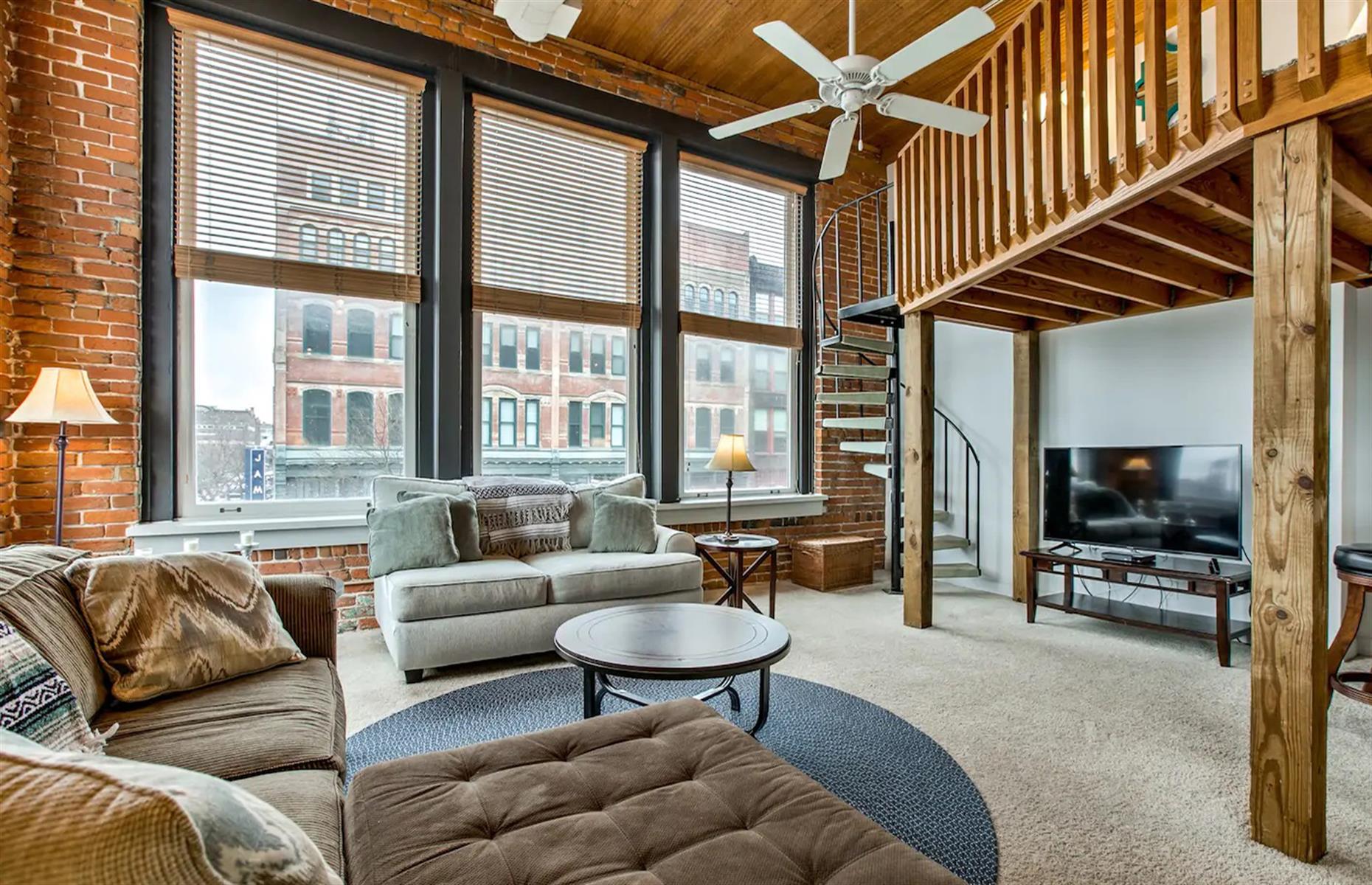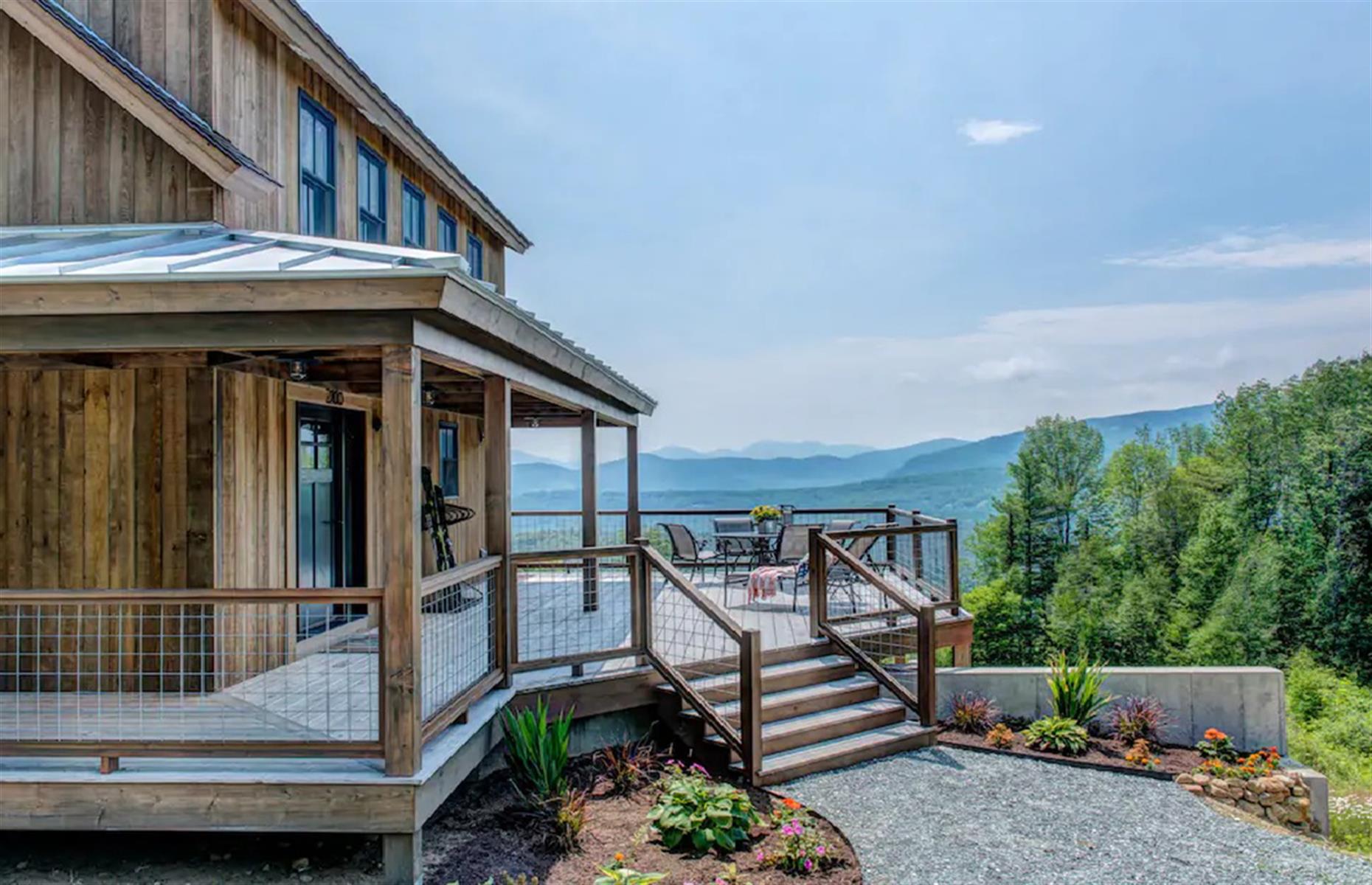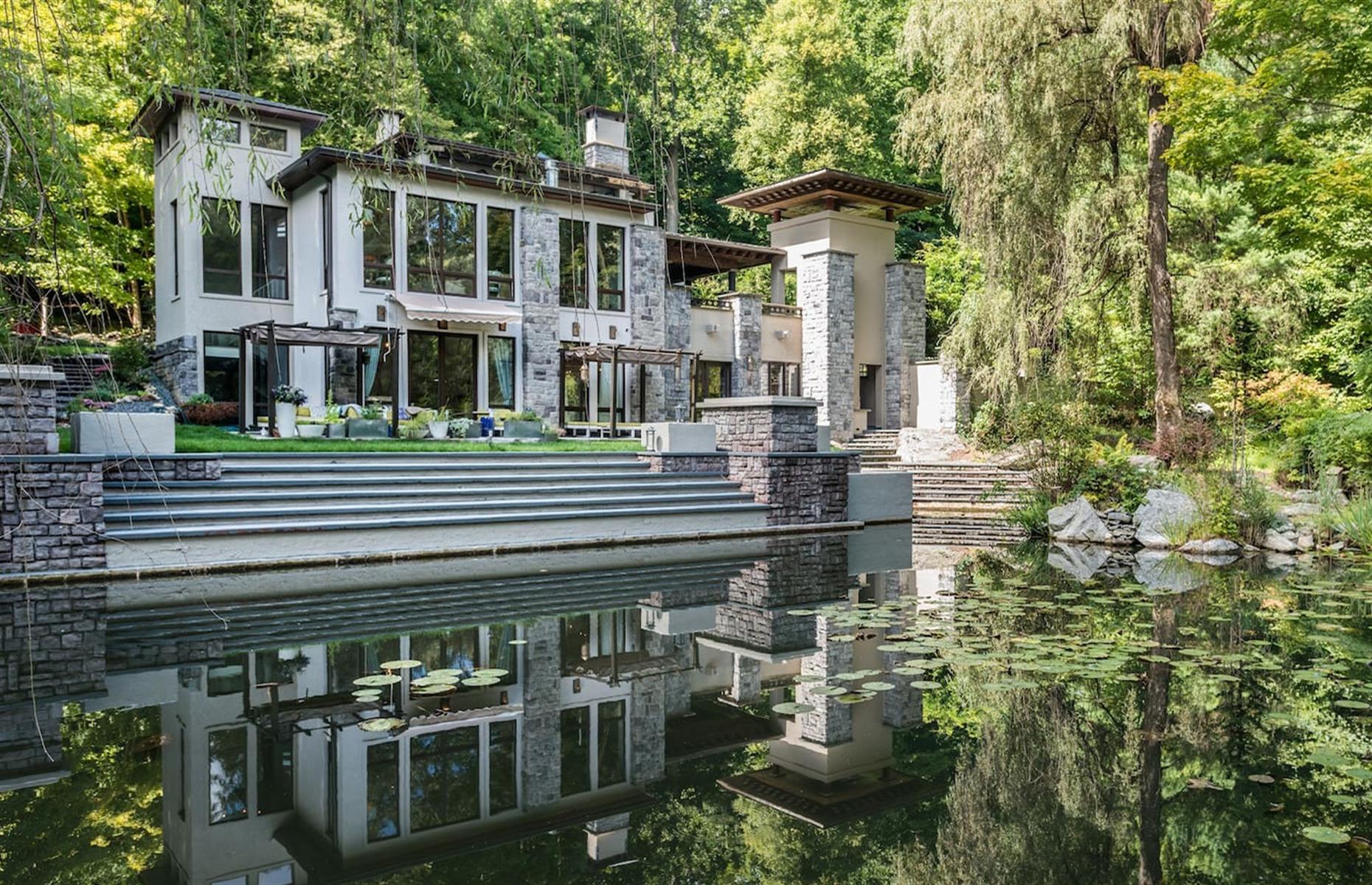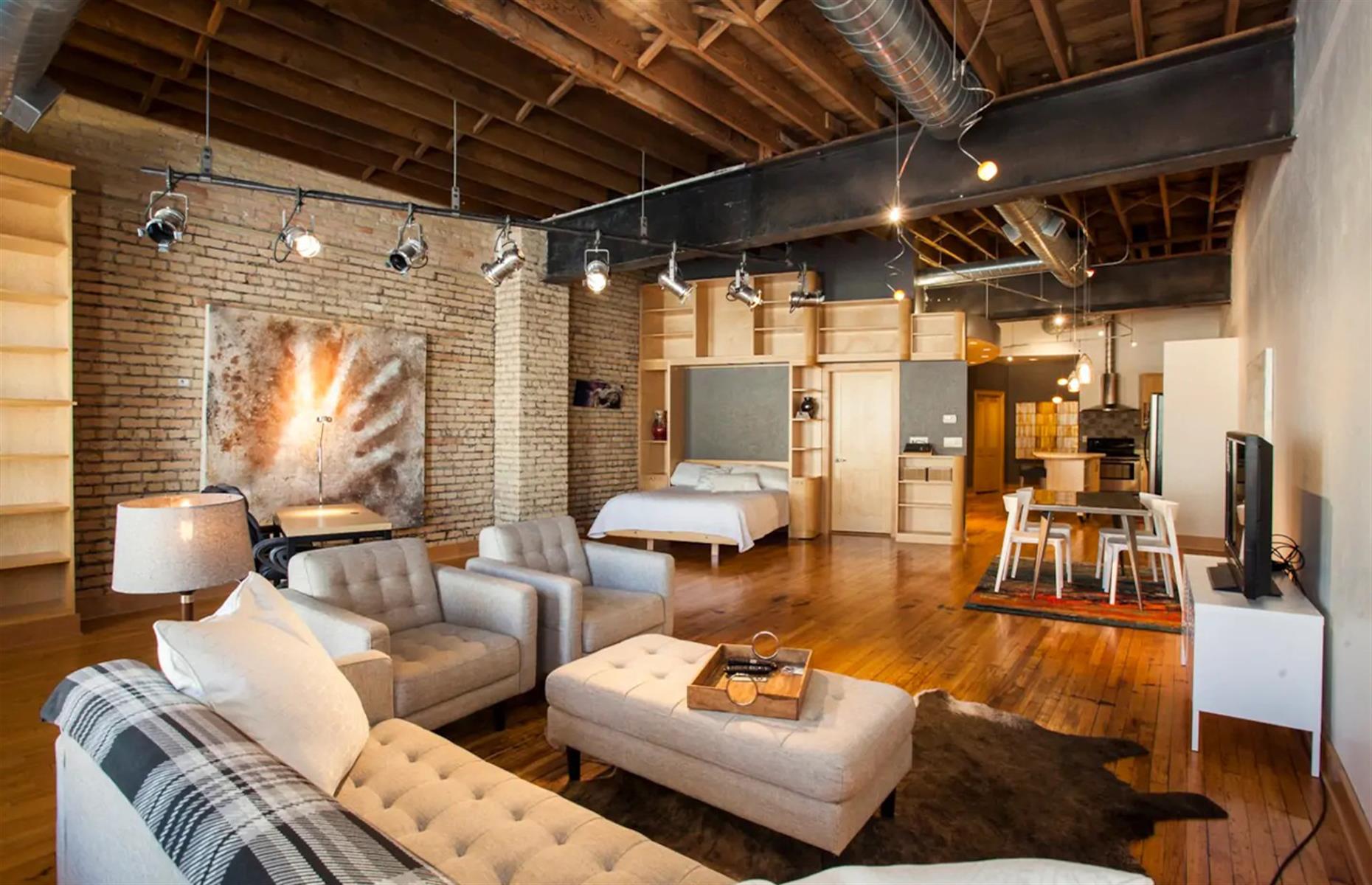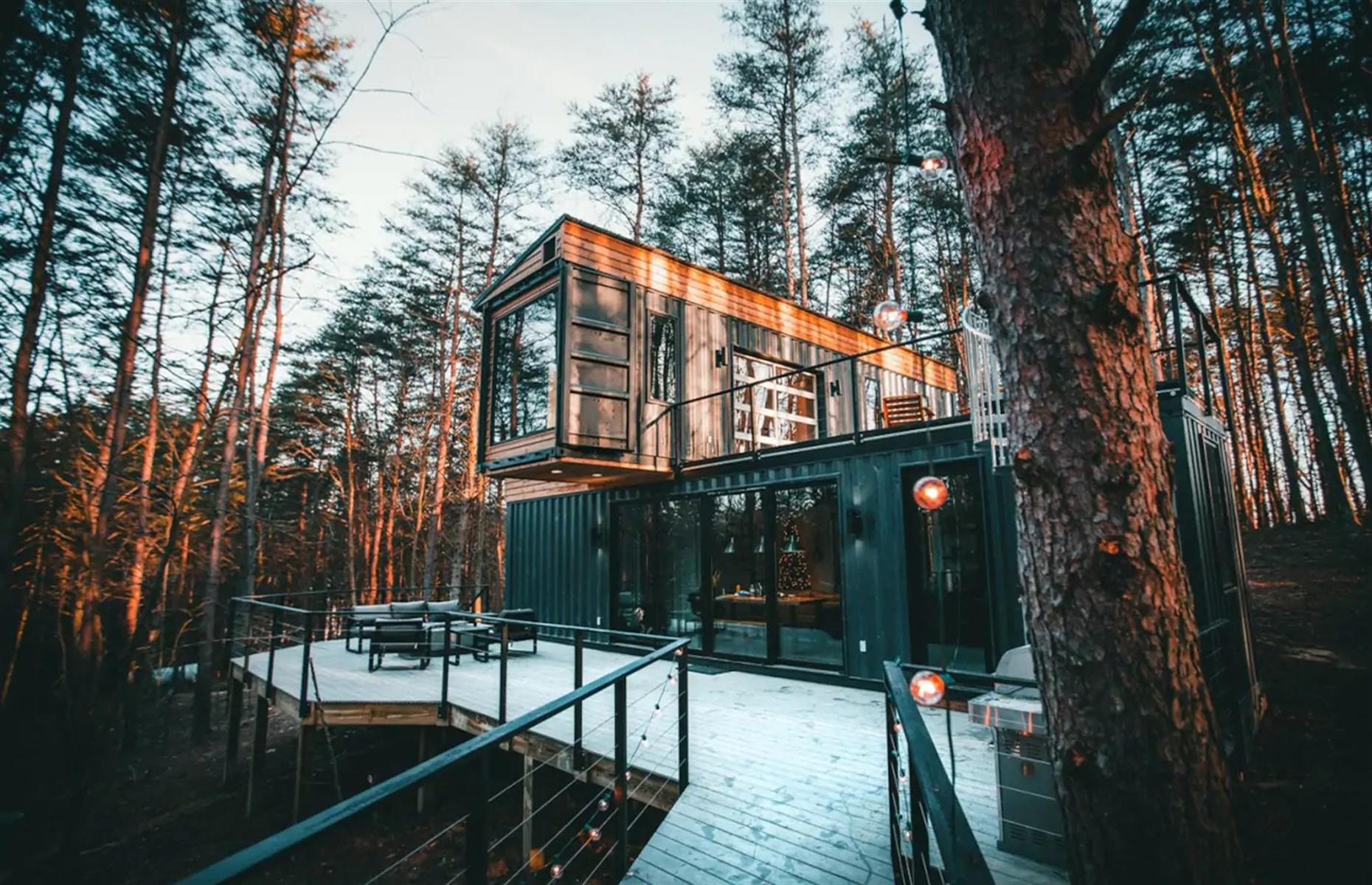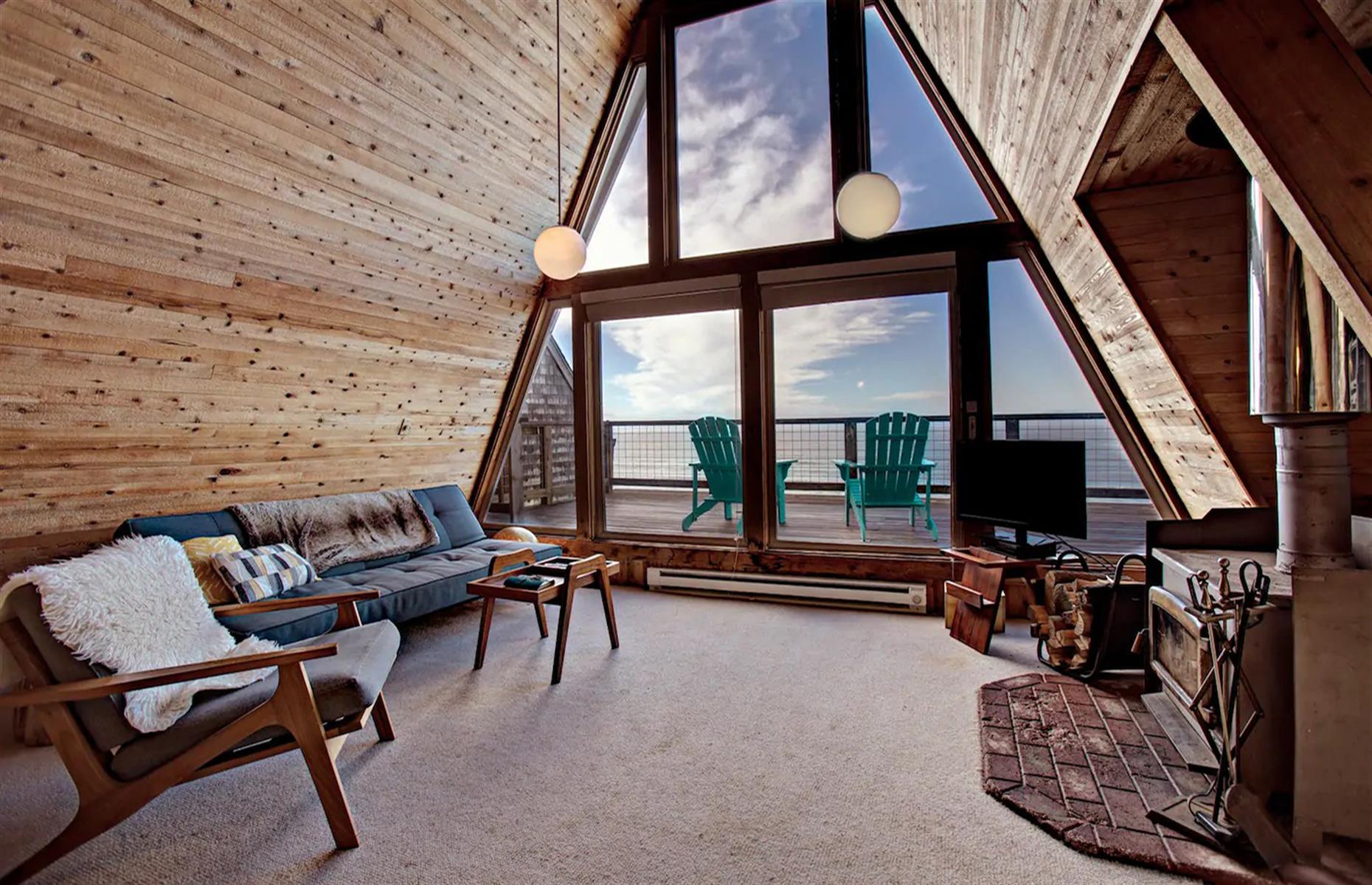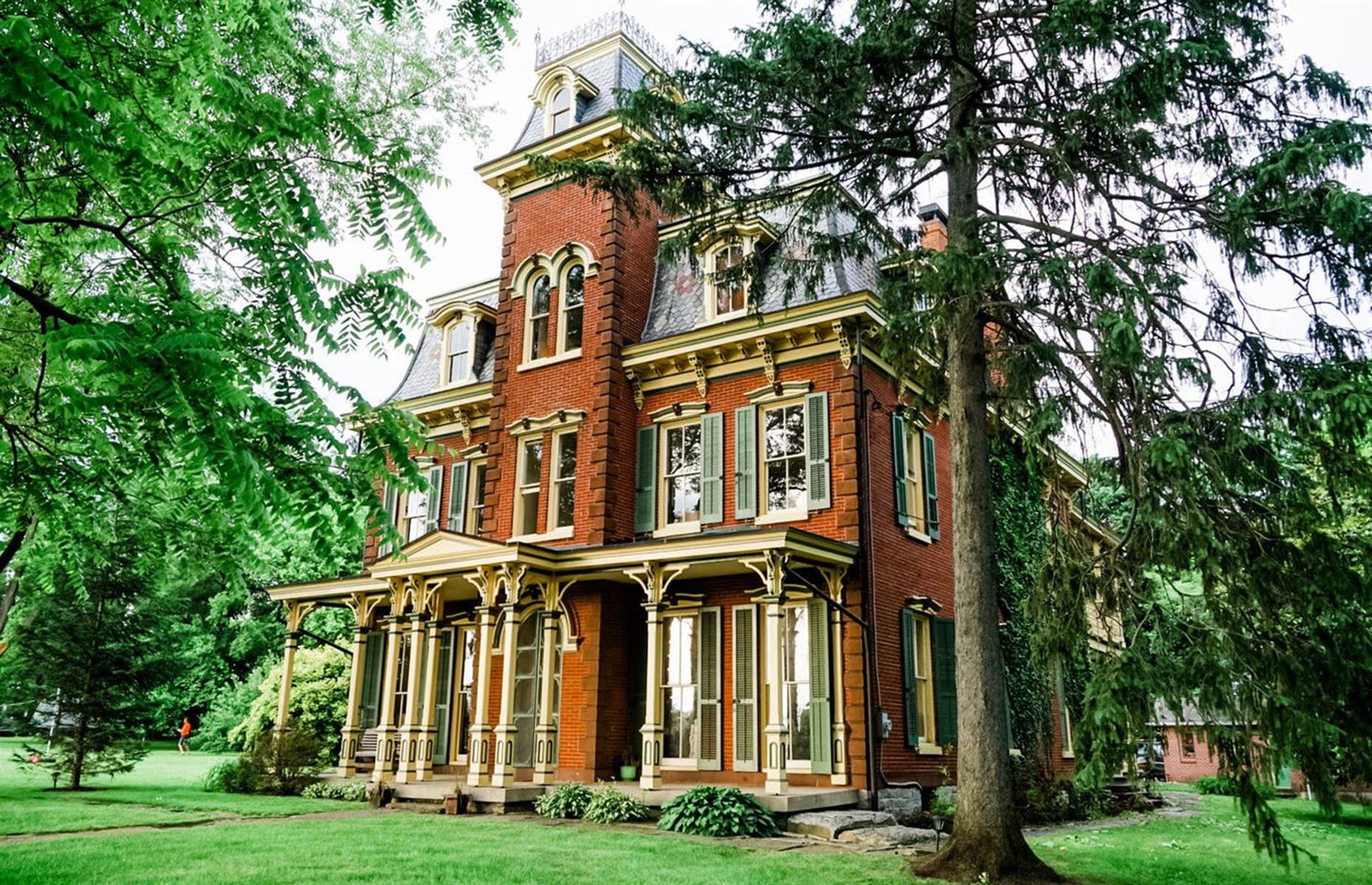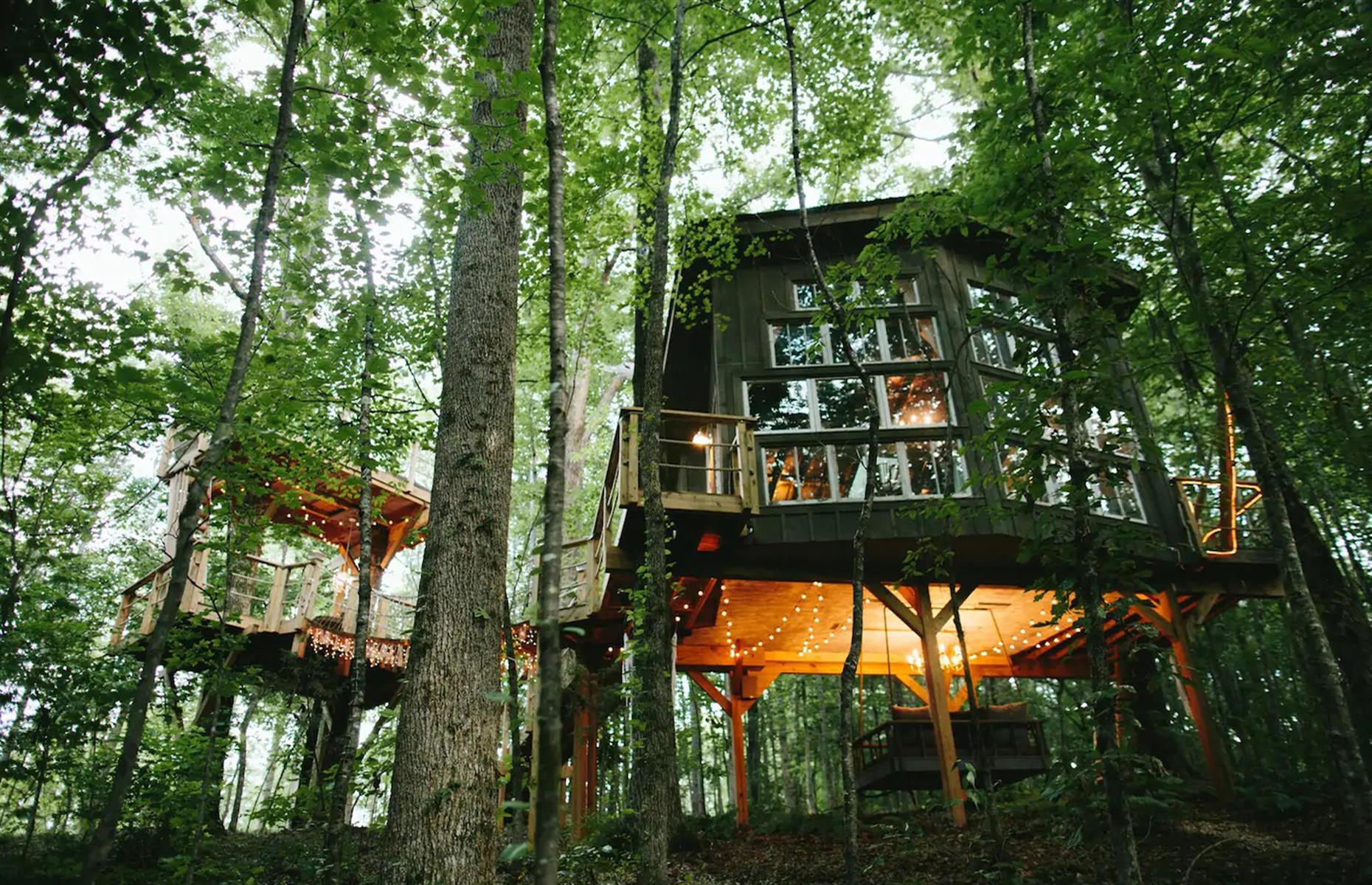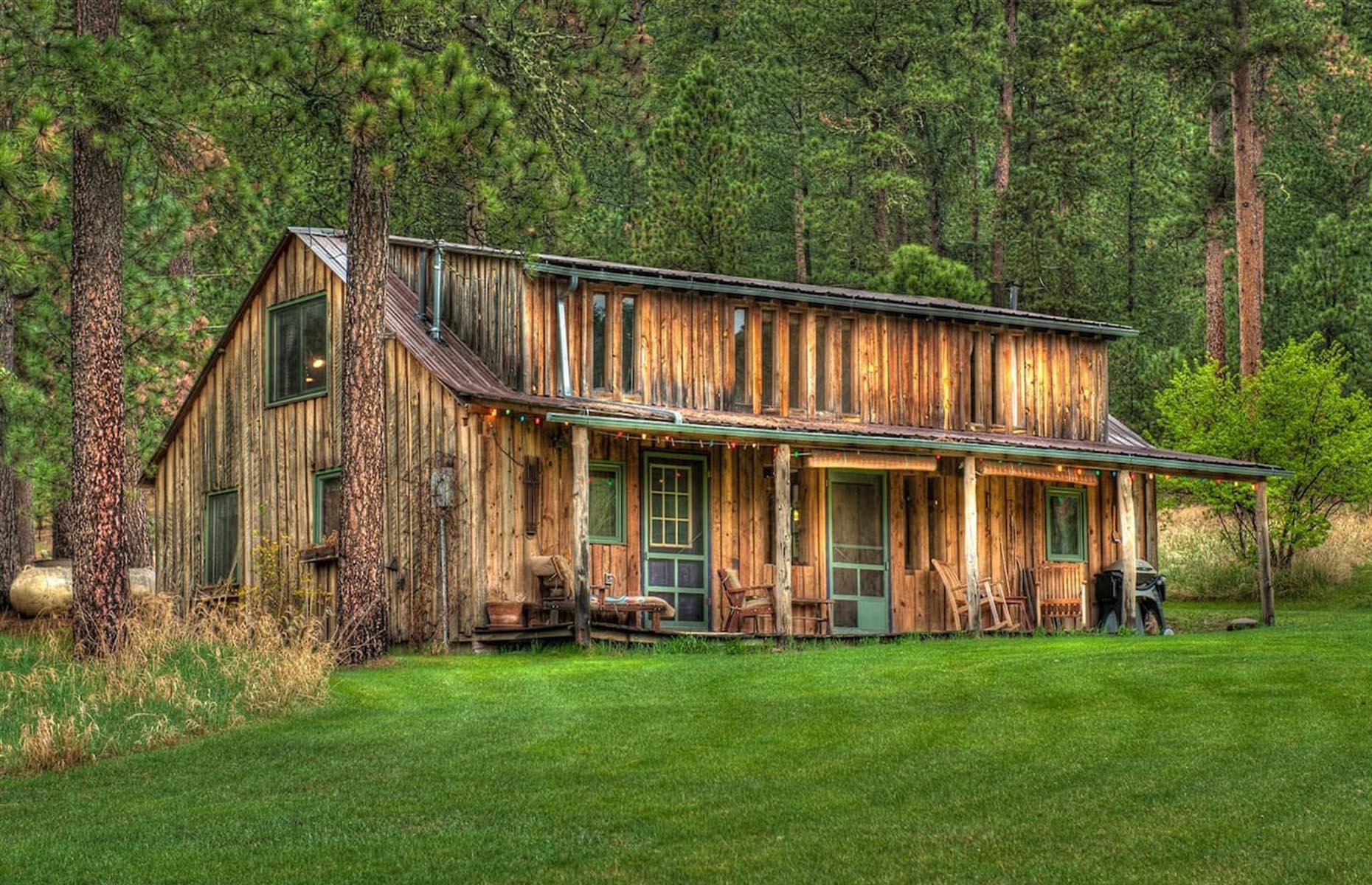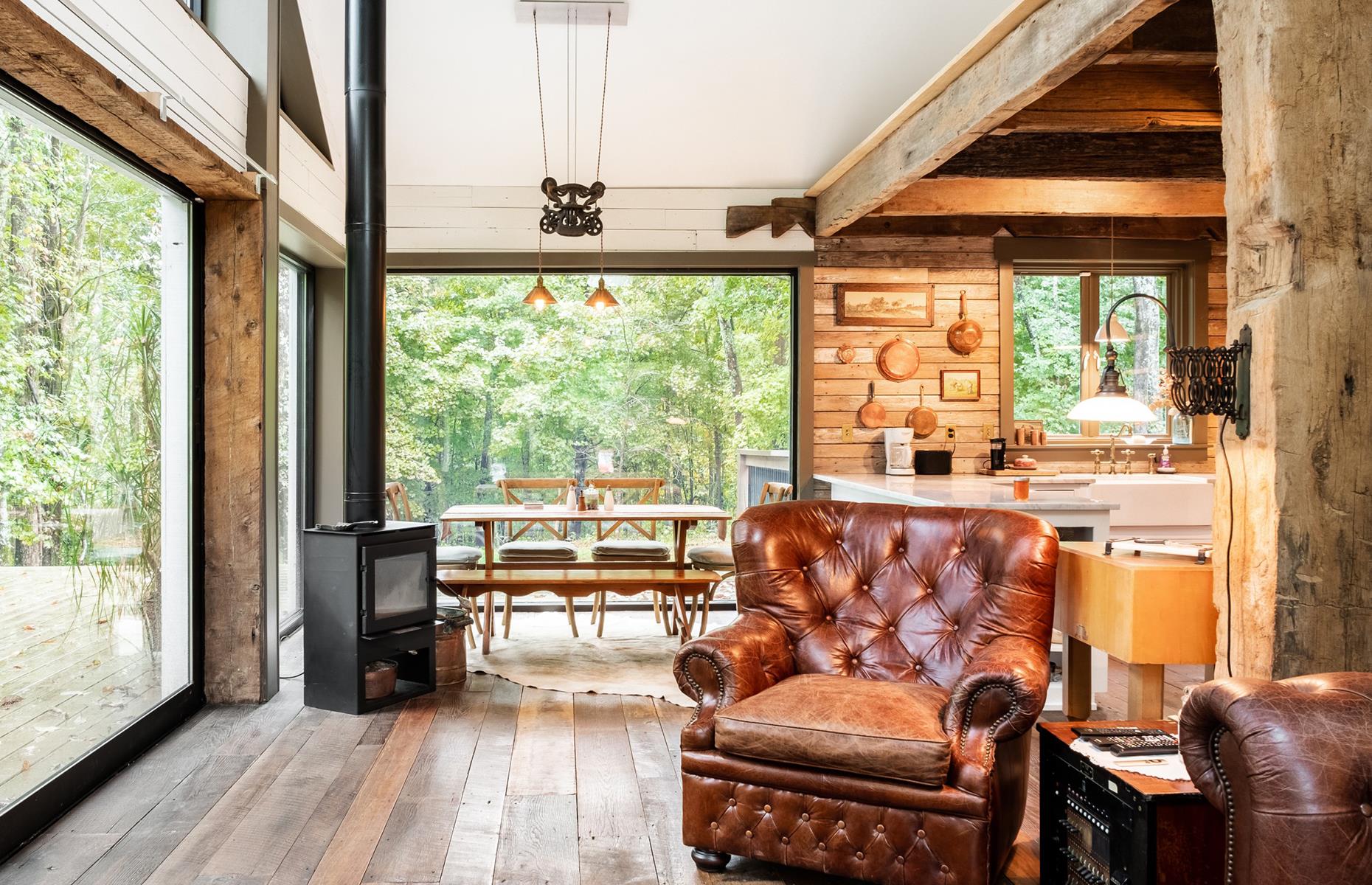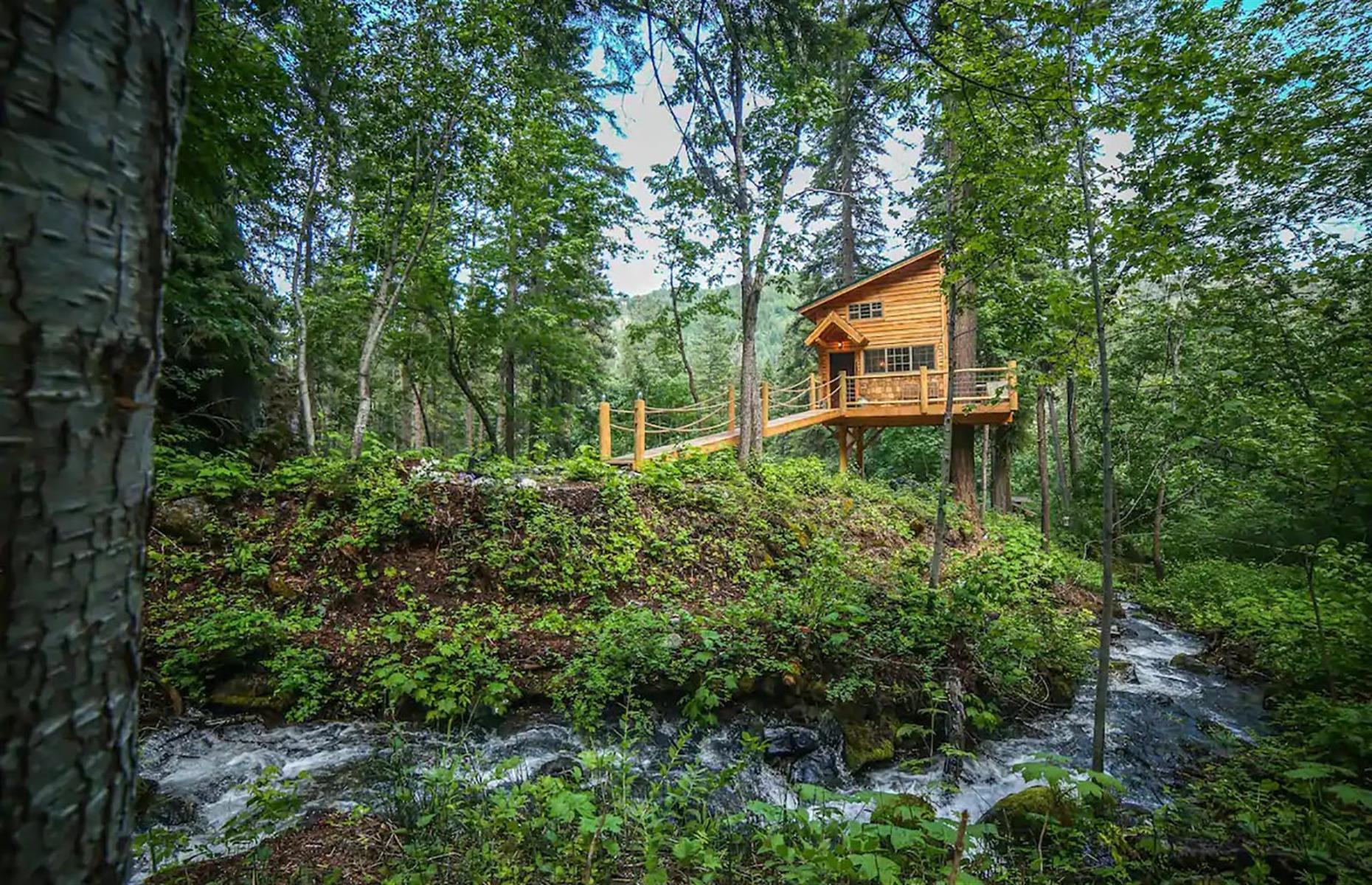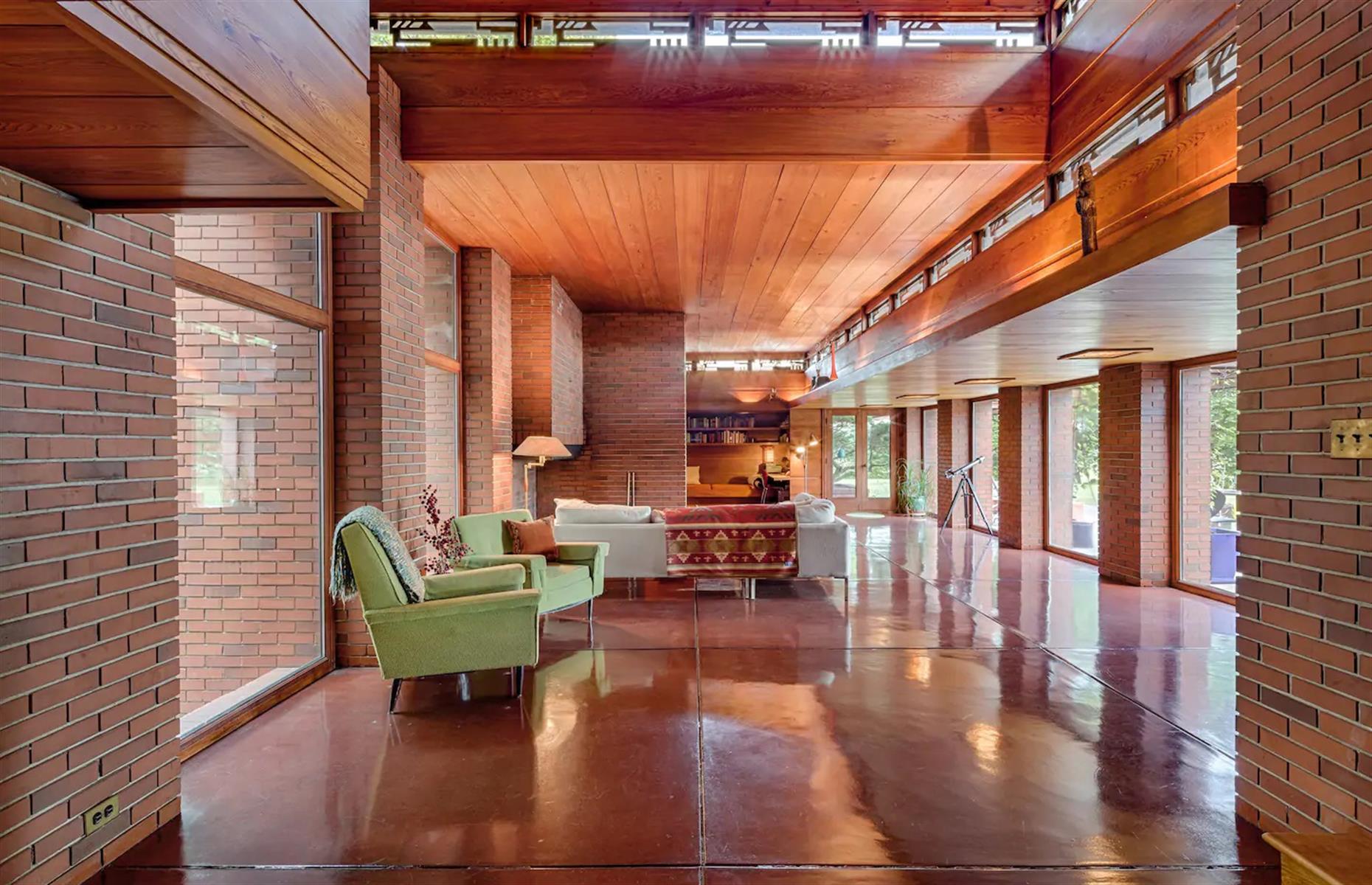 Amazing escapes
Alabama: inviting apartment in Mobile
Located two miles (3km) from downtown Mobile in Alabama, this inviting flat is nestled among the treetops in the heart of the Midtown Historic District. The bright, sunny space has a glass wall that brings the outdoors in and offers splendid views of sunrises, sunsets and starry night skies.
Alaska: vacation home in Homer
This impressive 17,000 square-foot (1,579sqm) home in Homer, Alaska has eight bedrooms, a movie theater and a games room. Designed for weddings and other large events, the stunning property also has a private spa wing with a Turkish bath, sauna, steam room and pool. Located right by the beach, the house overlooks Kachemak Bay, the Homer Spit and Grewingk Glacier. 
Arizona: Spanish-inspired villa near Phoenix
An exclusive retreat north of Phoenix, this four-bedroom villa in Cave Creek is tucked away in a ranch community near the famous Scottsdale Boulders resort. Surrounded by desert and the hot Arizona sun, you can cool off in the pool before relaxing in the shade of the beautiful patio. With rustic southwestern decor, soaring ceilings and countryside views, it's the perfect escape from the city. 
Arkansas: cozy Bentonville home
This bright and airy cottage, located within a large, fenced lot, is great for exploring Bentonville and the surrounding area. Close to the Bentonville Third Street Historic District, it's located in a quiet and secluded neighborhood, offering a peaceful oasis after a day of activities. The three-bedroom bungalow is decorated in calming colors of white, gray and beige and has a furnished patio too.
California: historic estate in Beverly Hills
This mid-century masterpiece is perfect for spending your vacation living like a film star. Statues flank the arched entrance, a library opens to a records room and palm trees soar over the private pool and sculpture garden. Just minutes from the legendary Sunset Boulevard, the villa has seven bedrooms as well as a home cinema and private tennis court.
Colorado: mountain retreat in Vail
If your idea of the perfect vacation is soaking in a hot tub overlooking impressive scenery, this six-bedroom house in Colorado is for you. There's also a heated patio, luxurious cabin-style interiors and a fire pit to gather round after a day of hitting the slopes. Centrally located between Beaver Creek and Vail Village, this inviting home is ideal for exploring the nearby White River National Forest, skiing or simply winding down in total comfort. 
Connecticut: Trumford Guest House, Trumbull
A private guesthouse far away enough from the main building, this charming cottage was designed by the homeowners themselves. The guesthouse is full of unique details, like a red metal fireplace, restored windows and doors and plenty of upcycled interior items. Guests can also enjoy walks in the adjacent orchards and herb garden as well as make use of the large patio area and the swimming pool.
Delaware: coastal escape in Bethany Beach
The definition of a coastal charmer, this Delaware home offers a cozy retreat in the heart of Bethany Beach. Just a 15-minute walk from the ocean, the house has everything you need for a peaceful break by the beach. There are four bedrooms, a beautiful kitchen and four decks, including a screened entertaining area.
District of Columbia: charming home in Georgetown
This beautifully-decorated home is located in Georgetown – one of DC's oldest neighborhoods. The house has two bedrooms, an open-plan kitchen and a large living area. Heated floors will keep you cozy during colder months while a comfortable outside seating area with an outdoor bar and fire pit beckons late-night drinks during summer.
Florida: luxury estate in Boca Grande
Make the most of your time in the Floridian sunshine at the opulent Boca Grande Island Estate. The sumptuous five-bedroom home is surrounded by tropical gardens, creating a secluded oasis for winding down by the pool. If you prefer a more active vacation, there's private access to the beach, plus fishing equipment, snorkeling gear and bicycles are free to use.
Georgia: barn guesthouse in Lookout Mountain
Conveniently located just off the Lookout Mountain Scenic Highway, this charming barn home might not be the biggest or the most luxurious Airbnb in the state, but it's definitely the most beautiful. The one-bedroom house features gorgeous tall windows which frame the serene forest views, high ceilings with skylights and a rustic cabin-inspired interior. There's an outside seating area with a grill too, while the kitchen is fully-equipped for cooking meals inside.
Hawaii: mango farm retreat in Captain Cook
This tropical retreat on an organic mango farm is as close to paradise as it gets. Soak up the sunshine in the spacious outdoor living area or relax in the open-plan indoor area with large picture windows bringing nature in. Decorated in an eclectic Hawaii-meets-Indonesia style, this beautiful home is located a mile from the spectacular Kealakekua Bay that offers ocean activities like snorkeling and diving. 
Idaho: vacation home in Boise
This understated Idaho hideaway, in the historic South Boise Village area, offers visitors a quiet and restful escape. The one-bedroom vacation spot is chic, featuring natural materials like wood, linen and wool, and has a bathroom with a large deep tub for relaxing. The leafy location is well-suited for peaceful walks and is within minutes of downtown Boise. 
Illinois: striking penthouse in Chicago
Right in the heart of Chicago, this Old Town penthouse is the ideal base for exploring the city. An Airbnb Plus property, meaning it's been verified for quality, comfort and style, the five-bedroom loft has private rooftop access, soaring 20-foot (6m) ceilings with huge windows and all the amenities you need for a seamless stay.
Indiana: historic studio in Bloomington
This studio in Bloomington, Indiana, might look modern from the inside but the property is actually situated in a former church built in 1872, making it one of the most unique places to stay in the area. Located just steps from Lake Monroe, it's the perfect retreat after a day on the water.
Iowa: luxury suite in Des Moines
Make the most of downtown living at this modern Des Moines suite, just one block from the Historic Court District. Ideal for weekend getaways, the studio home is furnished to a high standard with cool accessories throughout. Guests also have access to a gym and a fully fitted kitchen. 
Kansas: modern farmhouse in Kansas City
This modern farmhouse, set among nine acres of land, is decorated in a minimalist, Scandi-inspired style with lots of natural materials and vintage pieces throughout. The two-bedroom house dates back to the 1930s and is well-located for easy access to Kansas City and the nearby area.
Kentucky: off-grid treehouse in Germantown
For an off-grid experience, book an escape at this remote treehouse in rural Kentucky. It has all the amenities guests might need during a stay at this rustic haven. It may be tempting to hunker down but make sure to explore the gorgeous surrounding area – it's great for trekking, hiking and horseback riding. The towns of Augusta and Maysville are also nearby. 
Louisiana: historic mansion in New Orleans
With buckets of Southern charm, this New Orleans home is brimming with history. Built in the early 1880s, this eight-bedroom home is located in the heart of the historic Bywater arts district. Inside you'll find immaculate interiors with lots of original details renovated to a high standard, including heart pine wood floors and cypress doors. The mansion is well-suited for hosting larger families (when it's safe to do so) as it can accommodate more than 16 guests.
Maine: country cottage in Boothbay Harbor
Bigger doesn't always mean better, as demonstrated by this charming country cottage in Maine. Wake up in the plush queen bed and, if you're lucky, catch a glimpse of deer eating apples in the garden. After a walk in the stunning Boothbay Harbor area, enjoy a sundowner on the patio then retire to the white-washed house for dinner.
Maryland: waterfront escape in Ocean City
Enjoy life on the water at Ocean City's Montego Bay. After a day at the beach (it's just a five-minute walk away), unwind on the deck overlooking the sea as you crack Maryland crabs for dinner. If you fancy hooking your own catch of the day, you can fish directly from the home's private deck or borrow kayaks and paddle out into the bay to see spectacular sunrises. 
Massachusetts: artist's home in Provincetown
Located in Provincetown, Massachusetts, just a stone's throw away from the water, this unique artist's home offers impressive views and one-of-a-kind interiors. The custom-made kitchen features handcrafted cherry cabinets while the dining room is surrounded by floor-to-ceiling windows. The four-bedroom home has a private beach path offering direct access to Provincetown Bay.
Michigan: modern cottage in Holland
A calming break awaits at this cottage by Lake Michigan in Holland. The five-bedroom home is within walking distance of James Street beach and conveniently located for exploring the rest of the area. Inside, the stylish interior is flooded with natural light. Pull up a stool at the modern kitchen island for lazy brunches and intimate dinners.
Minnesota: Mille Lacs Lake lodge
This sprawling 10-bedroom, six-bathroom lakefront lodge is ideal for hosting large groups (when government guidelines allow) as it can accommodate up to 16 guests at a time. Enjoying a top location on the edge of the Mille Lacs Lake, the lodge offers gorgeous views of the lake and surrounding area from all angles. Under two-hours' drive from Minneapolis, it's a brilliant escape from the city with a sauna, outdoor seating area and grill and a pontoon to enjoy the lake and its beaches.
Mississippi: beach cottage in Waveland
If early morning beach walks, the laid-back atmosphere of Mississippi and easy access to New Orleans sound like a dream escape, this beach cottage is just the Airbnb for you. Inside the lovely two-bedroom home, there's a cozy open-plan kitchen and living area. A screened porch with a comfortable seating area is perfect for enjoying those warm Southern evenings. 
Missouri: mansion in the Ozarks
A charming and sophisticated mansion in the Ozarks, this property offers eight bedrooms and eight bathrooms as well as a cozy lounge with a fireplace, large kitchen with a breakfast bar and a heated patio. With perfect reviews, the 5-star property benefits from a peaceful and beautiful location just outside of Ozark, almost halfway between Branson and Springfield.
Montana: ranch guesthouse in Livingston
Make the most of ranch living at this outstanding two-bedroom guesthouse in rural Montana, at the edge of Yellowstone National Park. The beautiful home has floor-to-ceiling picture windows, offering breathtaking views of the surrounding mountain scenery. Who knows, you might even get to see a bear or a deer.
Nebraska: cozy loft in Omaha
Centrally located in Omaha's famous Old Market district, this bright and cozy loft has two bedrooms, exposed red brick walls and everything you might need to enjoy a wonderful break. If you prefer staying in and making the most of your time in the loft, there are board games, a fully equipped kitchen for whipping up delicious meals and a large, cozy sofa to sink into and watch a movie. 
Nevada: remote home in Beatty
Shut out the outside world at this remote Death Valley home and enjoy starry night skies and beautiful sunrises and sunsets. This three-bedroom house is located deep in the desert, 20 miles (32km) off the Death Valley National Park boundaries. You won't feel stranded here, though. It has a beautiful open-plan kitchen, a comfortable living area and a large deck with sunken-in hot tub.
New Hampshire: mountain cottage in Jackson
Everyone will find something to love at this luxury two-bedroom mountain cottage in Jackson. Whether you like cooking up a storm in the fully fitted kitchen, enjoying a game of billiards or kicking back on the deck overlooking the mountains. An elegant winter resort, Jackson is well-suited for skiing vacations, or hiking and trekking in summer. 
New Jersey: historic Cape May villa
Located in the heart of Cape May's historic district, this charming late Victorian villa offers nine bedrooms that are all individually decorated and named after American cities, like Savannah, New Orleans and San Francisco. The beautiful home has a gorgeous patio too and is centrally located with easy access to restaurants and the beach.
New Mexico: luxurious lodge near Ruidoso
Set on 10 secluded acres of land, you'll find this luxurious lodge right on the edge of the Lincoln National Forest. The seven-bedroom house is close enough to the town of Ruidoso for easy access to shops but remote enough to enjoy a bit of peace and quiet. And with breathtaking views of Sierra Blanca Peak and the surrounding mountains, it doesn't take much effort to relax.
New York: enchanting home in Hopewell Junction
Escape the fast pace of New York City and slow down at this four-bedroom sanctuary in Hopewell Junction. Surrounded by a beautiful garden with a pond, the Moorish-inspired terrace is great for enjoying warm evenings while inside you'll find a bright and airy living area, cozy bedrooms and beautiful bathrooms. There's also a hot tub, especially great during winter when everything is blanketed in snow. 
North Carolina: cabin in the woods in Winston-Salem
A one-of-a-kind home, this cabin in the woods is the peaceful and serene escape you've been looking for. Simplistic from the outside, high-tech on the inside, the three-bedroom cabin has an expansive outdoor living area, surrounded by lush woodland. Located just outside of Winston-Salem in North Carolina, it's a brilliant escape with all the necessities within easy reach. 
North Dakota: studio loft in Fargo
Offering the best of downtown living, this cool studio loft is located right at the heart of Fargo in North Dakota. The exposed brick walls are covered in paintings from local artists (that are available to buy), and the studio features a comfortable king bed just waiting for you to sink into. While you're not out exploring the city, there's a large sofa for downtime as well as a huge kitchen and a dining table.
Ohio: shipping container home in Rockbridge
Three intermodal shipping containers have been transformed into an outstanding three-bedroom house hidden away among the trees in Rockbridge, Ohio. After a day of hiking, fishing or canoeing, snuggle up next to the cozy gas fireplace or take a dip in the hot tub nestled in the forest. 
Oklahoma: modern cabin in Broken Bow
For a romantic couples vacation in the mountains, this modern cabin couldn't be a better fit. Located on a wooded lot in the picturesque Ouachita Mountains, the two-story cabin with cathedral ceilings has large wooden beams and a hot tub. The bedroom also features a large soaker tub right by the fireplace while outside there's a bistro table and a gas grill for a cozy meal for two.
Oregon: coastal escape in Oceanside
Go to bed with waves lulling you to sleep at this dreamy Oceanside escape. Located just steps from the beach, the two-bedroom home is an unusual A-shape, offering ocean panoramas and unobstructed views from Cape Meares to Cape Lookout. The cabin also has a large private deck with a wood-burning stove for chilly nights. The area offers plenty of opportunities for hiking and nature exploration, and you shouldn't pass a chance to try your hand at crabbing and clam digging.
Pennsylvania: historic mansion in Lebanon County
Built in the 1860s, this historic eight-bedroom mansion is set on two and a half acres of atmospheric pine forests and rolling farmland in Lebanon County. With easy access from Philadelphia, Wilmington, Harrisburg and Allentown, it's in a superb location. 
Rhode Island: estate home in South Kingstown
This gorgeous Rhode Island home is located on a private five-acre estate surrounded by stone walls and natural beauty. Spend warmer evenings dining alfresco on the veranda or on cooler days, park yourself by the fireplace inside. The house is located in South Kingstown and there's lots to do in the area, from nature walks to a day out at the beach.
South Carolina: treehouse escape in Walhalla
Cozy interiors, amazing forest views and an outdoor swing seat await you at this unique treehouse escape. Nestled right by the Blue Ridge Mountains in Oconee County, the property is surrounded by a green paradise. Take a dip in the county's serene lakes or go for a hike along the rolling country roads. At the end of the day, recharge in a comfy super king bed with floor-to-ceiling windows looking out to the trees. 
South Dakota: mountain cabin in Deadwood
Enjoy true mountain living in total comfort at this Deadwood cabin located near Nemo, a tiny mountain town set in the picturesque valley of Boxelder Creek. Convenient for visiting South Dakota's most famous attractions, including Mount Rushmore, the brilliantly redesigned 1910s cabin has two bedrooms, a lofted cathedral ceiling and a large fireplace. See more of the world's most jaw-dropping ceilings here.
Tennessee: secluded cabin in Goodlettsville
Made from recycled materials, this cozy cabin near Nashville is the ultimate secluded getaway. Hugged by the surrounding forest, the open-plan home has an attractive vintage feel to it. Thanks to the floor-to-ceiling picture windows, you can drink in the area's natural beauty from the comfort of an armchair. Check out America's most remote Airbnbs here.
Texas: mid-century home in Austin
Enjoy a break in a mid-century glass house in Austin, and make the most of the surrounding area with nature trails, lake parks and thrilling views of hill country. Beer and wine enthusiasts will enjoy the abundance of breweries and wineries in the area while the four-bedroom home will welcome you back with its lush ivy-clad walls, panoramic views from the indoor tub and soaring ceilings. 
Utah: mountain retreat in Cottonwood Heights
Take a breath at this beautiful mountain retreat in Utah and enjoy the views of the Big Cottonwood Canyon, just steps from the house. Follow one of the hiking or biking trails that lead almost from the front door or just enjoy your time at this beautiful home with a vast open-plan living area. For ultimate relaxation, take a refreshing dip in the pool and then lie back in one of the sunloungers overlooking the mountains. 
Vermont: ski chalet in Stowe
Perfect for keen skiers in winter and hikers in summer, this cute Stowe chalet has buckets of character. The five-bedroom home can accommodate up to 11 guests (when pandemic guidelines allow) and has plenty of space for cooking, entertaining and enjoying a meal together. This is the most beautiful weekend road trip in every state. 
Virginia: Old Town home in Alexandria
Located in the beautiful Old Town of Alexandria, just steps away from the Potomac River, this striking home is a country cottage meets Victorian estate. The three-bedroom townhouse has lots of original details like tall ceilings, heart pine flooring and antique furnishings throughout. Outside, there's a serene garden surrounding the property. 
Washington: Hansel Creek treehouse in Peshastin
Yes, there are plenty of stunning penthouses in Seattle with ocean and mountain views, but this treehouse escape looks like something out of a fairy tale. Surrounded by lush green forest and located right above the Hansel Creek, the one-bedroom timber house has a king-sized bed in the loft, a kitchen with all the essentials and a fire pit to toast marshmallows in the evening. There are opportunities to hike, bike, fish or even go white-water rafting in the surrounding area.
West Virginia: cozy cabin in Harpers Ferry
With the Appalachian Trail just a couple of miles away, this cozy cabin on a lake is the perfect getaway in any season. Go fishing in the lake, relax in the hot tub with a glass of wine or retreat to the inviting sofas inside and enjoy an evening by the fireplace. Discover America's most unusual roadside attractions.
Wisconsin: Frank Lloyd Wright's house in Two Rivers
Built by the legendary American architect Frank Lloyd Wright, this home, located in Two Rivers, is an architectural and design masterpiece. Finished in 1940, the house retains lots of its original features that are complemented by modern amenities for a comfortable stay. The four-bedroom house features a large fireplace, floor-to-ceiling windows and thoughtful details throughout.
Wyoming: Split Creek Ranch near Jackson
An Airbnb Luxe property, this 13-bedroom ranch is utterly spectacular. Close to the Grand Teton National Park, it's set on 100 private acres along the Snake River and is laid out over four separate buildings. Located 12 miles (19km) from downtown Jackson, it's an extraordinary retreat with everything you'll need to escape the world and enjoy utter relaxation, from a sauna and a hot tub to a fully equipped media room and a pool table.
Now take a look at the most extraordinary Airbnbs in America
Source: Read Full Article