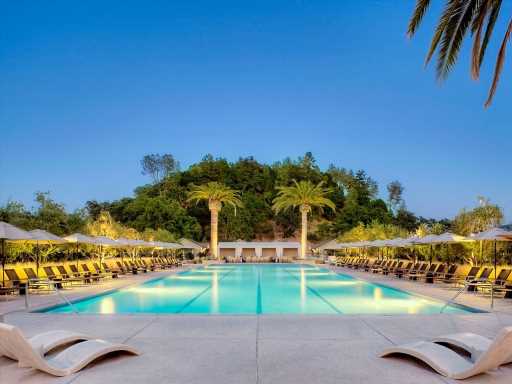 Even as borders begin to open and international travel becomes ever-more feasible, many travelers would still rather stay closer to home. So it's an ideal summer for a road trip. And with coronavirus restrictions across California lifted as of June 15, the state's scenic roadways have never looked more appealing—making it ideal territory for day trips and more. Here are nine California weekend getaways within just a few hours' drive of San Francisco, Los Angeles, or San Diego.
All listings featured in this story are independently selected by our editors. However, when you book something through our retail links, we may earn an affiliate commission. This article has been updated with new information since its original publish date.
Napa Valley
There's no way around it: It's been a rough few years for Napa Valley. The pandemic's toll on tourism was compounded by devastating wildfires that damaged some iconic hotels, took out others entirely, and wreaked havoc on winemakers during the all-important harvest season. But California is famously resilient, and Napa in particular is ready for your return. Up in Calistoga, Solage Resort and Spa, Auberge Resorts Collection, has just completed a $30 million redesign featuring restyled suites and studios, appealing pool cabanas, and a new poolside restaurant, Picobar, with modern takes on Mexico City-style street food. Don't miss the natural mineral pools and mud baths down the road at Dr. Wilkinson's Backyard Resort & Mineral Springs, which date back to 1952 and recently emerged from a full renovation that leans hard into its mid-century roots as a wellness destination.
There's plenty new to visit down the valley, too. A few miles south, in St. Helena, taste your way through luscious Cabs at the striking new Faust Haus—you can't miss the jet-black restored 1878 Victorian perched on a hillside above the valley. For an entirely different tasting experience, wine geeks can book an intimate tasting at Lang & Reed's new St. Helena salon that specializes in Cabernet Franc and Chenin Blanc, varietals rarely given the spotlight in this region. And take a break from wine at the California Brandy House; grape brandy has a rich history in the state, and well-priced flights in the stylish downtown Napa space include gems like the Germain-Robin XO. Grab dinner a few steps away at industry favorite Compline. (About 1-1.5 hours from San Francisco)
Healdsburg
While each of Sonoma County's small towns has its own appeal, there's something especially charming about Healdsburg—and plenty of recent developments that merit a visit. Montage Healdsburg, stretching over 258 acres of oak forests and vineyards, is the county's most impressive opening in years. Designed to highlight the region's rustic beauty, its 130 rooms and suites all but disappear into the Sonoma landscape. As for wineries, you've got access to world-class wine regions of the Russian River, Dry Creek, and Alexander Valley. Must-visits include the House of Flowers, where you'll sip estate vineyard Pinot Noir under sleek cabanas; and the swank new tasting room at the Aperture Estate, specializing in cool-climate Bordeaux varietals, with spectacular views out onto the Russian River Valley.
Always a dining destination, Healdsburg's newer culinary hits include bakery hotspot Quail & Condor, the impressive Asahi Sushi & Kitchen, and the phenomenal Hazel Hill up the road at the Montage; worth a drive even if you're not booked in at the resort. Keep an eye out for more restaurant openings later this summer: long-anticipated tri-level The Matheson, from local talent Dustin Valette, and vegetarian restaurant Little Saint, from the team behind triple Michelin-starred SingleThread. (About 1.5 hours from San Francisco)
Marin and Sonoma Coast
If you had a cozy waterfront cabin on tranquil Tomales Bay, you'd probably want to stay all summer. And if not? There's Nick's Cove. As remote as you can feel within an hour's drive of San Francisco, the hotel's dozen beautifully appointed cottages (all with views, many set right over the bay) each feel like an independent retreat, with private entrances and outdoor spaces. Five minutes down the road, eternally popular Hog Island Oyster Co. is a mandatory stop for its outdoor bay-front oyster bar; if you can't score a reservation, grab a bushel of bivalves and a shucking knife to go and throw your own picnic back at the cottage. Further north on Highway 1, the Bodega Bay Lodge, in the seaside town where Alfred Hitchcock set The Birds, is an equally peaceful sanctuary—ideal for coastal bluff walks, cruising on the resort's complimentary bikes, or simply enjoying the bay views by the fire pits of onsite restaurant Drakes Fireside Lounge, with glass of wine in hand. City life couldn't be farther away. (About 1 hour from San Francisco)
Yosemite
While visiting Yosemite might require a bit more planning this year, the park's major sites—Hetch Hetchy, Half Dome, Mariposa Grove—are as breathtakingly majestic as ever. Even a drive-through trip requires advance reservations; every vehicle entering the park needs to book a pass, and day passes disappear quickly. But if you do manage to snag one—or book a room at the iconic Ahwahnee Hotel, the rustic Yosemite Valley Lodge, the tents at Curry Village, or any of the now-reopened campgrounds—the park is yours to explore, with shuttle services temporarily suspended but all roads open, all trails open, and fewer crowds than ever. (About 3-4 hours from San Francisco, 4.5-5.5 hours from Los Angeles)
Big Sur
If redwood groves, endless stargazing, and the vast expanse of the Pacific factor into your idea of a California getaway, Big Sur is waiting. Reaching the cliff-hugging town isn't the easiest trip; whether you're coming from Northern or Southern California, you'll arrive by the infamous twists and turns of Highway 1, also known as the Pacific Coast Highway (or the PCH), which winter rains have a tendency to shut down for months on end. But there's nowhere better to appreciate California's wild, dramatic coast, and road repairs completed in April have the town newly accessible by either route. The Post Ranch Inn sets the gold standard for understated-rustic luxury and pure escapism, perched 1200 feet above the ocean. Just across the road, Ventana Big Sur is similarly idyllic. Don't expect much in the way of shopping or nightlife, but there's really no need; you're here for the stunning landscape of the Pacific coast, truly up there with any in the world. (About 3 hours from San Francisco, 6 hours from Los Angeles)
Paso Robles
While Northern California has the state's best-known wine regions of Napa and Sonoma, Paso Robles, near the Central Coast, has just as much to offer—one part scenic, rolling-hill vineyards, one part laid-back horse country. Joining Condé Nast Traveler Readers' Choice Award winners Allegretto Vineyard Resort and the more intimate Hotel Cheval on the town square are newer lodgings including the Stables Inn, from the same team as the stately Cheval but with a more laid-back vibe.
Paso's dining scene is as vibrant as ever; don't miss The Hatch Rotisserie & Bar, with wood-fired cuisine and local wines on tap, or a stellar French meal (and equally compelling wine list) at Les Petites Canailles. And with reservation-only policies limiting the crowds, it's an ideal time to visit wineries including Epoch, DAOU Vineyards, and Booker. (About 3.5-4 hours from Los Angeles or San Francisco)
Ojai
No matter where you go in the area, a trip to Ojai is like a wellness retreat; it's nearly impossible to visit and not be inspired to get out into nature. The nearly 100-year-old Spanish-revival Ojai Valley Inn is an ideal jumping-off point to appreciate the landscape, whether your idea of getting outside is a round of golf or tennis, or horseback riding, hiking, and a leisurely bike ride under the ridge of the Topa Topa Mountains. Stop for a meal at one of Ojai's famously health-conscious restaurants, including Farmer and the Cook, a café, bakery, and smoothie bar supplied by the owner's twelve-acre organic farm. The entire region's scenic vistas—especially scenic during the "pink moment," when sunset illuminates the mountains and valley in a spectrum of pink hues—are worth every moment of the drive. (About 1.5 hours from Los Angeles, 3.5 from San Diego)
Santa Barbara
With palm trees, beaches, and blue skies overhead: Santa Barbara's appeal is obvious. But there's more to do in this vibrant community than bask in the abundant sunshine. Opened just this spring, the 24-room Palihouse Santa Barbara immediately established itself as one of the city's best boutique hotels. Nearby, the Santa Barbara Museum of Art is anticipating an August 15 debut for its new multi-floor wing of contemporary art and photography. The downtown main drag has been reborn as the car-free State Street Promenade, a now-permanent walking zone with bars and restaurants spilling out onto the street. (If a car-free weekend sounds appealing, the city's new electric-bike fleet, Santa Barbara BCycle, has visitor-friendly passes.) Sample a few natural wines at the 60s-inspired Venus in Furs before venturing around the corner to La Paloma Café. La Paloma has a history stretching back to the 1940s and recently reopened with a menu that links the culinary legacies of California and Mexico. (About 2 hours from Los Angeles, 3.5 from San Diego, 5 from San Francisco)
Palm Springs
Sure, you'll want to find some shade from the midday desert sun. But even in peak summer, Palm Springs, with its vibrant art scene, top-notch dining, and mid-century glamour, is a worthy destination. Just schedule any hikes, like the two-mile loop to the Tahquitz Falls, early in the morning. While art and design are inescapable here (mid-century everywhere you look), the recently-reopened Palm Springs Art Museum is of particular note, with an extensive collection of modernist photography and art; book your timed ticket in advance. Check in at Casa Cody—the oldest operating hotel in Palm Springs—recently revamped by new owners the Casetta Group, with 30 refreshed rooms and a prime downtown location. You're just a short stroll from any number of stellar restaurants: sushi and cocktails at Sandfish, pizza at Birba, modern Vietnamese at Rooster and the Pig. And as virtually all of Palm Springs is designed for indoor-outdoor living, those who still prefer patio dining are spoiled for choice. (About 2-3 hours from Los Angeles or San Diego)
Source: Read Full Article