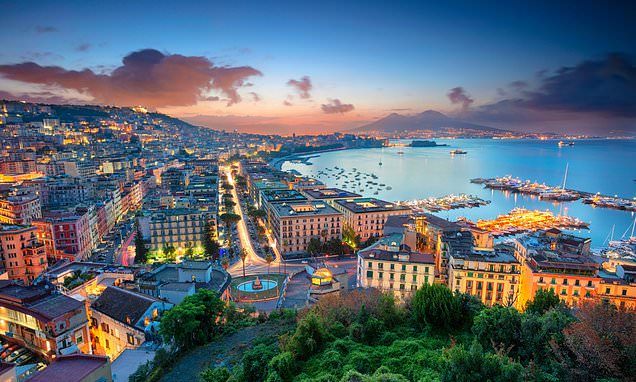 REVEALED: The best Italian city breaks for sensational food, culture and scenery
Ad Feature by Jet2CityBreaks
First we were banned from foreign holidays. Then, mind-boggling travel restrictions did their best to put us off too. But now, at long last, easier travel abroad has made a comeback. And what better way to celebrate than with an impromptu city break?
To dip your toe back into the wonderful world of fine cuisine, stunning scenery and culture, there's no better place to start than Italy. And thanks to Jet2CityBreaks, disappearing for the weekend has never been easier.
With flights, accommodation and luggage included in their package deals, all you need to think about is where you're going first. Here's some inspiration for you…
Naples
Colourful villas clustered on cliff faces overlooking the sea, the aroma of fine espresso in the air and the majesty of Mount Vesuvius sitting proudly above the city – Naples is beautiful on every level.
Less than three hours away from the UK by plane, this iconic Italian seaside city is the perfect destination for a weekend jaunt – and travellers will be spoiled with things to do during their short time there.
Ease into the laidback Italian way of life with a saunter around the cobbled streets as life warms up here in the morning, taking photos of the pretty churches or watching the locals set-up shop from a cafe.
Then, the world's your oyster. History buffs may want to head deep underground into the city's ancient labyrinth of subterranean alleyways, otherwise known as the Catacomba di San Gennaro. Generations of bishops were laid to rest in this surreal yet fascinating world beneath the streets.
Of course, if you fancy keeping your head above ground in the sunshine, the wonders of ancient Pompei and Herculaneum are just a short boat or bus trip away. And if you don't top up your tan overlooking the Bay of Naples with either gelato or pizza in hand, you'll have gone very wrong somewhere.
Pisa
Italy is a laid back place. This is a fact. But if you want chilled out vibes and cafe culture, Pisa, the home of the famous leaning tower, is for you.
Set on the banks of the River Arno, pretty Pisa has plenty to offer those in need of a change of scene. From lush and leafy parks to riverside bars and restaurants in abundance, not forgetting a wealth of fantastic museums, galleries and gardens (such as the Pisa Botanical Gardens – and absolute must!), you'll find yourself easily occupied simply by stepping out of your hotel room. No heavy planning required.
It only takes a weekend of staying in Pisa to feel like a local. Especially if you make the most of the city's aperitivo culture and sample as many of its riverside bars as you can during your visit…
Lucca
Not far from Pisa is one of the Tuscan region's lesser-known cities, Lucca. But don't be fooled – just because it's slightly off the well-beaten tourist track, that doesn't mean it isn't worth a weekend of your time.
This city's most defining feature has to be its walls, a Renaissance relic that encompasses this area of clock towers and sun-filled piazzas.
Wine-lovers will love skirting the perimeter of the city as it's surrounded by vineyards as far as the eye can see, while foodies will want to stay within its walls for some hearty Tuscan cuisine. Creamy tortellini and rich, wholesome ragu are top of the menus in every taverna in this neck of the Italian woods. Or, as winter rolls in, expect hearty feasts of wild boar and pheasant cooked to absolute perfection. Bellissimo!
Walk off your culinary exploits through Lucca's winding medieval streets – a must for those on a romantic escape.
Florence
It takes just over two hours to fly to one of Italy's most famously stunning cities: Florence.
Shopaholics will love nothing more than hitting the designer boutiques here in search of the latest fashions, while the Uffizi Gallery beckons all those with an eye for fine art. Or, if you prefer something away from the crowds, check out the city's established marbled paper-making industry; you can even see artisans marbling the paper by hand in their shops if you look hard enough.
Florence is of course famous for Michelangelo's David and Cellini's Perseus, but you'll find plenty of beauty outdoors too. The Renaissance Boboli Gardens are a gorgeous place to catch some sun or enjoy iced coffee with a view, while further out of town, the walled rose garden of Giardino delle Rose offers unhampered views of this beautiful city. You can even see the famous dome of Cúpula de Santa María del Fiore from here, which is made all the more lovely when you're surrounded by the perfume of roses.
Rome
An essential city break for any traveller worth their salt is Italy's capital city – and it certainly doesn't disappoint.
According to ancient legend, the twins Romulus and Remus founded Rome around 750BC, and a whole lot of history's happened since then, which you can see everywhere you go.
From the Roman Forum, where the ruins of the temples and government buildings that defined the world's greatest empire still stand, to the 18th-century Trevi Fountain and the Baroque Spanish Steps (conveniently situated near some superb gelaterias), this place is a history-lovers wonderland.
While you're in town, you're just a hop, skip and a jump away from Vatican City, the world's smallest country and home of St Peter's Basilica. Artists, photographers and historians alike will find it all too easy to spend a day getting lost in the museum here with all its splendour. And let's not forget that this little country is also home to one of the world's most famous sites: The Sistine Chapel.
Don't feel too bad if you can't fit everything in during your short stay in Rome; at least you'll have an excuse to go back for another few trips.
Venice
Everyone's favourite floating city, Venice, is ideal for lovers in search of a little R&R.
One of the best ways to get acquainted with Venice quickly is to tour it with a gondolier. Sit back and relax while you're gently taken around the neverending canal ways through residential streets, under ornate bridges and past bustling squares as you settle into the Venetian way of life.
Once you're back on dry land, head to Rialto Market and treat all your senses to foodie delights such as cichetti, small snacks which can be anything from succulent sandwiches to small plates of freshly grilled veggies and cured meats. Washed down with a generous glass of local Prosecco and you'll be ready to go sightseeing. The rainbow-coloured fishermens' homes of Burano, the Peggy Guggenheim Collection and the Doge's Palace are also not to be missed.
Verona
Finally, if you want a city that is a delight all year round, look no further than Verona – the gem of northern Italy.
This place has got it all, from a grand Roman amphitheatre to heartwarming dishes such as risotto and gnocchi. Verona also has UNESCO status, and for any Shakespeare fans out there, you may remember that it's where his famous star-crossed lovers Romeo and Juliet fell in love. You can even visit Juliet's house, and the balcony from which she called down to her Romeo.
In the summer, find cheap yet gorgeous treasures at the flea market or sunbathe in the Giusti Garden. While in the winter, settle down for an evening at the opera or explore the museums, such as the Museo Nicolis, home to some beautiful classic cars and motorcycles.
Olbia 
Who said beach holidays were reserved for long holidays? There's nothing more rejuvenating than a coastal retreat, and Olbia on the pretty island of Sardinia is ideal for a cheeky weekend trip.
This place has it all, from a pretty old quarter with gorgeous architecture and chilled out tavernas and wine bars galore, all of which are a hop, skip and a jump away from white sand beaches and azure waters. 
Pizza and anything with seafood are a must while you're here, or pack a picnic and head out to Parco Fausto Noce, where you'll see green space for miles, peaceful water fountains, and even a Roman amphitheatre to explore.
Catania 
Another island getaway on the cards is Sicily – but this one is definitely more for the culturally inclined.
Romantic Catania is Sicily's second largest city, where majestic Mount Etna looks down over light stones streets and ornate church steeples. 
A gentle stroll on a sleepy, sunny morning around the flower-filled streets here is a great way to ease into the Catanian way of life – all with an espresso in hand. These wanderings will no doubt take you past some of the city's iconic Baroque architecture, for which its cathedral is perhaps the best example. 
After a long lunch of sea urchin spaghetti or canneloni (followed by sweet cannoli pastries filled with fresh cream), brave a hike up Mount Etna for unspoilt sights of the region, or hit the local markets for some wallet-friendly keepsakes.
City breaks to remember with Jet2CityBreaks 
Fall back in love with jetting off for the weekend with Jet2CityBreaks – now offering ATOL-protected Italian city breaks to Rome, Naples, Pisa, Lucca, Florence, Venice, Verona AND Sicilian wonderlands Catania and Olbia!
Jet2CityBreaks include flights, accommodation, free transfers and 22kg baggage included for just a £60 deposit per person, making getaways simple. Plus, for an additional £1 per person, you can get five-star travel insurance with COVID cover absolutely free.
Click here to book your city break with confidence today! 
Source: Read Full Article