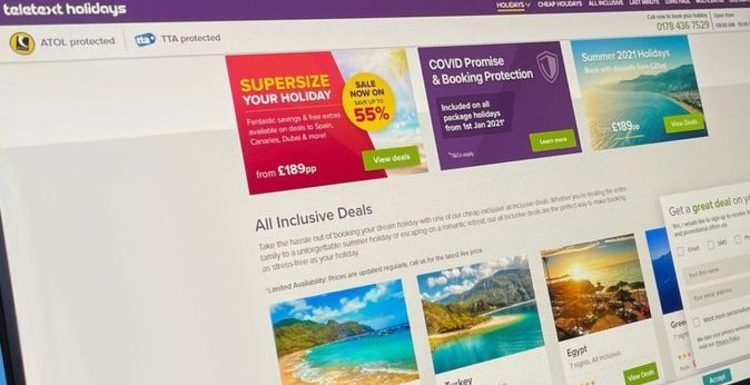 Simon Calder criticises continued French travel ban
We use your sign-up to provide content in ways you've consented to and to improve our understanding of you. This may include adverts from us and 3rd parties based on our understanding. You can unsubscribe at any time. More info
It is thought that 4,000 customers could be affected by the news. Teletext holidays and Alpharooms collapse into administration comes after the news that the Travel Trust Association has revoked their memberships.
Truly Holdings which owns both of the firms has now ceased trading according to the Government's insolvency database.
It is thought that Robert Cundy and Bijal Shah of Edge Recovery and Insolvency Practitioners were hired by Truly Holdings a week ago to manage the closure.
The company has essentially run out of money and any remaining money will now be used to pay money to the people it owes.
The Travel Trust Association (TTA) confirmed that Truly Holdings had "sought the appointment of liquidators".
This came after the UK's competition watchdog pulled up the company for failing to pay out millions of pounds worth of refunds.
The refunds were owed due to holiday cancellations during the pandemic. It is understood that Teletext Holidays is no longer taking bookings.
The company is expected to honour existing holidays although Alpharooms will not fulfil future bookings.
Any tourists that are currently on a Teletext holiday should not be affected by the liquidation news.
The TTA has said it has contacted all suppliers and requested that bookings remain in place.
All Teletext package holidays should continue as planned while flights will go ahead as they are ATOL protected.
If the firm goes bust, the TTA has said that customers should still be able to go on their holiday or receive a refund, covered by ATOL.
Customers with bookings with Alpharooms can claim a refund. The TTA has said all affected customers have been contacted.
The TTA has said Alpharooms refunds could take up to 12 weeks to process and customers will need to file a refund request.
Some customers are still waiting for a refund from a holiday that was cancelled due to the pandemic.
The CMA is currently in the process of taking Truly Holdings to court to fully refund those with cancelled holidays.
It has said it is monitoring the situation and will take action to claw back the money owed in refunds.
It said: "We are monitoring the situation and are seeking further clarification. While these reports will concern people awaiting refunds, we will continue to take all possible action to get people the money they are owed."
A claims process for customers that are owed refunds will soon be set up the by the TTA.
Customers that paid with a debit card may be entitled to a Chargeback claim. This is where the bank reverses the transaction.
Customers should speak to their bank to see if they qualify. Those affected can also contact the TTA on [email protected]
Source: Read Full Article