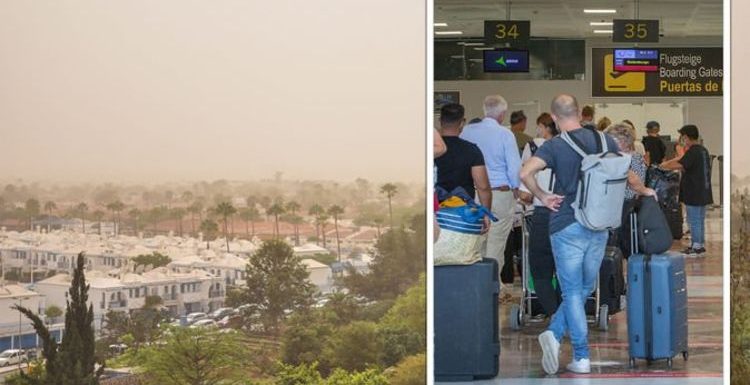 Holidays: New study reveals 'addiction' to reading reviews
We use your sign-up to provide content in ways you've consented to and to improve our understanding of you. This may include adverts from us and 3rd parties based on our understanding. You can unsubscribe at any time. More info
The State Meteorological Agency (Aemet) of the Canary Islands in Spain has announced that more Saharan dust is expected to hit the region. It said the arrival would be "remarkable".
The weather agency said that the dust storm is likely to last all weekend and to be particularly bad in the eastern islands.
That includes the popular holiday destinations of Fuerteventura, Lanzarote and Gran Canaria.
Aemet tweeted: "Desert dust concentration is likely to exceed 100 ug/m3 on a daily average."
Known as a calima, a dust storm is caused when sand from the Saharan desert is blown to the Canaries.
It often causes a layer of dust to settle on everything outside and can affect some people's breathing.
The calima can also reduce visibility and drivers are advised to take caution as signs may be obscured.
One Twitter user Andres Martin said: "Do not wash the car yet and asthmatics take precautions.
"The haze will last all weekend."
Another tweeter, 'Haven Tenerife' said: "January tango between Atlantic depressions and Saharan dust. Looks like a trend, meteorologists say.
"It (the calima) brings mucky rain and sore eyes and throat."
Albert Halliwell tweeted: "The weather was unusually cool and wet (in Tenerife) and everything covered in sand as the wind was gale force."
Earlier this week, the local Government said that air quality in a large part of Tenerife was "extremely unfavourable" due to a calima.
Suspended dust in some parts of the island had significantly affected air quality according to the Government.
Those in risk groups or who are vulnerable were advised to stay indoors and go to an emergency department if their health worsened.
Some residents choose to wear a mask during a calima to protect their lungs from the dust.
The Canary Islands Government recently scrapped the use of a Covid passport on the islands.
However, it said it was seeking permission for individual businesses to use the Covid passport if they wished.
Curfews are still in place on the islands with bars and restaurants forced to close at midnight in Tenerife.
Gran Canaria is subject to the same restrictions but bars can open until 2am on the other islands.
The local Government has also called for travel restrictions to be dropped before the summer to attract British tourists to the region.
Source: Read Full Article