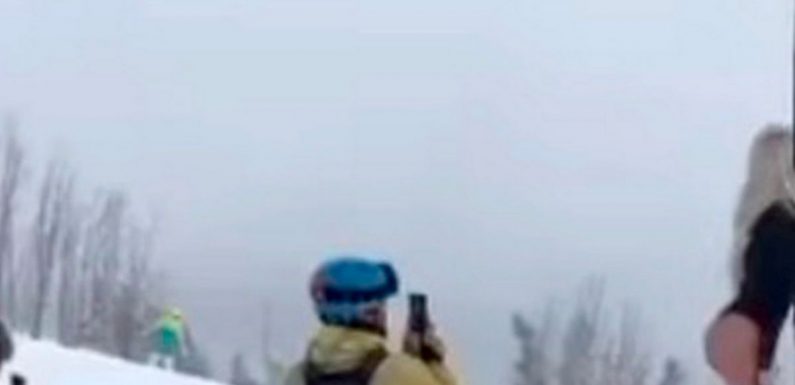 An influencer's embarrassing photoshoot has been shamed by social media users online.
The blonde beauty was spotted by stranger Emily Lightfoot while at Big Sky ski resort in Montana, USA.
The young woman perched on her skis on the edge of a mountain which overlooked snowy trees and valleys.
READ MORE: Dad gives people 'anxiety' dangling feet off mountain ledge while kids play nearby
While wearing a full set of base layer clothing, the influencer was seen pulling down her leggings to reveal her butt.
She held the clothing just underneath her bum cheeks in a common pose used by influencers to enhance their behind.
The woman tossed her blonde hair back and forth and raised her arms to the sky as her photographer tried to get the sexiest shot.
However, it seems the other people on the mountain did not appreciate the risqué show as one of the mountain hosts in a green coat walked over to confront her.
Big Sky resort is a family resort that offers ski passes and lessons to children so we're not surprised the sexy show was frowned upon.
The hosts maintain order on the mountain.
In the caption of the video, posted to @influencersinthewild on Instagram, said: "The mountain ranger had to go over and ask her to stop because there were kids around because ITS A PUBLIC MOUNTAIN."
In the comments, people shamed the influencer for her raunchy performance.
One person said: "Imagine needing this much attention."
"'Influencer' culture is revolting," another wrote.
A third added: "People have no shame anymore. It's all about doing whatever you want whenever you want, with no consideration for others or the consequences of your actions or choices.
"This all the time free-for-all society is really annoying."
A jokester laughed: "Looks like a full moon over at Big Sky!!!!"
But an angry poster slated her saying: "Start charging them with lewd and lascivious behaviour."
We've previously seen a number of influencers caught trying to get the perfect holiday shot.
A travel vlogger revealed she was mounted by a dolphin during an embarrassing display in the water, while others were told not to 'risk lives' by balancing on dangerous ledge for photos at Wedding Cake Rock, Sydney.
Meanwhile one tourist was recently booed by crowds after she climbed a Mayan temple to have a dance on the sacred site.
What do you think? Tell us in the comments section below…
READ NEXT:
Woman with 'biggest lips in world' has scores of fans offering to fly her on holiday

'I avoided beaches because my body wasn't perfect – but now I proudly wear bikinis'

'It's hard being an influencer on holiday – I can't relax without taking two pics a day'

Cheeky couple fund bucket list trip around Africa by flogging amateur porn
Source: Read Full Article