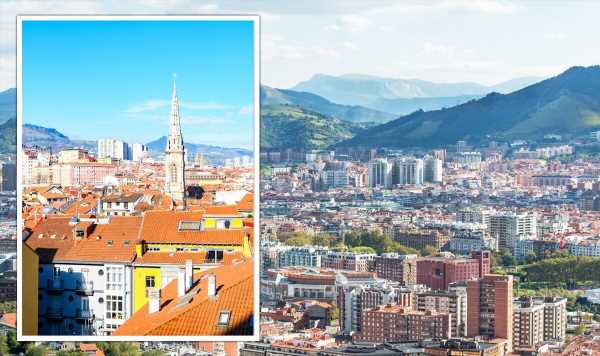 Queen Letizia of Spain at the CaixaForum cultural centre
We use your sign-up to provide content in ways you've consented to and to improve our understanding of you. This may include adverts from us and 3rd parties based on our understanding. You can unsubscribe at any time. More info
While most Spanish holidays are trouble-free, tourists could be more likely to encounter crime in a few popular destinations.
Spain's most dangerous city
Bilbao
Barcelona
Palma de Mallorca
Seville
Madrid
Alicante
Valencia
Malaga
San Sebastian
Bilbao is Spain's most dangerous city according to stats from Numbeo. The average crime rating for Spain is 35.
Bilbao's crime rating is a lot higher than the average at 54.76. People in Bilbao are more worried about having their things stolen than people in the Spanish capital, Madrid.
The northern Spanish city is the largest in Spain's Basque region and is close to stunning beaches.
Many visitors also head to the incredible Guggenheim museum which has a vast collection of contemporary art.
| | |
| --- | --- |
| Tourists banned from popular Scottish holiday islands | |
Barcelona is Spain's second most dangerous city and often tops Europe's list for pickpockets.
Tourists should take particular care of their belongings in busy areas such as train stations and the tourist hotspot of Las Ramblas.
The Catalonian city is one of Spain's top tourist destinations and many visitors flock to its beaches.
Visitors can also pay a visit to Sagrada Familia, a stunning example of Gothic Revival architecture.
The third most dangerous city was Palma de Mallorca on the popular holiday Balearic island of Majorca.
While Majorca has a lot of upmarket tourist resorts, it is also home to party destinations such as Magaluf.
The Balearic Government is cracking down on excessive drinking but there have been several serious incidents and fights in Magaluf.
Tourists should keep an eye on their belongings and contact the police if they are in need of assistance.
Thankfully, violent crime is extremely rare in Spain and most Britons' visits are trouble-free, but it is important to be aware of several dangers.
The UK Government advises: "Thieves often work in teams of two or more people and tend to target money and passports.
"Don't carry all your valuables in one place, and remember to keep a photocopy or scanned copy of your passport somewhere safe."
The Government also advises that personal attacks and sexual assualts are rare but can occur and are often carried out by other British nationals.
It said: "Buy your own drinks and keep sight of them at all times to make sure they aren't spiked."
Source: Read Full Article