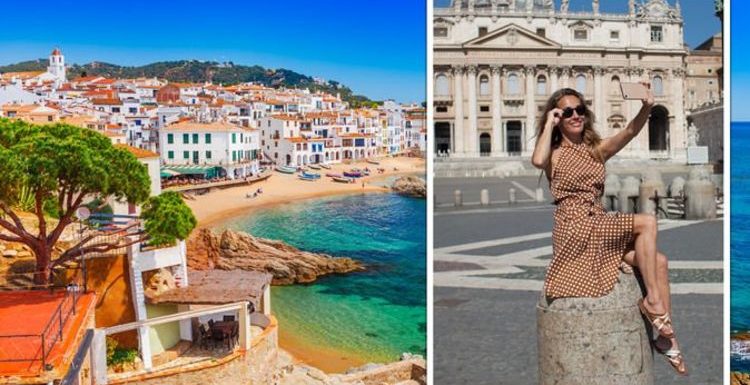 Simon Calder criticises continued French travel ban
We use your sign-up to provide content in ways you've consented to and to improve our understanding of you. This may include adverts from us and 3rd parties based on our understanding. You can unsubscribe at any time. More info
Travel restrictions all over the world are constantly evolving due to Governments' reactions to the latest Covid data. Holidaymakers trying to plan their travel for the year are still faced with some uncertainty, as rules have changed again.
The UK Government has relaxed its travel requirements, with Day 2 PCR tests replaced by lateral flow tests.
There is no longer a need for a pre-departure test, and self-isolation is no longer required while waiting for Day 2 test results.
But the UK is not the only country to have recently changed its rules.
France
France banned Britons last month in reaction to the Omicron variant.
The French Government, however, has expanded the list of acceptable reasons for travel.
Britons can now travel to France for work, providing a letter from their employers stating they cannot postpone their travel.
They can also now travel through France if they live in another EU country.
Travellers will need to be fully vaccinated and provide a negative Covid test.
France has not reopened its borders to tourism from the UK yet, but Government spokesperson Gabriel Attal has hinted the change could come soon.
Spain
Spain has not changed its travel rules, with Britons needing to prove their status as fully vaccinated.
The rule applies to everyone over the age of 12 and fully vaccinated means two doses.
Travellers also need to fill in a Health Control Form and show the QR code provided online when entering the country.
There are no tests or quarantine for fully vaccinated travellers.
Italy
In Italy, holidaymakers need to be fully vaccinated to enter the country.
Unvaccinated travellers will need to go into quarantine for five days and will need a negative test to leave self-isolation.
Italy also requires a negative PCR test 48 hours or a lateral flow test 24 hours before entering the country.
Greece
Greece is open for travel, but holidaymakers will need to show proof of a negative PCR test "performed up to 72 hours before the scheduled arrival or a negative Rapid Antigen test result for Covid-19 performed up to 24 hours before the scheduled arrival".
The test is mandatory for everyone over the age of five.
There is no need for self-isolation and the Greek Government website states "presenting a vaccination certificate significantly facilitates the procedures upon arrival".
Germany
Germany banned Britons last month but reversed the ban on January 4.
Fully vaccinated travellers can again enter the country for travel, while unvaccinated Britons will need an essential reason for travel.
Vaccinated Britons will not need a PCR test or to self-isolate.
Source: Read Full Article