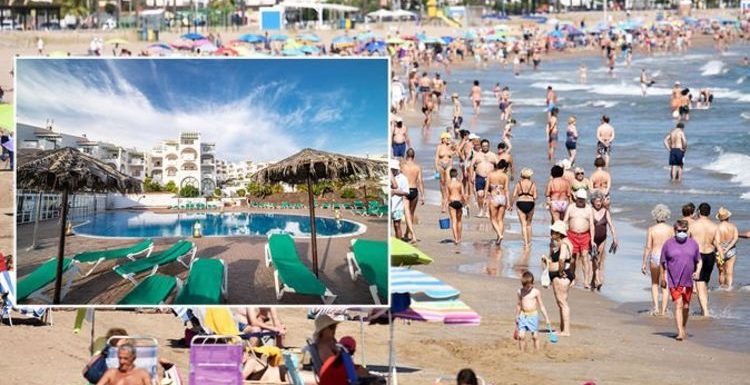 Spain: Paul Scully discusses amber list
We use your sign-up to provide content in ways you've consented to and to improve our understanding of you. This may include adverts from us and 3rd parties based on our understanding. You can unsubscribe at any time. More info
Although Spain has reopened its doors to tourism, it seems the impact of global travel restrictions such as the UK's traffic light system, are continuing to have a major impact on holidays. According to local reports, the nation has welcomed back no more holidaymakers in the first half of 2021 than they did in 2020 – a year that was dubbed the worst in history for tourism.
Five million fewer tourists visited Spain and, as a result, the nation has reported a loss of approximately €6 billion in spending.
Though Spain is welcoming back foreign visitors, in June it saw 2.2 million arrivals – 75 percent less than in the same month of 2019.
It comes amid mounting concerns over Spain's traffic light status.
Rising Covid cases, coupled with an incline in the Beta variant, has led to speculation the nation could be moved from the amber list to the red list.
The Times reports the nation is likely to hold its position on the amber list, however the Government is yet to confirm this.
For Spain, however, the next traffic light update will be crucial.
If restrictions are relaxed, or quarantine rules continue to be omitted for fully vaccinated Britons, Spain could see an influx in visitors.
The nation has seen a steady increase in visitors, with 62 percent more in June than in May.
DON'T MISS
Greece holiday: Travel warning as Rhodes and Santorini infections soar [WARNING]
Dubai and Turkey travel: Red list ban could be axed for flight hubs [INSIGHT]
Travel list update: The 17 changes Brits should watch for THIS WEEK [PREDICTION]
Spending also increased, with €2,416 million spent in the country – 73 percent more than in the previous month.
However, the figures remain meek compared with 2019, when 18 million Britons visited Spain, including 3.7 million who headed to the Balearics.
Though UK arrivals usually dominate the holiday market in Spain, in June they ranked fourth for the number of arrivals during June.
The Spanish Government is aiming for 17 million overseas tourists to visit over the summer months, but it is thought that the UK's decision will play a crucial role.
At present, German holidaymakers have taken over Britons as the main tourist market.
Around 22 percent of all arrivals to Spain during the summer so far have been from Germany.
However, local reports note they have mainly visited the Balearic Islands.
The Balearics spent some time on the UK's green list but rapidly turned amber on July 14 spurring a surge of Britons desperate to get home before quarantine came into force.
French holidaymakers mark the second-highest percentage of arrivals with around 438,560 holidaymakers entering Spain.
At the time of writing, fully vaccinated Britons can return from amber list countries without having to face quarantine.
However, this does not apply to amber plus list destinations.
Currently, France is the only country on the UK's amber plus list.
Additional reporting by Maria Ortega.
Source: Read Full Article