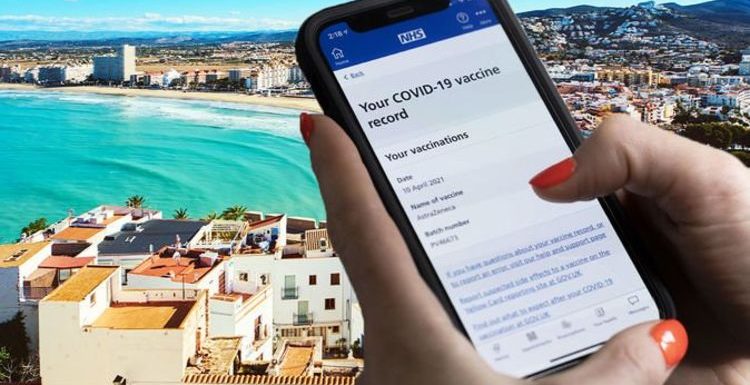 Holidaymaker shows inside isolation accommodation in Spain
We use your sign-up to provide content in ways you've consented to and to improve our understanding of you. This may include adverts from us and 3rd parties based on our understanding. You can unsubscribe at any time. More info
Spain has overhauled its vaccine and testing requirements for visitors arriving in the country from the UK. The rules will impact both vaccinated and unvaccinated Britons hoping to visit the country. Here is everything you need to know from February 1, 2022.
What are the new rules for vaccinated Britons?
Only travellers who are "fully vaccinated" will be permitted to enter Spain for tourism purposes.
The Foreign, Commonwealth and Development Office (FCDO) states: "You must show valid proof of being fully vaccinated (with both doses of a two-dose vaccine or one dose of a one-dose vaccine) at least 14 days prior to arrival in Spain (date(s) of vaccination must be specified)."
If you're fully vaccinated and travelling from the UK, you can enter Spain without needing to test or quarantine regardless of your reason for travel.
However, as of February 1, at least 14 days must have passed since you received your second dose of a two-dose vaccine.
Spain has also set out new specifications for when the "fully vaccinated" status will expire. After this point, visitors will be required to have had a booster dose.
Spain will accept the UK's proof of COVID-19 vaccination record and proof of COVID-19 vaccination issued in the Crown Dependencies.
All travellers aged 12 and over must complete an online Health Control Form before boarding their flight to the country.
A QR code will be issued upon completion of the form, this must be presented to Spanish authorities on arrival.
Anyone who does not follow the travel rules set out "may get a minimum fine of €3,000 (approximately £2,220) if you do not comply with the requirements".
DON'T MISS
British expat named the post-Brexit 'solution' for a move to Spain [COMMENT]
Nine countries where you will need a booster jab to visit [INSIGHT]
Spain vaccine rules to change: What do Britons need to know? [EXPLAINER]
What are the new booster vaccine rules?
According to Spain's new booster jab specifications, people who were vaccinated more than 270 days before travelling must have a booster vaccine to be considered "fully vaccinated".
The FCDO adds: "You must be able to show proof of having received a booster jab."
What are the rules for unvaccinated Britons?
Under the Spanish government's current measures, you can only enter Spain from the UK for tourism purposes if you can show valid proof of being fully vaccinated.
However, there are some exceptions for those who are travelling for "essential" reasons as set out by Spanish authorities.
This includes people who are residents of Spain, EU citizens, or accompanying a family member who is an EU citizen.
In these circumstances, you will be required to present proof of a negative COVID-19 nucleic aid application test, such as. PCR, TMA LAMP or NEART test, within 72 hours of arrival in Spain.
Negative antigen tests taken within 24 hours of arrival are also accepted.
The FCDO adds: "British travellers who are resident in Spain should be prepared to show Spanish border authorities proof of residency on arrival."
Children under the age of 12 are not expected to show proof of being fully vaccinated or evidence of a diagnostic test taken prior to arrival.
What Covid measures are in place in Spain?
The FCDO states: "Public health measures to reduce the transmission of COVID-19 remain in force across Spain and may vary between regions."
Hand washing, the use of face masks and social distancing remain in force across the country.
Regions also maintain the authority, if deemed necessary, to enforce new rules at short notice. This includes partial lockdowns or limitations on capacity for retail and hospitality establishments.
The FCDO adds: "If you test positive for COVID-19, you may need to stay where you are until you test negative. You may also need to seek treatment there."
Source: Read Full Article