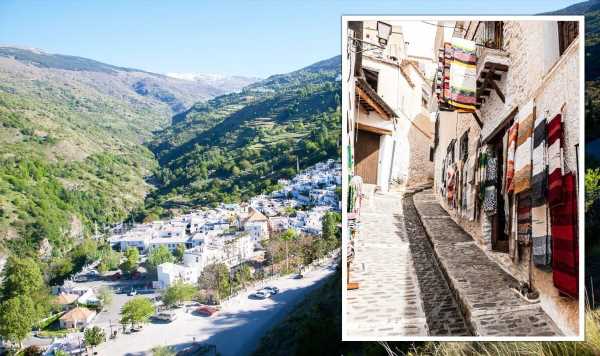 Travel chaos: Ryanair's O'Leary calls for more European workers
We use your sign-up to provide content in ways you've consented to and to improve our understanding of you. This may include adverts from us and 3rd parties based on our understanding. You can unsubscribe at any time. More info
The Los Pueblos Más Bonitos de España campaign highlights the prettiest villages in Spain. To qualify for the campaign, villages have to be charming and authentic.
Spain is one of the UK's top tourist destinations and many Britons choose to travel to the warm south of the country.
One of Spain's prettiest villages is Pampaneira, a whitewashed hill village located in Andalucia.
Pampaneira is one of three mountain villages in the Alpujarras region and is a great spot for hiking.
The village's small square is a meeting point for everyone from the town and a central base for tourists.
The tiny village's population is just over 300 people but tourists will be able to explore many beautiful handicraft shops.
The San Antonio fountain is a central point in the village and a must-see for any visitors to Pampaneira.
One visitor wrote on Tripadvisor: "On a hot day, the drinking water is a must-have companion when strolling up and down, wandering around on very beautiful Pampaneira streets."
Pampaneira is famous for its weaving and tourists can visit a traditional workshop to watch the looms.
One visitor said: "We stumbled across this workshop and enjoyed watching the two women at work on the looms.
"Their products were unique and beautifully created. We bought a few of our best gifts there."
From tapestries to rugs and shawls, the village's work is world-renowned for its beauty.
Pampaneira is also a great base for tourists who want to explore the stunning Sierra Nevada mountain range.
Guided walks, horse treks, four wheel drive excursions and rock climbing tours can all be booked in the village.
Tourists can also take their own walks by following the signposts that link the three mountain villages.
Just 2km outside of Pampaneira village, tourists can visit Osel Ling, a Tibetan Buddhist monastery.
Its name means 'Clear Light' and offers tourists incredible views of the Sierra Nevada and the coast.
Visitors in Pampaneira shouldn't leave without trying one of the town's local cheeses or hams.
British tourists can fly to Malaga airport and take a train or two-hour drive to Pampaneira.
The village is also close to the nearby city of Granada, famous for its incredible Alhambra palace.
Pampaneira is just one of the stunning villages in Andalucia recognised for its beauty and traditional Spanish architecture.
Source: Read Full Article