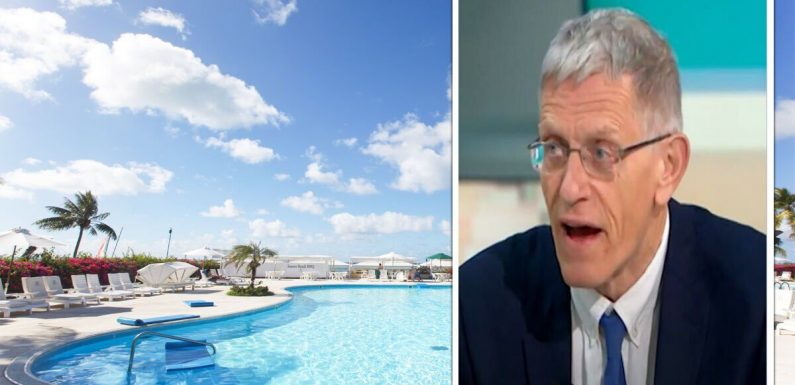 GMB: Simon Calder not hopeful about last minute holiday deals
We use your sign-up to provide content in ways you've consented to and to improve our understanding of you. This may include adverts from us and 3rd parties based on our understanding. You can unsubscribe at any time. More info
Simon appeared on Good Morning Britain to talk about the recent travel chaos at UK airports. Many Britons have faced lengthy queues and long delays while others have been hit with flight cancellations.
Simon said: "We've got so many stresses and strains, there's very little resilience in the system anywhere.
"Ultimately the people who are going to find it difficult are people like me who like to hang on for a last minute deal.
"For July and for this particular August, they're going to be very thin on the ground and they're not going to be bargains."
Simon said that airlines were "overstretched" so there are unlikely to be any last minute holiday bargains this summer.
British travellers could also be hit by strikes in the coming days as well as later on in the summer.
Ryanair cabin crew across Europe are planning strike action at the end of June while easyJet and British Airways could also strike.
Simon said: "Lots of people are concerned about this. Ryanair cabin crew in Italy, in Portugal, in Spain, in Belgium are threatening to strike.
"The airline says we do not expect this to disrupt our operations. easyJet is also facing strikes with some of its crew in early July.
| | |
| --- | --- |
| Ryanair strikes: Planned walkout dates and countries affected | |
"The assumption is your flight is going to go ahead."
There are also fears that Civil Service staff could go on strike which could impact passport processing.
Simon said: "It would slow things up. Most people who are applying online for a passport, it doesn't really touch the sides.
"People don't get involved. It's all automated and many people are telling me they're getting their passports.
"If you apply online, if you get everything right, if you get the photo, it's acceptable within two to three weeks."
Many Britons are worried about whether they can receive a refund if a flight is cancelled.
Simon told the GMB team: "Well you can certainly take a refund but of course most people just want to get away on holiday.
"If you've booked a flight that doesn't go and you've booked a hotel and a rental car separately, then the hotel and the rental car are going to say you can't have a refund.
"That's a really important thing to remember.
"If you're on a package holiday and the flight gets cancelled, then you can certainly get a refund for the whole."
Package holidays or booking with an agent can offer British tourists more security in the case of cancellations.
Despite the trouble, Simon said he was "looking forward to his holidays this summer".
He said the majority of British tourists would get away without any trouble and most people would receive advance warning of cancelled flights.
Britons are entitled to another flight on their intended day of travel if their flight is cancelled if one is available.
Source: Read Full Article