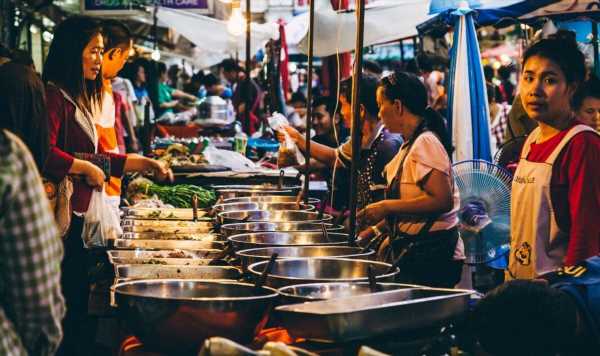 The Beach: Beautiful Maya Bay setting in blockbuster film
We use your sign-up to provide content in ways you've consented to and to improve our understanding of you. This may include adverts from us and 3rd parties based on our understanding. You can unsubscribe at any time. More info
From beaches to jungles, Thailand is fast becoming one of the world's top tourist destinations. But for some British expats, the country has become a more permanent home.
In the InterNations Expat Insider survey, Thailand ranked third for cost of living with over 70 percent of expats saying they were happy with their finances.
One British expat said: "Your money definitely goes far" while housing is also affordable and easy to find.
A beer costs around £1.38 in Thailand while a meal for two in a mid-range restaurant is just £18.
Thailand is famed for its cuisine with dishes such as pad thai served at restaurants all around the world.
But for some expats, Thailand's prices and cuisine can't make up for the country's environmental policies.
Just under half of expats viewed the air quality negatively while over 30 percent were unhappy with the urban environment.
One French expat said: "People are not aware enough about pollution, and it is sad to see nature spoiled by rubbish."
According to a Greenpeace Southeast Asia analysis, approximately 29,000 deaths were caused by air pollution in 2021.
Another expat claimed: "There is air pollution and limited parks and green spaces."
In recent years, Thailand has taken steps to improve its natural environment in parks and beaches.
Khao Yai National Park even said it would post back rubbish to offending tourists after tracing them using rental forms for camping equipment.
Maya Bay, commonly known as one of the world's most beautiful beaches, was closed to help ecosystems recover.
Aside from the environment, expats also struggled when it came to dealing with bureaucracy in Thailand.
One expat said: "It is all paperwork for everything" with very few Government services available online.
More than half of expats in Thailand found it hard to deal with the local authorities, higher than the global average of 39 percent.
However, Thailand was seen as a very welcoming country and the majority of expats found local residents friendly.
A British expat said: "I have found the Thais to be very friendly and welcoming to me living in their country."
Expats found it easy to make friends in Thailand and the majority said they had a good social life.
Thailand also scored highly on healthcare with more than three quarters of expats saying they had access to everything they needed.
The majority also felt that the country's healthcare was high quality and easily available for expats.
Source: Read Full Article