Ryanair's latest change to its cabin baggage policy has triggered plenty of criticism on social media.
Europe's biggest low-cost airline has reduced the amount that passengers can take through security to the departure gate without paying extra. Instead of one large and one small bag, travellers are restricted to one "mid-sized" bag.
To carry anything more substantial, they will either need to buy Priority Boarding or pay a fee for checking in luggage.
The airline tweeted: "Day 1 of our new bag policy and early reports from airports and customers are that it's working well and reducing delays at security and speeding up the boarding process."
Ryanair insists the second hand-luggage policy change of the year is intended to improve punctuality. The airline predicts it will be revenue-neutral, with gains from extra payments offset by a new, cheaper 10kg checked-bag option.
But not everyone agrees. Derek Stephen tweeted: "It isn't the size of your luggage that Ryanair want to make smaller it's the size of your wallet."
David McClelland speculated: "In light of their other issues with cancellations and strikes, this is probably a great time to roll out another charge.
"Their reputation is already at a low point – 'a good day to bury bad news,' as someone once said!"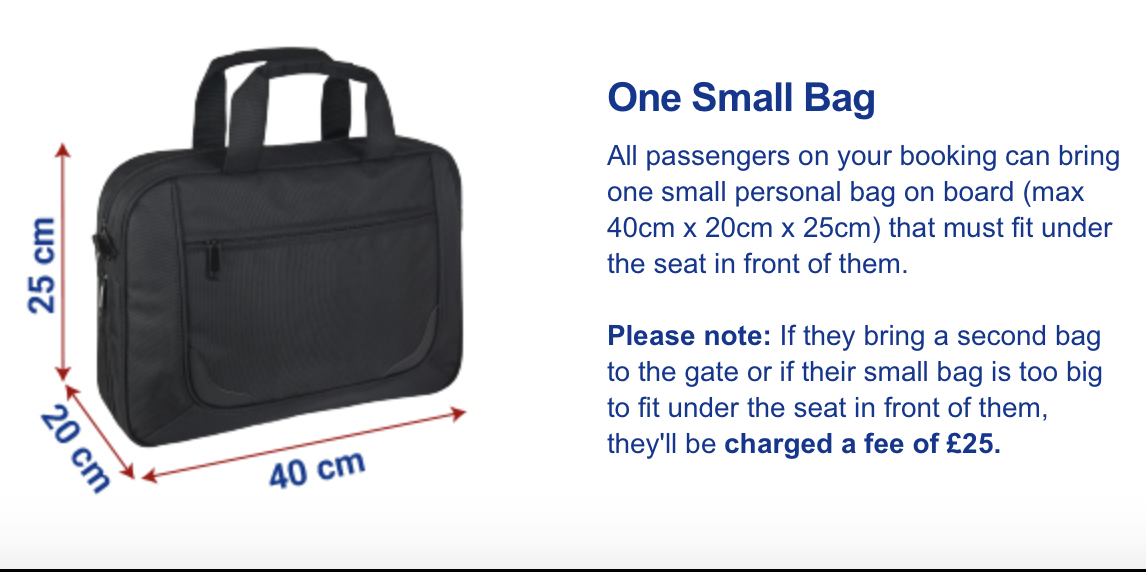 "When's the charge for breathing your oxygen in flight to be implemented, Ryanair?," asked El Búfalo.
Many people commented on the baggage change happening shortly after the controversial incident in which a passenger was racially abused on a Ryanair flight from Barcelona to Stansted.
John Kelly tweeted: "What a master stroke by Ryanair. Disaffect a huge swathe of your clientele by your awful handling of people affected by racist attacks, THEN bring in swingeing changes on baggage."
A comedian, Patrick Casey, claimed: "Ryanair's new rules mean that the only baggage allowed in the cabin is a racist attitude."
But the new baggage policy won support from some.
Dan Bishop said: "Ryanair great news about the baggage changes. Fed up with waiting to board with my backpack and everyone bundles by with bloody suitcases.
"If everyone just has a backpack that goes under the seat, will make getting off the plane so much quicker too. Love the new rules!"
Sarah, a Derby County supporter, may have had an unpleasant experience on the airline: "I'm loving the new suitcase rules. Now I don't have to wait for Doreen from Newcastle trying to put her case above my head while breathing beer fumes on me."
Some travellers mistakenly inferred that the airline was imposing a charge for all hand luggage, with one saying: "Just when you think Ryanair couldn't get any worse, they're now charging for hand luggage from today."
Meanwhile, the take from "Doubletop" was: "Ryanair new policy is either you or your bag goes in the cabin. The other goes in the hold."
Source: Read Full Article