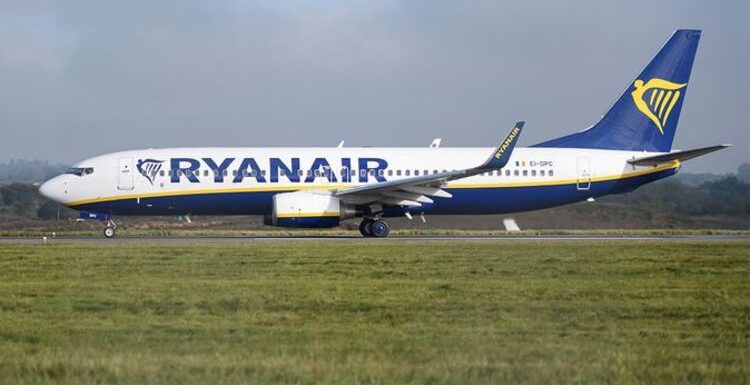 Ukraine: Huge traffic jams build as people flee Kiev
We use your sign-up to provide content in ways you've consented to and to improve our understanding of you. This may include adverts from us and 3rd parties based on our understanding. You can unsubscribe at any time. More info
Ryanair is the first aeroplane company to announce plans to halt all flights to and from Ukraine following the ongoing military attacks in the country by Russian forces. The company has released a statement.
Ryanair has announced plans to suspend flights to and from Ukraine for the next 14 days, the company has said in a statement.
This is "due to the closure of the Ukrainian airspace overnight and the apparent invasion by Russian forces".
"All affected passengers will receive email notices later this morning and all flights to/from Ukraine have been removed from sale for at least the next four weeks until further information becomes available from EU safety agencies," it said.
Ryanair added it would look forward to restoring flight services there "as soon as it is safe to do so".
"Ryanair remains committed to our services to/from Ukraine and we look forward to restoring flight services there as soon as it is safe to do so," it said.
"We sincerely regret and apologise for these unprecedented disruptions and any inconvenience that they will inevitably cause to our Ukrainian customers."
It comes as Russia has begun a large-scale military attack on Ukraine, its southern neighbour, on the orders of Russian President Vladimir Putin.
There are reports of attacks on Ukrainian military infrastructure across the country, and Russian convoys entering from all directions.
Wizz Air has also said it will suspend all flight operations in Ukraine from today.
The carrier, operates flights between London Luton and the eastern European country made a statement.
It said: "Due to the current events in Ukraine and the airspace closure, Wizz Air regrets to inform our customers that the airline must temporarily suspend all flight operations in the country.
"Passengers booked on arriving or departing Ukrainian flights can find more information on wizzair.com, or alternatively via the airline's call centre: 00380 893 202 532.
"The safety and security of our passengers and crew remains our number one priority and we hope normality will return to Ukraine soon."
Ryanair and Wizz Air follow in the footsteps of Air France, Lufthansa and KLM who cancelled or suspended flights into Kiev earlier this week.
Air France said: "In light of the local situation and the closure of Ukrainian airspace, Air France extends the suspension of its service to Kiev (Ukraine) until further notice. The customers concerned have been informed individually.
"Air France reminds that the safety and security of its flights, its customers and its crews, is an absolute imperative."
Dutch airline KLM made the decision to stop all flights to and from the country on February 12.
Scandinavian company SAS has also suspended its weekly flights.
The FCDO updated it's travel advice for those heading to Ukraine.
It stated it advises against all travel to the country.
A statement said: "Russia has announced the start of military operations in Ukraine.
"There are multiple reports of widespread military activity and real risk to life.
"We advise British nationals to leave Ukraine immediately if you judge it is safe to do so and to follow the advice of the Ukrainian authorities while you remain in Ukraine.
"It is likely that commercial routes out of Ukraine will be severely disrupted and roads across Ukraine could be closed.
"If you are in the vicinity of military activity and you cannot leave safely, you should stay indoors, away from windows, and remain alert to developments that would allow you to leave safely."
Source: Read Full Article