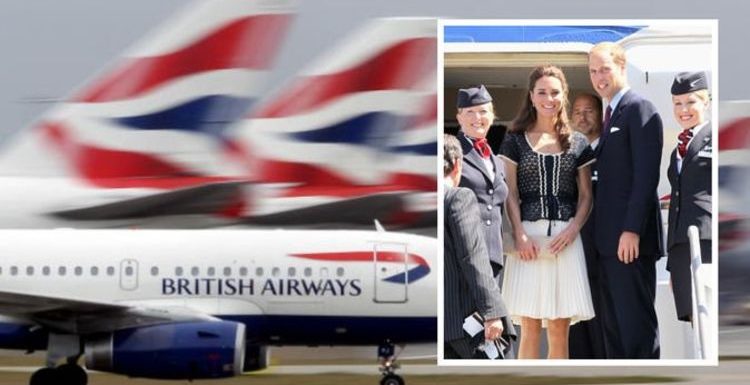 Royals: George and Charlotte board plane with William and Kate
We use your sign-up to provide content in ways you've consented to and to improve our understanding of you. This may include adverts from us and 3rd parties based on our understanding. You can unsubscribe at any time. More info
However, it is not just the official royal aeroplane that gets the Queen and her family from A to B. From Prince William to Camilla, the Duchess of Cornwall, being a Royal Family member entails a number of important duties representing the UK. While many of these take place at home, the royals must also make international appearances as part of their work.
Though the Royal Family often jet off by private aircraft, or onboard the official royal plane, in recent years there has been a push to fly commercially.
One airline which is favoured by the entire Royal Family is flag-bearing British Airways.
Over the years, Royal Family members have been known to fly as a passenger onboard commercial BA flights, as well as chartering entire aircraft for special events.
However, it is not just BA that is favoured by the family.
In 2015, Prince William was spotted onboard a Ryanair flight alongside his bodyguard.
The future king was spotted in an economy cabin, flying to Scotland from Norfolk as part of his training with East Anglian Air Ambulance.
Passengers onboard spotted the Prince as he was exiting the aircraft.
One traveller told The Sun: "I never expected to see him on Ryanair, but it's refreshing to see a member of the Royal Family take a cheap flight."
In 2012, reports circulated suggesting Prince William and the Duchess of Cambridge flew home from a romantic skiing trip in the French Alps with EasyJet.
In more recent years, Prince William has flown alongside his wife Kate and their children with Flybe.
While some of the younger royals have been seen onboard commercial flights, there are also times when they manage to sneak on board completely unnoticed.
As part of Channel 5's documentary 'Secrets of the Royal Flight', some royal insiders revealed exactly how they manage to go unnoticed on aircraft filled with passengers.
Royal Correspondent Emily Andrews let slip a few of the tips shared by Prince William and his brother Prince Harry.
She discussed one occasion, in the early stages of Prince Harry's relationship with Meghan Markle, when they flew to Norway using Norwegian Air.
Despite the plane being particularly busy, it seems the couple managed to sneak on board without anyone realising.
Ms Andrews told Express.co.uk: "Harry and Meghan are two of the most famous people in the world.
"They went to Norway in the early stages of their relationship. It was Norwegian Air.
"No one on that plane knew that Harry and Meghan were on because the whole plane had boarded, they were driven to the back steps, they walked up, they had baseball caps on, snuck into the back seats of the aircraft." She added: "No one even knew they were there."
Meanwhile, Prince William and the Duchess of Cambridge also have a few tricks when it comes to travelling covertly. This includes adopting "code names" for when they are travelling.
Ms Andrews added: "Kate and William on their 2014 tour to Australia travelled under the names of Mr and Mrs Smith and Prince George, who was eight or nine months at the time, was baby Jones."
Source: Read Full Article