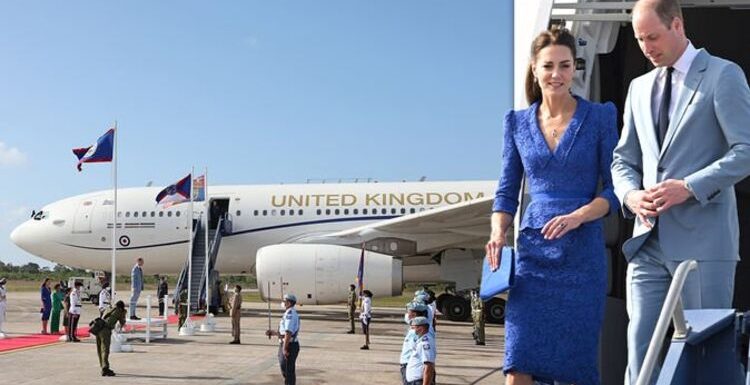 Kate Middleton and Prince William visit Belize
We use your sign-up to provide content in ways you've consented to and to improve our understanding of you. This may include adverts from us and 3rd parties based on our understanding. You can unsubscribe at any time. More info
Over the weekend, Prince William and Kate Middleton started their eight-day Caribbean tour, which marks the Queen's Platinum Jubilee. The future King and Queen travelled in style to Belize, and they will also be stopping off at Jamaica and the Bahamas during their tour.
How are Kate and William travelling during their royal tour?
The Duke and Duchess of Cambridge are using the RAF Voyager, an Airbus A330, to transport them during their Caribbean tour.
The aircraft is used by the UK Government and it's known to shuttle ministers across the world, but the swanky jet is also made available for the Royal Family when travelling on official business.
The RAF Voyager famously encountered some turbulence during Kate and William's royal visit to Pakistan in 2019, resulting in two aborted landings.
Sky's royal correspondent Rhiannon Mills said at the time: "Other journalists and reporters could see lightning and storms out of the window as the plane bounced around.
"The crew tried to land at two airports in Islamabad but decided the storm meant it wasn't safe to land and it was safer to fly back to Lahore.
"As soon as we landed, Prince William came to the back of the plane to check that the press pack was okay.
"I have flown a lot, especially on royal tours, but never experienced turbulence like it."
The Daily Mail's royal editor Rebecca English tweeted that William took the event "in his stride".
She added: "He just came back down the plane to see if we were OK and joked that he was flying!"
What does Kate and William's plane look like on the inside?
On Saturday, the Duke and Duchess of Cambridge's official Instagram account shared a rare snap from inside the royals' plane as they disembarked at Belize.
DON'T MISS:
Prince William sparks frenzy as rare PDA moment with Kate [PICTURES]
Prince William pens heartwarming letter to Belize as visit ends [INSIGHT]
Kate is 'traditional' mother while Meghan 'makes her own way' [ANALYSIS]
View this post on Instagram

A post shared by Duke and Duchess of Cambridge (@dukeandduchessofcambridge)
The snap showed the plane's door and steps and was captioned: "Arriving in Belize, the first stop of our Caribbean tour!"
But the rest of the plane's interior is far more exciting than the exit, as photos released by the Ministry of Defence a few years ago show.
The aircraft can seat up to 58 people in business-class, but there is also a designated VIP section that Kate and William are likely to use during their travels.
There is also an economy class section for the press and other crew members to use during royal tours.
Source: Read Full Article