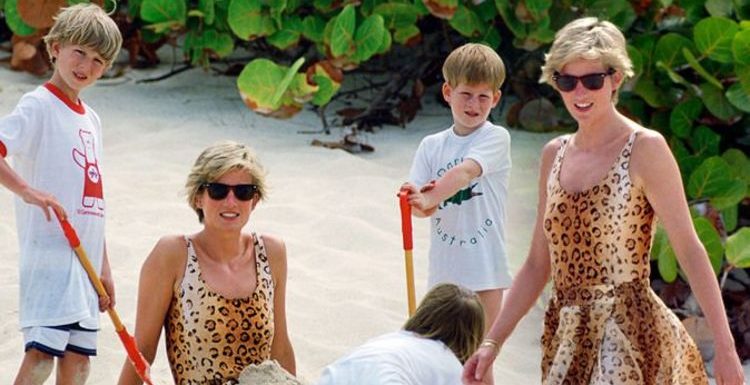 Princess Diana: Experts discuss holidays to Necker Island
When you subscribe we will use the information you provide to send you these newsletters.Sometimes they'll include recommendations for other related newsletters or services we offer.Our Privacy Notice explains more about how we use your data, and your rights.You can unsubscribe at any time.
Princess Diana was no stranger to travel during her time in the Royal Family, and afterwards during her charitable work. However, there were also plenty of times she jetted off in order to relax and unwind.
On one such occasion, the Princess of Wales took her two young sons Prince William and Prince Harry with her.
However, what made this trip particularly different was its links with another high-profile character in the UK.
Richard Branson, the founder of the Virgin Group, is the owner of his own private island in the Caribbean which he reportedly invited the Princess along to stay at.
In a Channel 5 documentary, The Royals on Holiday, experts shared some unique details of holidaying on the island which made it particularly attractive to Diana.
Travel expert Simon Calder explained that part of the draw came from the possibility of sneaking away from the media for a time.
"He [Richard Branson] can deliver great security, marvellous privacy and you'll have a lovely relaxing time in your own villa which is going to cost roughly £4,000 or £5,000 a night," said Mr Calder.
"And you get your own butler."
Carole Malone, journalist and commentator added: "Diana loved Necker and Richard Branson was as fascinated by royals as anyone else but luckily for him, he had an island he could invite them to and an airline he could fly them there on."
DON'T MISS
Portugal holidays: FCDO issues new quarantine update [UPDATE]
Turkey holidays back on for Britons – latest FCDO travel advice [INSIGHT]
Holidays: France, Italy, Spain, Greece and Portugal latest FCDO advice [TRAVEL ADVICE]
Indeed, as the owner of Virgin Atlantic Richard Branson has the ability to offer free flights for his guests if he so chooses.
Visitors are able to book a stay at Necker Island, or even rent out the entire island for a period of time.
Yet a visit to this exclusive tropical paradise comes with a price tag to match.
According to the island's dedicated website, prices start at $36,050 (approximately £25,998 a night).
To rent out the entire island, guests are looking at a rate of $105,000 (approximately £75,000 a night).
In recent years, the island has attracted the likes of Kim Kardashian, Mariah Carey and Kate Winslet.
However, despite the lavish nature of a trip to Necker, the experts say Princess Diana spent her time there "doing just what we do".
Photographs snapped by paparazzi showed the princess and her sons playing in the sand with buckets and spades.
"We know they are rich and we know they got to better places than us but we kind of want to know what they looked like on the beach," commented Ms Malone.
"I always wanted to know, I mean Diana, what she looked like on the beach.
"When I saw pictures of Diana on the beach in Necker with William and Harry they were glorious to watch and they were doing just what we do.
"It was bucket and spade stuff."
The documentary concludes: "On Necker island Diana showed the world how hands-on she was as a mother."
Source: Read Full Article