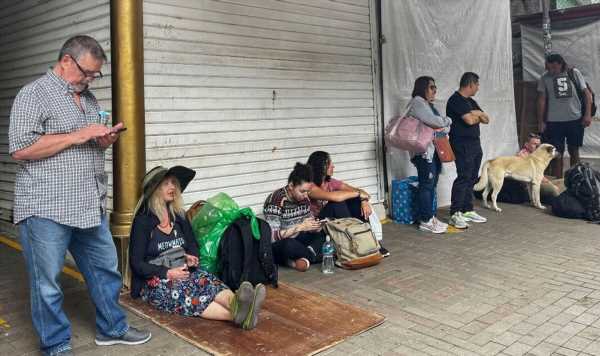 We use your sign-up to provide content in ways you've consented to and to improve our understanding of you. This may include adverts from us and 3rd parties based on our understanding. You can unsubscribe at any time. More info
Peru has closed its famous tourist site Machu Picchu over safety concerns. Dozens of people have been killed in violent protests in the South American country.
Rail services to the 15th century Incan citadel were suspended on Thursday and last month the authorities had to rescue hundreds of tourists after they were stuck there.
Peru's Culture Ministry said in a statement that those who had already bought tickets to the ancient site would be able to use them for one month after the end of the demonstrations or have a refund.
The site, which is one of the New Seven Wonders of the World, has been closed until further notice.
On Friday, tourism minister Luis Fernando Helgado, told AFP that "tourists couldn't leave because the railway had been damaged in different places".
Peru has been rocked by demonstrations as protestors call for fresh elections and the new president, Dina Boluarte, to stand down.
The protestors are calling for her left-wing predecessor, Pedro Castillo, to be released from prison. Mr Castillo has been charged with rebellion and conspiracy.
Mr Castillo denies all the accusations against him and insists that he is still the country's legitimate president.
At least 58 Peruvians have been injured in the protests, according to the BBC. Police have fired teargas at protestors in the capital city, Lima.
The European Union has condemned the violence and called for an end to "disproportionate" violence by the police.
It said: "The EU calls on the government and all political actors to take urgent steps to restore calm and ensure an inclusive dialogue with the participation of civil society and affected communities as the way out of the crisis."
Some areas of the country are under a state of emergency and there is a curfew in place in the Puno region.
Tourists should follow the advice of local authorities and their tour company or holiday provider.
UK Foreign Office advice for Peru
"Political protests in Southern Peru, including in Cusco, Arequipa and Puno, and in Lima, continue. They have also spread to other parts of the country. These protests are unpredictable and can escalate quickly and include violence. Clashes between protestors and the security forces have resulted in casualties. In Lima protests have a focus in the historic centre, but have also spread to other areas. In Cusco, Arequipa, Puno and Tacna some protests have targeted airports.
"You should take particular care to avoid all areas of large gatherings and protests. If possible, you should remain in a safe place. You should follow the authorities' advice and monitor local media, including social media channels.
"Travellers arriving in Peru should be aware that travel to some parts of the country or the return to Lima may not be possible. Protests have led to road blockades, suspension of train services, disruption in immigration services of land borders and airport closures in different parts of the country.
"Plan for disruption and allow extra time to reach your destination. You should ensure you travel with a sufficient supply of food, water, cash in local currency and personal medication.
"You should liaise with your local airline, hotel or tour operator for further advice and assistance that they may provide to mitigate disruption, and for information on alternate arrangements that may need to be made for onward travel, including bus and rail journeys.
"You should always remain vigilant, avoid any protests or demonstrations and keep up to date with developments via official local sources. Be wary of unverified, unofficial information. You should ensure you travel with a sufficient supply of food, water, cash in local currency and personal medication, and allow extra time to reach your destination."
More advice for British tourists in Peru can be found on the FCDO website.
Source: Read Full Article