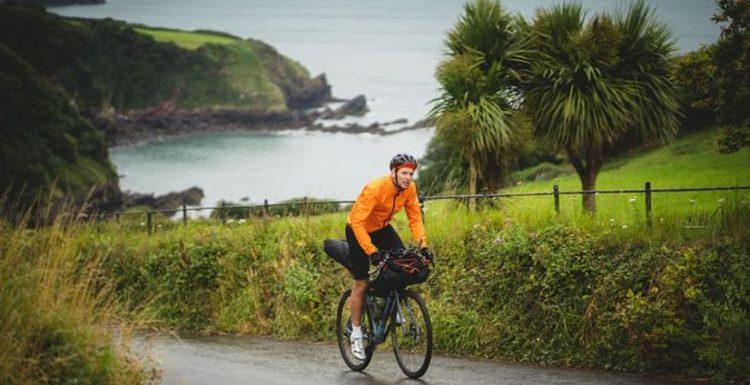 Aaron Rolph The Great Escape trailer
We use your sign-up to provide content in ways you've consented to and to improve our understanding of you. This may include adverts from us and 3rd parties based on our understanding. You can unsubscribe at any time. More info
The Great Escape was a "sacred rite of passage" for British adventurer Aaron Rolph. Going from Land's End to John O'Groats is a necessary, and gruelling, challenge that most aspiring adventurers take on at some point. Aaron, however, decided to do it differently.
He said: "I travelled in June. I started in the Scilly Isles, just before Land's End. Zigzagged up and down the peninsula of the South West, Dartmoor and Newquay, Bristol into Wales and Brecon Beacons up to Snowdonia across to the Peak District and then up Yorkshire Dales and the lakes… I'll spare you the rest because Scotland is pretty long."
What should have taken "one to two weeks" – if he had gone straight from A to B – took Aaron a month.
He said: "It just seemed like a massive waste if you're going to go through the most direct route and not see the most interesting places along the way."
The idea was born and the adventurer "was hoping to make it this ultimate British adventure, that would feature lots of different things and different disciplines and was longer and less direct than the Land's End to John O'Groats."
Aaron's Great Escape ended up containing more twists and turns than even he could have anticipated.
READ MORE: Olympics mode ON: Try these sports to discover the great UK outdoors
He explained: "I did the first week and then had my accident. I had a big crash the first time around. Mountain biking, not cycling. Then came back a year on, the following summer, to finish the trip."
Aaron's accident was no little scrape. A serious mountain bike crash, he severed his colon with his own bike seat and was out of commission for a couple of months.
Determined to go back on the road, Aaron also had to contend with a global pandemic.
Aaron said: "Post lockdown one was the first week [of the journey]. When we all thought that it was going to be over a little bit quicker than it was. We got a little bit of freedom and then wave two came.
"It took a year to go back, but only because of Covid measures. I was back on the bike after a couple of months. I was kind of ready to go a lot earlier than the country was."
He went back to the last stop of his first attempt, "BikePark Wales, which is a downhill mountain bike centre where I had my accident", and carried on from there.
"Nothing had changed between the first bit and the second bit. We were still in the middle of various Covid measures, so it felt like it was a complete continuation, with a slight hiccup along the way."
Aaron's second leg of the trip took three weeks, but the key wasn't about how long it was going to take.
Apart from the 'rite of passage' element, Aaron wanted to promote how great Britain is.
He said: "One of the key motivations for the trip is to promote how amazing a lot of places in the UK actually are, and how much they have to offer.
"I think a lot of people underestimate our own country.
"For the trip, one of the key messages is 'come and see these great spaces, which you'll really be surprised [are here]'."
Going on a Great Escape required a bit of planning, but the journey "wasn't fixed" and locals even helped out along the way.
He recalled: "This incredible [local] lady just overheard us talking in a café and she recommended we see Horseshoe pass in North East Wales. We would never have gone if it wasn't for her."
Sometimes, deviating from plans is the best way to go on an adventure.
Aaron said: "I was planning to climb Cuillin Ridge Traverse, this infamous ridge in Skye, supposed to be the toughest mountaineering challenge in the UK. I've always wanted to do it, but never got the weather. Instead, we went for a wild swim, it's all part of the adventure, not being too rigid with your plans."
The Great Escape documentary will be released soon.
Source: Read Full Article