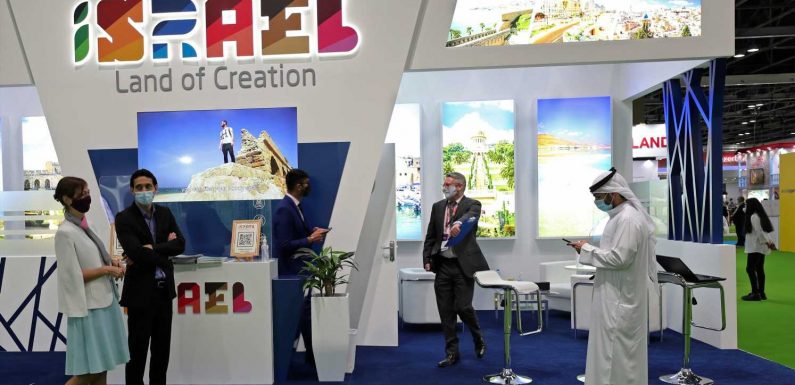 DUBAI, United Arab Emirates — As violence flares within Israel and on a day in which Israeli airstrikes on Gaza City killed at least 42 people, it was business as usual for a senior Israeli tourism official in Dubai as she promoted the country as a must-see destination for Muslim visitors.
It might seem an odd proposition at an odd time given that major airlines have suspended flights to Israel amid the flare-up in violence and while the spread of coronavirus remains a threat.
But at Dubai's Arabian Travel Market on Sunday, billed as the first travel and tourism event to happen in person since the global coronavirus outbreak, a small Israeli booth — tucked behind Slovenia's — marketed the country as the "Land of Creation." Promotional videos advertised Israel's vegan culinary scene, its beaches and urged: "Book Your Trip Now" to Tel Aviv.
Israel-Palestine conflict: Israel unrest leads Royal Caribbean to cancel Odyssey of the Seas sailings from Haifa
Israel, Gaza and the US: Biden has yet to reverse many of Trump's pro-Israel policies he labeled 'destructive'
And the devastating airstrikes on Gaza leading the world's television news?
"We were not talking about it. We are talking about the future. We are talking about what we can do to bring tourism to Israel," said Ksenia Kobiakov, director of new markets development at the Israeli Tourism Ministry.
The presence of Israel at the travel and tourism event in Dubai highlights the United Arab Emirates' business-first approach and demonstrates how rapidly ties with Israel have developed since the UAE and Israel signed an accord to formalize ties in September. It also signals how even the most brutal conflicts between Israel and the Palestinians are no longer viewed by some Gulf Arab leaders through a prism of Muslim or Arab solidarity, but as part of a wider calculation in a region gripped by multiple threats.
Source: Read Full Article